Tweet
If your new year's resolution is to get back on the water, inspire your friends to try windsurfing or even persuade your family to get involved, then don't miss RYA 'Push The Boat Out 2018'. The national event is back with a bang and this time for the whole of May with hundreds of venues across the UK offering low cost or even free windsurfing and sailing taster sessions for all, so there's bound to be an event near you. The RYA tell us more.
Words & Photos  RYA
---
What's it all about?
Throughout May, 'Push the Boat Out 2018' promises even more opportunities for people of all ages to discover the wonderful world of windsurfing. Showcasing all that windsurfing has to offer, from the freedom of being on the water, to the social buzz, the thrill of racing and the fact that there really is something for everyone.
Last year more than 30,000 people got out on the water at venues up and down the country and over 7,500 signed up for more activities, with many becoming members
of their local windsurfing and sailing clubs.
"Many people don't know about the opportunities that are available in their local area to get out on the water and try windsurfing, or they may think it is too expensive or they need their own equipment. 'Push the Boat Out' aims to prove this is not the case", explains RYA Director of Sport Development Alistair Dickson.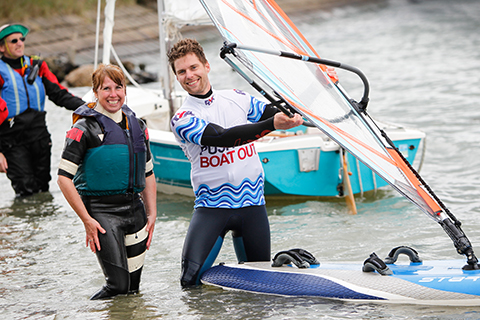 Good for clubs too
Marconi Sailing Club in Essex were one of the venues that opened their doors and welcomed hundreds of people to enjoy a day of windsurfing, sailing and plenty of activities for the whole family. Graham Cross, one of the club's Rear Commodores, said: "We took part in 'Push the Boat Out' to attract new members, raise the profile of our club and bring all our members together as one team. Windsurfers at Marconi have a dedicated grassed windsurfing rigging area, which is close to the water and has plenty of room for rigging and parking. They generally gather at low tide with a prevailing southwesterly and make the most of the incoming tide and fantastic windsurfing conditions. The perfect wind against tide combination makes it easy to sail upwind and provides a small swell for some bump and jump fun. Sailing between Osea Island and the shore provides mirror flat shallows for smooth gybing and epic freestyle manoeuvres."
'Push the Boat Out' visitors enjoyed taster sessions on the club's four new beginner windsurfers, which are suitable for all ages. With a safety boat team keeping a watchful eye, people of all ages were able to try windsurfing with instructors and also discover the facilities and lifestyle that the sailing club offers.
Since 'Push the Boat Out', Marconi Sailing Club has signed 25 new family memberships.
"It went amazingly well, we couldn't quite believe how many people came through the gate. We took around 130 people out onto the water – a record for us – and many of them went out two or three times, meaning we did well over 200 trips, which was phenomenal." Graham concluded.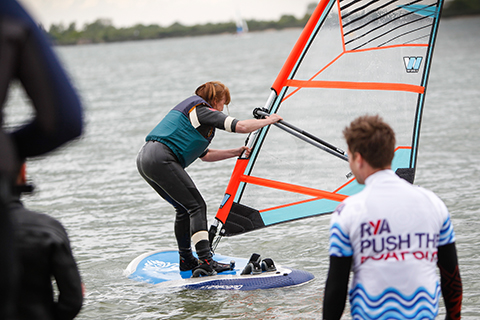 How to get involved?
Whether you're looking to get started, already a pro windsurfer looking to join a club or you want to give your kids the chance to have a go at windsurfing, it couldn't be easier to get involved in 'Push the Boat Out'. To help, there's an interactive map that will tell you where the events are and what's on offer. The best news is that many 'Push the Boat Out' events are free or very low cost, so it won't break the bank. Find out everything you need to know about 'Push the Boat Out' this May by visiting www.rya.org.uk/PTBO.