Tweet
If windsurfing is as important to you as living and breathing, how about a job that lets you do it every day? But where do you start? Is there a pathway? How do you make it happen? The RYA's Chief Instructor for Windsurfing, Amanda Van Santen, gives us the lowdown on how you can turn your passion into a career.
Words & Photos  RYA
---
Up the Ante
To be a windsurfing instructor you don't have to be a pro but you do need to learn your craft and hone your technique. Getting solid tuition is the best way to do this and to embed the core skills you need to be a good instructor. To become an instructor you will need an RYA Windsurfing certificate. So, even if you're self-taught or already have the basics, some RYA Training is required. Depending on your level and experience, you might be able to jump straight to Intermediate or Advanced Windsurfing stage. Learning how things should be taught will help you learn the right way to teach the skills yourself.
Get qualified
Becoming an instructor makes you a good windsurfer as you learn the core skills that are the building blocks for everything else. Whatever level you're at, you can teach the level below. So, if you have Intermediate Windsurfing, you can become a Start Windsurfing instructor. There are two routes to becoming an instructor. If you're already a windsurfer find a course through the RYA website. Or there are 'Zero to Hero' fast-track courses where, in as little as six weeks, you can learn to windsurf and become an instructor. I did this and they can be really good.

Experience counts
Once you have an instructor certificate you can get paid work. There are loads of seasonal jobs advertised here and overseas. Centres can train you as an Assistant Instructor, where you could then work alongside a more senior instructor up to the standard of youth Stage 1 and adult Start Windsurfing or on taster/introduction sessions.  Volunteering can be an equally valuable way to get time on the water, build your personal competency and be around experienced instructors to watch and learn from. Local clubs and centres are always looking for volunteer instructors, or why not go back to help where you learned?
Keep improving your skills
As you progress up the ladder you might have to take on a more shore-based role and/or gain different qualifications or experience, which will also increase your demand and help working year round. This will still give you the scope to be close to the water and to get afloat at short notice to work on your own skills when the time allows.  To build my skills, for six years I worked all summer to save the money to travel to places like Maui, the Canaries and Australia in the winter, where I could windsurf everyday for hours. Summer was about teaching and coaching, winter was for developing my own skills.
Find a champion
If there's a fellow coach or professional who believes in you, learn as much as you can from them. Mentoring can be really powerful. I've had people I did my courses with or I worked with who have been very supportive to me, and I've always tried to do the same. Inspecting RYA Training Centres all over the world I see lots of young instructors who love what they do, but are stuck where to go next with it. Those working overseas can get quite detached from what's going on in the UK, so if they do come home it can be difficult to find out what avenues are open to them. I always give every instructor I meet overseas my card and number, saying if they're not sure what to do to please call me.
Look for other opportunities
Being a windsurfing instructor, a Senior Instructor or Training Principal for a centre/holiday company is one avenue. But it's not the only way you can be involved in the industry. From kit design and sales to marketing, events and even specialist travel agencies, once your foot is in the door you really start seeing what the industry is about. Who knows what you will end up doing!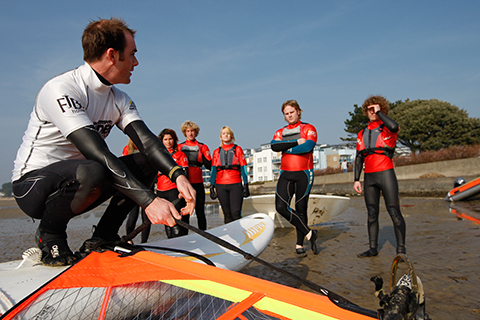 Enjoy it.
According to University of Warwick research (2015), people who enjoy their work are 12% more productive than the average worker. Making windsurfing your career takes hard work and commitment, but the industry gave me something I never imagined – doing something I truly love for a living. You can't buy that.
Find out more about RYA Windsurf Training Courses at www.rya.org.uk/go/windsurf-courses