Tweet
Age is no barrier to windsurfing – the RYA explains why.
Words & Photos  RYA 

Originally published within the October '17 edition.
---
Russ Towns used to be a sailor until he discovered windsurfing. In July he turned 80 and every Sunday he can still be found giving sailors 60 years his junior a run for their money on his Starboard raceboard at Nottinghamshire County Sailing Club. At the other end of the spectrum, a five-year-old at Russ's club took her first windsurfing steps this summer, instructors cutting down an old sail and tying a rope to a mini Bic board so she could get a feel for it and be like her big sister.
Windsurfing is a sport for life. But what makes a lifelong windsurfer?
"When you think you've mastered one thing, another challenge comes along, you never stop learning," explains Sam Ross, RYA Instructor Trainer and coach.  "It doesn't matter what you're doing; you could try another type of windsurfing, want to dabble with different kit or visit new locations, go down the performance route or become an instructor. It becomes a way of life, and asides from the adrenaline rush, we see a number of other common factors in lifelong windsurfers." So what are these?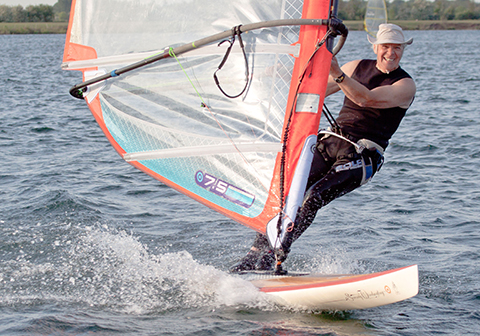 In it together
For many windsurfers the social aspect is defining. From youngsters wanting to do what their friends are doing and egging each other on, to groups learning together on holiday or being part of a strong, active club, everything is about being around like-minded people whose company you enjoy. Club life at Notts County has certainly been decisive in Russ's longevity as he not only races, but continues to coach and, when winds are light, he will often head down to the club with his 10-year-old Starboard Serenity knowing people will be around. "When you're retired you need things to do, it's as much about mental as physical wellbeing," admits Russ, who also sails at events around the country with the Seavets (Senior and Veterans Windsurfing Association) charity fundraising group. "Meeting friends is definitely what has kept me coming back over the years. I really enjoy the social involvement of being involved in club activity and get great satisfaction from seeing people developing in and enjoying the sport."
Sam says that camaraderie is as vital in inspiring kids to try and to keep windsurfing – resisting infinite other pulls on their time – as it is adults staying in the sport. He continues: "We call them performance bubbles; kids just want to have fun together, but in doing so they push and challenge and learn from each other without really realising it. With a bit of light touch instructor guidance you get some good windsurfers from these. Instructors unlock the door but the kids drive the learning."
Mastering the basics
If you've got good core skills you can turn your hand to anything. Just as there has been a renewed focus on skill development, away from racing, in the RYA Team 15 programme over the past couple of years, one thing all older windsurfers have in common is using their technique skills to their advantage. He said: "Good core skills will carry you through for a long time. Interestingly we tend to find kids who do well in windsurfing learn before they go through their growth spurt and water confidence is also a massive thing. That's why dinghy sailors can quickly become good windsurfers as they understand the wind and what's going around them, all we're doing is adding the windsurfing."
In his 60s himself, David Eberlin, Chief Windsurfing instructor at Notts County, agrees. "Our older windsurfers all know how to use the sail so they aren't fighting the wind," he adds. "Experience counts in making technique more efficient and not expending as much energy. Plus they know their limits, when it's too windy they don't go out. Many are also instructors, which enables them to self-coach, examine their own technique and understand how they can adapt it for themselves. This is one reason we encourage our youngsters to become instructors, to improve their own sailing."
Well equipped
Equipment advances have played a key part in keeping people windsurfing for longer too, with kit unrecognisable to the wooden, forehead-height booms and aluminium masts Russ learned on. Meanwhile the development in WindSUPs and inflatable SUPs have also made it possible to get younger kids on the water and, with a bit of instructor input, figuring it out through trial and error or what in coaching is termed 'deliberate play'. Sam adds: "The kit is there to do whatever type of windsurfing you want to do at whatever stage of your life you're at. Kit is more efficient, so if all you want to do is get planing that's great, while rigs are lighter for cruising around on longboards." For Russ that means just one thing. "I've got a lifetime of enjoyment from the sport. I can't ever imagine a day when I won't be windsurfing."
To find out more about getting into Windsurfing visit www.rya.org.uk/get-afloat/sailing/Pages/windsurfing.aspx