Tweet
SEVERNE BLADE 5.0M
2020 TEST REVIEW
THE VERDICT
Combining super light and focussed handling with a clean, smooth power delivery that can be turned on whenever required, the Blade proves that five-batten wave sails are as relevant and capable as ever.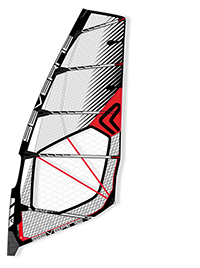 OVERVIEW
The Blade is Severne's control oriented wave sail and has long been the constant in their wave sail offering, standing for balanced power and dependable handling across a wide wind range. Available in three distinct colourways for 2020, there are no less than fourteen sizes in the range going right up to 6.7 for the heavier rider or lightest airs. Constructed entirely in x-ply, it uses the brand's eM4 scrim in foot and leech panels for light weight and durability, a wide Dyneema strand x-ply in the window for visibility and eM3 scrim in the upper panels for reduced swing weight. And coming in at just over 3.0 kg when rolled, it is certainly one of the physically lightest in the group. Durability and longevity is clearly considered, with wide double seams used throughout, and seamless head and foot panels retained. There's also moulded soft edge beading along the foot of the sail and minimalist anti-abrasion pads at the batten ends, but as with last year, it's interesting that Severne have dispensed with any bulky head reinforcement, doubling up the luff tube material in the top corner instead. Lightness and weight saving is etched into the brand's DNA, so any reduction in swing weight is embraced. A couple of Spiderfibre tendons extending from the clew complete the picture, along with a thermoformed tack fairing and a considered tack roller, aligned to mitigate friction during downhauling and with an incorporated metal bar to keep the threaded ropes in their designated roller. Finally, for those that want the best, where money is no object, there's the Blade Pro – a Philip Koester approved work of art, using Hyperspider 4.0 membrane throughout its panels, to optimise light handling and focus its precise power delivery. 
 BRAND CLAIM
"For riders demanding dependable performance across a wide wind range, you simply can't beat the stability and control that 5 battens provide. Based on this fundamental we built the Blade to be the ultimate all-rounder wave sail."
PERFORMANCE
Rigged on an RDM Blue mast, the Blade is easy to downhaul, setting with a moderate amount of luff curve to its leading edge and looseness in its top two panels. Both bottom battens retain good rotation round the mast and there's a respectable amount of shape pushed forward in the draft, particularly in the batten just above the boom. On the water the Blade was universally liked by all that used it, providing a combination of useable power and impeccable manners, to be enjoyed by all rider abilities. Light and balanced at rest, it feels poised, ready for action and accelerates purposefully in the hands when a gust hits. The reduced luff curve allows the mast to flex freely and help the Dacron luff panel fill quickly and efficiently, the power delivered so smoothly that it never catches you off guard. Settling into a comfortable forgiving stance, its low and forward centre of effort drives power innately into the board, helping to pin it down and settle any nervousness or control issues. It's as if you've engaged autopilot, bypassing any demand for the rider to get involved. As such, you're encouraged to charge around a break in complete confidence and hunt for the next ramp or wave to exploit. It's then that you realise the Blade's straight-line efficiency as well, as you're travelling faster than most, without putting any effort in. On the wave the Blade is a joy to use, supplying the focussed power and speed to enter fully committed turns, safe in the knowledge that it can go wonderfully light and back hand neutral in an instant when desired. And as the wind increases, the natural tuneable range of the Blade means that control is never far away, the low clew eyelet helping to keep the rider's stance compact and the power driving forward. 
VITAL STATS
Size: 5.0
Luff: 415 cm
Boom: 163 cm  
Battens: 5
Ideal Mast: Severne 400 cm Wave
Available Sizes: 3.0, 3.3, 3.5, 3.7, 4.0, 4.2, 4.5, 4.7, 5.0, 5.3, 5.5, 5.7, 6.2, 6.7.
Price: £695
---
Other boards in this test:
THE LINE UP
---
---