Tweet
Sportif Travel have these new clinics for 2020 – 2021 on sale now. Book before 29th February 2020 and get £100 OFF the Peter Hart Brazil windsurf masterclass in January 2021. For some early spring sailing, Simon Winkley has a few last minute places available to Lanzarote from 16-23 March 2020. Or head to the Alacati in Turkey for summer flat water slalom or general skills training with Simon's second clinic from 30 June to 07 July 2020. For all round combi conditions, Jem Hall has last few places on the Jem Hall clinic to Mauritius, with 2021 clinics almost fully reserved.
Peter Hart Masterclass Windsurf Clinic – Jericoacoara,  Brazil
Date: 08-18 January 2021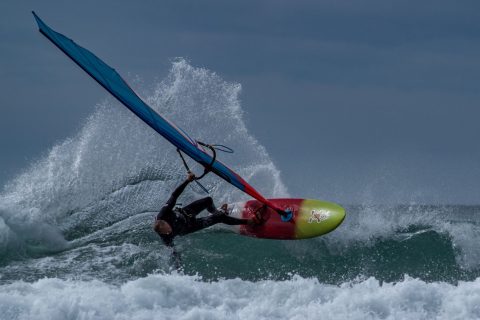 Newly announced for 2021, join Peter Hart for his Brazil Clinic in Jericoacoara for 9 days for an entry level wave sailing Masterclass plus general skills. "January offers near perfect wave-sailing conditions and the whole place noticeably less crowded and laid-back", says Peter. More >
EARLY BOOKING OFFER – £100 OFF PER PERSON IF BOOKED BY 29 FEB!
Simon Winkley Windsurf Clinic – Lanzarote, Canary islands
Date: 16-23 March 2020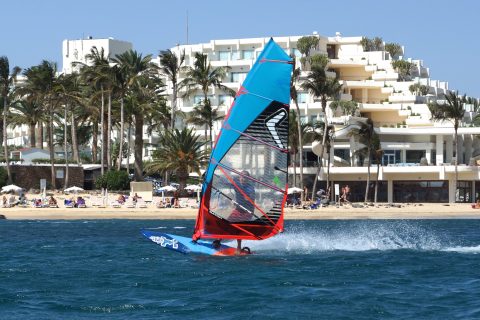 The Simon Winkley Pro Coaching windsurfing clinic returns to Lanzarote for a spring tune up from 16-23 March. Suitable for adventurous Intermediates to advanced windsurfers, itcovers everything from beach and water starts, tacks, gybes and more advanced skills with choice of flat water, slalom to small waves outside the bay. Based in lively Costa Teguise, you can enjoy sociable group dinners with non-clinic friends and partners welcome. LAST FEW PLACES ! More >
Simon Winkley Windsurf Clinic – Alacati, Turkey
Date: 30 June – 07 July 2020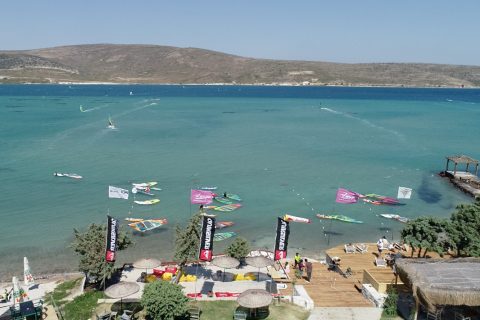 The clinic group in 2019 had awesome wind conditions and Simon returns to this former PWA venue from 30 June to 07 July 2020. One of the very best flat water, freeride spots, Alacati bay offers a huge sailing area, ideal for Improvers to Intermediates looking to develop their technique over a week. In between sessions on the water, you can relax at the centre's sociable bar-restaurant or chill out area . The group head out in the evenings for group meals and enjoy the atmosphere of old Alacati town, with its cobbled streets and market stalls. Non clinic or partners and friends are welcome to join the trip. LIMITED SPACES! More >
Jem Hall Performance Boost Windsurf Clinic – Le Morne, Mauritius
Date: 19 – 31 August 2020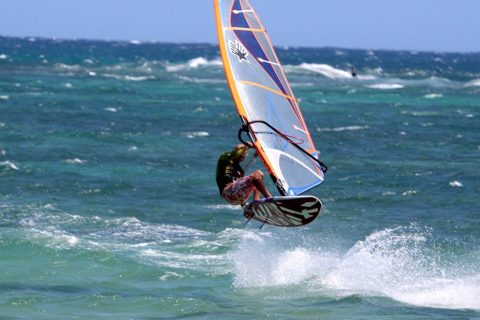 Join Jem for a 7 or 10 day trip, windsurfing in the outstanding flat water and wave location of Le Morne in Mauritius. The clinic level is for intermediate to advanced windsurfers. The group stay at the 4* All inclusive luxury hotel on the spot with onsite windsurf centre, by the stunning beach with launch straight to the flat water lagoon and direct access to the different offshore reefs, for those looking for small to awesome waves. Non-windsurfing friends and partners welcome. LAST 3 SPACES! More >
Extended stays available on request. See videos of previous clinics on the Sportif website.
To book contact Sportif Travel.
Telephone +44 (0)1273 844919.
Email  [email protected]