Tweet
When Starboard released what they called, "Our easiest foil ever", the "SuperCruiser", we heard that there was actually a top secret new design of foil board in the works too. Starboard's head of brand and design, Tiesda You, gives us the lowdown on both their new 2020 Foil X board and SuperCruiser foil.
 Words Tiesda You // Photos John Carter, Eric Collard & Adrien Grelon
---
Tiesda You – "Long story short from Starboard side, the SuperCruiser foil is actually one of two parts, the second part being our brand new 2020 Foil X board. Combined, you have gear people can foil on and performance so cool that relatively advanced foilers like myself, Svein Rasmussen or Albert Pijoan, no longer use the Race foil! So everyone beside Gonzalo will be super stoked on the SuperCruiser foil + Foil X board. The board is very radical, measuring just 190 cm long! Combine it with the SuperCruiser foil that gives you lift before Formula boards get planing and the low aspect wing that keeps you flying at low speeds, you basically can foil in very light winds and do foil jibes all day long. However, get this, beginners can learn on this very same gear!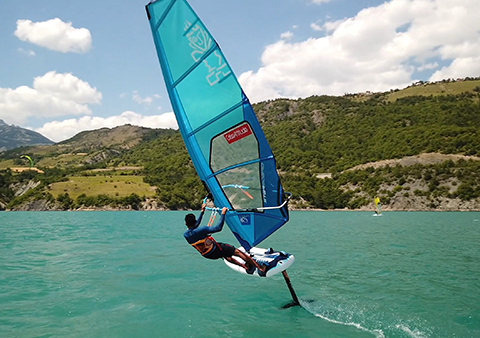 A friend of mine in Thailand, who is starting to plane on a Rio with straps and harness, he's learning to foil on this same Foil X + SuperCruiser combo. So yeah, learning on a 190 cm long board! The trick is that it's very thick, packing in 140 litres. That's why it's called the Foil X. We can't call it by length, as in the 90s, or by volume as in the 00s, or by width as in the 10s. None of them work for this concept of a board… so we called it Foil X. So what's exciting, I feel, is that here we are for the first time in windsurfing, where you can purchase one gear to learn on, and keep the same gear as you get better and better and become an advanced foiler. There are actually few sports that I can think of where gear mattered as little relative to your level. It's kinda like football: you buy the ball and the rest is for you to improve your skill. Most importantly, the gear you use is the same gear your friends can use if they want to try foiling. Coming back to the SuperCruiser foil, it started when Tris Best of the OTC in Weymouth told me last summer that he's starting people out on Slingshot foils, not Starboard, because they were smoother with an earlier take off and worked nicely at low speeds (Tris, I was offended!). At the time, our easiest to use foil was the Freeride with its 1100 cm medium aspect front wing. It was in the right direction, but not enough. That was the first hint that was dropped my way. Then, I went to Hood River and spent a day foiling with the guys there including Tony Logosz of Slingshot. He was showing me the other side of foiling: small sails, low speeds and 100% fly time, while all I've been doing the last two years was performance foiling with foils like our GT, GTR and Race.
We compared his foils with our wave foils, and they had the same geometry. I quickly put our wave foil into a Starboard Foil 111 board, used a small 4.4 Severne wave sail and discovered that whole new side of foiling.
I tried our Wave Pro 1500 foil, which was nice and very manoeuvrable. It's a thicker wing and has a deep concaved shape, but the Wave 1700 was better. Its flat shape makes it steady and more suitable for wind foiling. The wings are thin too, so you have more speed and glide. You want that efficiency feeling that a thicker wing doesn't offer.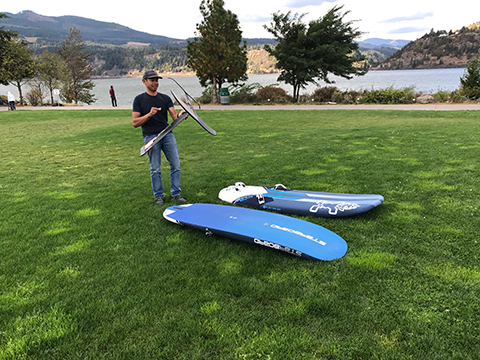 Back in Thailand, I CNC'd new fuselages to try different lengths, replacing the Wave foil's 67 cm fuselage with 87 cm and then 92 cm options, with various front wing and tail wing positions. The 87 cm ended up being the nicest overall. We then replaced the 65 cm mast with an 85 cm mast; 65 cm is almost too short for wind foiling. Short masts are not scary because when you foil out, you come down from a lower height, and it's nice and stable. The downside is that in anything but the flattest water, you foil out too often. We could have gone with 75 cm, but with 85 cm, it's a mast you can keep as your level improves. All in all then, the finished SuperCruiser consists of the 85 cm mast that gives you lots of performance and tolerance in 'wavey waters', and the 87 cm fuselage that gives you stability to make foil jibes and manage pitch comfortably. The large surface area of the low-aspect front wing, 1700 cm2, allows you to take off quickly, but it's still a thin and flat wing to give you speed and stability.
I'd recommend the SuperCruiser foil with the 2019 Foil 111, Foil 100 or 2020 Foil X board and paired with a small sail. The largest sail we use with the SuperCruiser is the 6.7 Starboard Flight. Shorter boards like the Foil X are recommended because they complete the whole experience by being light to manoeuvre and they're easier to pop out of the water to take off, but classic freeride shapes work just fine too.
PRICES:
SuperCruiser foil – £949.
Foil X 145 – £1399 Starlite, £1875 Flax-Balsa.
Foil X 105 (Flax-Balsa only) £1849.