Tweet
STARBOARD ULTRAKODE 82 Carbon Reflex Sandwich TEST REVIEW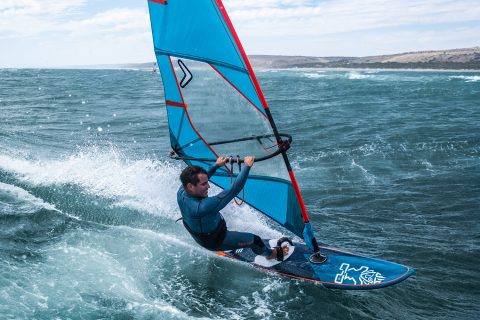 VERDICT:
A fast board with a fully connected feel, that allows the sailor to connect seamlessly from bottom to top turn, with the various fin options giving versatility across different conditions. The 82 UltraKode would make a great one wave board for a smaller rider, or a small board for a heavier sailor.
THE LOWDOWN:
The UltraKodes in Starboard's range for 2021 are their dedicated wave board, with five all-new shapes. As in previous years, the range is split across two design teams. The smallest two sizes, the 78 litre and 82 litre on test here, are shapes from Mark and Jaeger Stone, whilst the larger sizes are from Albert Pijoan.
All sizes feature four Starboard Starboxes and one US box, meaning that boards can be set up as thruster, quad or twin. The Starboxes allow the fitting of both slot box and US box fins. All models are supplied with new Stone signature Black G-10 thruster fins by Drake and all boards feature swallow tails, which helps reduce the overall length of the boards, with the 82 coming in at 217 cm in length. In general, the 82 has become more compact than previous years, with a slight increase in thickness. UltraKodes feature fast rocker lines in the planing surface area for speed and early planing, combined with a concave bottom shape that is meant to create grip and aid with rail-to-rail transitions.
The board is finished with Drake footstraps that are made from FSC-certified, sustainably sourced and plant-based Yulex foam, and the overall construction of the board has been made with sustainability in mind.
BRAND CLAIM: "The UltraKode 82 has a more compact length with a shorter tail and more thickness. The overall result is more control, more manoeuvrability when riding waves in light winds and a wider range."
PERFORMANCE:
On initial inspection, the UltraKode's lines give it an almost classic look, despite its compact dimensions, with a less parallel outline than many of the compact shapes on test. When you first get into the straps on the board, this plus a very ergonomically shaped deck dome, give a really connected feel to the board, the back foot seeming to be able to wrap itself from rail to rail. The UltraKode was one of the smallest boards on test and did feel so, although once powered it planed smoothly and was fast, giving the sailor lots of feedback.
The speed and connected feel made it fun through jumps. On the wave is where this really excelled, with the transition from rail to rail in bottom to top turn being incredibly easy and forgiving, allowing you to execute great top turns even if your timing was well off.
As a thruster you could still adjust your arc through the bottom turn and whilst as a quad the grip increased, you still had the ability to drive the tail round in the top turn and get it to release without losing control. Whilst the thruster worked well as a go-to option across all conditions, the twin option gave that extra flexibility for radically changing arcs and making big turns on mounds of mush.
VITAL STATS:
Volume (quoted):  82 litres.
Length: 217 cm.
Width: 58 cm.
1ft off (tail width): 38.6 cm.
Bottom shape: Vee round to double concave.
Weight ('naked'): 6.0 kg.
Fins: US centre box + 4 x Starbox; thruster fins (supplied) 1 x Drake Stone Surf 18 cm + 2 x Drake Stone Surf 11 cm.
Sail Range (Quoted): 3.5m – 5.5m.
Sizes Available: 78, 82, 86, 93, 100.
Carbon Reflex Sandwich £2699.00; Wood Sandwich £1999.00.
---
THE LINEUP
---