Tweet
Every sport needs it's next generation to survive and windsurfing is no different. So how do we inspire and teach our sport to our children. Last year Polish uber-waterman Kuba Gasiewski introduced us to his radical new teaching technique in one of our most popular articles, 'Child's play'. Now, a year down the line, he reflects on its success and developments of his 'New school' program at ION CLUB Le Morne, Mauritius together with Timo Mullen and Ben Severne's thoughts on Kuba's innovative approach.
Words  Kuba Gasiewski, Timo Mullen & Ben Severne  // Photos  Timo Mullen & David Varekamp | Surfkitephoto.com
Originally published within the August '17 edition.
---
Let's take a closer look at modern life. Comparing it to my childhood is quite difficult, even though it wasn't too long ago. Nowadays most children have iPhones, iMacs, iThis and iThat. They are even officially called "The iGeneration". These days everything must be shiny, catchy, easy, accessible and effortless. Where does it lead us to? How does it make this generation different to the ones before?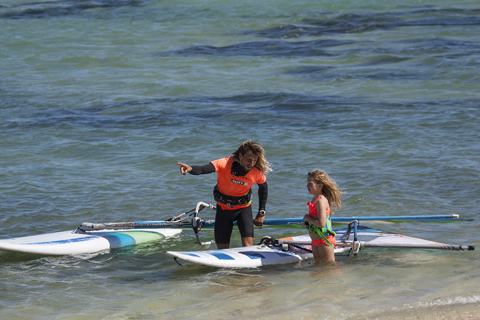 MAKE IT FUN
When I was a kid there was quite a limited amount of things to do. You could climb trees, play some football or other outdoor games with your friends and there was 30 minutes of cartoons on the TV at 7.00 p.m. That was pretty much it. So when I first got a hold of windsurf gear I just kept trying and trying. Even though back then it was way more difficult. I had a 3.5m sail that felt twice the size when it would fill with water, boom that was moving all over the place and a heavy 3.70 m long and narrow board and I was only 10. Now as an experienced instructor I think about early windsurfing days as a mission impossible. Yet, back then it was possible! Maybe there weren't so many distractions? Today kids have too many other shiny things to do then lifting up a heavy sail. Of course there are exceptions who like the challenge that comes along with windsurfing but it's much less likely to happen. Most kids will try a few times and walk off – "this is boring and too hard". The best way to convince them is by making the experience easy, effortless and entertaining. Making sure they fully like it before facing the hardship of the sport. Why not make it simply FUN? Rather than base teaching on an idea that it's going to be fun once you learn it, let's have fun while learning and wait for the right moment to expose the child to the challenges. I think tandem sailing is the easiest way to achieve that.
" All we have to do as teachers is to take care of the safety part and ensure they have as much fun as possible."

GROWING
Just few weeks ago I received an email from Timo Mullen saying that he heard that I'm "The man" to teach children and he would like me to teach his daughter Skye. I remember when I was still in the windsurfing kindergarten myself, I was watching videos of Timo throwing forwards and back loops and ripping down the line. For me he was one of the best guys. I was dreaming to one day ride like that. Now such an amazing windsurfer trusts me to teach his daughter. Life is really full of surprises! Ever since last year's article "Child's play" I've been teaching more and more children in the age group of 3-7. Before, these were just rare occasions. Parents from all over the world are bringing their children to experience windsurfing with me. Now I can truly say that my teaching concept works. Why? because after the session I ask each child what does he/she think about windsurfing and the most common answer is – "It's FUN!" Don't you agree that for a child that's what it should be all about? This was the case with Timo's daughter Skye. At first she wanted to come only with her Mum. Than we had a little chat and decided to take the tandem sail for a spin. After 2 tacks she already wanted to go out to the waves. We started small and then gradually went bigger and bigger, ending up in head high surf. It's amazing how much confidence Skye has. She was just smiling in front of barreling waves without even a tiny touch of fear. I think she is really natural in the water – that must be in the genes. Sailing with her was a great pleasure. After 2 sessions we went down to a 150 litre board.  We were tacking like one person, hitting the lips right in the pocket and carve jibing without any effort. I wish I could have taken a picture of Timo's very happy and surprised face when he was photographing our session. He got really shocked by his daughter saying that she would like to stay out longer on the water while he was heading back to the beach. For me all of that is really priceless.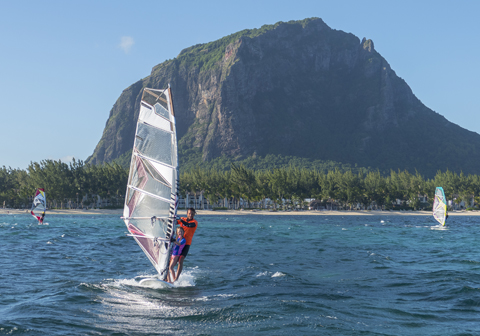 NEXT STEPS
So what are the next steps in my program. In my head the sail and the teaching method is complete or close to it. I know that I can do it and it works for me. Now I guess it's time to truly share the concept. Everything always mysteriously lines up and works by itself in my life and so it was when I met another legendary windsurfer – Ben Severne. He is such a passionate sportsman, cool and a very open minded person. One of the "good guys". It didn't take him long to tell me – "Let's produce your sail! That should be easy." That's exactly what I was waiting for, a little outside push, backup and support. If we can produce this sail then I can start an instructor teaching program and hopefully implement the idea in windsurf schools worldwide. Soon there will be more and more windsurfing teachers operating with this sail. That means more and more kids on boards. I promise that before we even notice, windsurfing will be back to its level of popularity in the 80s. This year is a little bit special for me. It's been 10 years since I began to teach windsurfing and fully dedicated my life to this amazing sport. From the very beginning I already knew that working with children is my strongest field. Somehow I know a way to communicate with them and to catch their attention. I have met quite a few instructors who find it difficult to work with our youngest sailors. I guess it depends on your personality. I myself think that with the right approach it is the easiest thing to do. Children just want to have a good time. He/she is not yet confused by thoughts, simply just knows without knowing. All we have to do as teachers is to take care of the safety part and ensure they have as much fun as possible. Passion is essential. If a teacher is missing some of that, kids will sense it straight away and give up before even starting properly. I don't want to say that I'm gifted or something. I just happened to have a good proportion of passion mixed with intuition and experience.  My plan for the end of this year is to organize "The Family Clinic". An event in which parents and children would share the experience of being on the water together. Using tandem teaching I can effectively teach kids and their parents at the same time. If you are dreaming of planing along or sharing the waves with your little one and at the same time getting world class tips for your own progression come and join me in Mauritius. First clinic will be in December 2017 (exact date to be confirmed). For more information don't hesitate to contact me at [email protected]
OCEAN EDUCATION
Recently I started in Mauritius a movement against plastic pollution in the ocean. With the help of my girlfriend Emmelyne, a few friends and supporters such us ION CLUB, Boards & More, Paille-en-Queue Air Mauritius social club and small local businesses, we created the plastic consciousness day called "Enn Losean Vivab" (One Ocean Liveable). The main purpose of that day was education about the problem and finding solutions. We gathered over 500 people on the beach. More than 80 children got to try watersports such us windsurfing, diving, sailing and kitesurfing. People learned about the importance of marine life and how we are threatening it by our reckless actions. Recycling, reusing and refusing plastic was a big focus of our program. I believe that by introducing children to activities in the water such as windsurfing we are indirectly preventing the pollution problem. Why is that? During the event one child was asked if it's good to throw rubbish on the beach. Her answer was: "No, because it's going to end up in the ocean. Then the water will be dirty and I won't be able to windsurf." That's how beautiful a child's brain is. Those are the links I was hoping to create by organizing this event. So by bringing children windsurfing we are actually saving the world. Maybe it's a bit exaggerated to say that, but there is definitely a seed of truth in it. Don't you agree? It's time for the windsurfing community to do something to keep the ocean liveable.


TIMO MULLEN
I first heard about Kuba from my brother, Finn. He told me about a great instructor and sound guy at ION CLUB Le Morne, Mauritius who had a rad new way of teaching kids, he also said what an amazing location it was for teaching and how Kuba would spend his days instructing in-between getting barreled surfing at One Eye and windsurfing in some of the best conditions in the world. It all sounded too good to be true but it wasn't and after having the best family holiday there ever I can't recommend Kuba and ION CLUB enough. Life as a professional wavesailor for me has always been all about chasing the next swell at the drop of a hat, but a couple of times every year, my wife insists that it might be a good idea that I spend a bit of time away from JC and suggests that just maybe I might consider taking my family on a holiday. The thought of spending a couple of weeks on a Greek Island would turn me into a jibbering wreck! So armed with a list of the world's best wavesailing breaks I set about finding a location that ticks all the boxes for the family but clearly and most importantly, me! Top of the list has to be Mauritius, it immediately conjures up in my wife's head images of sipping cocktails by the pool, white sandy beaches and romantic walks along the shoreline caressed by the ocean waves. Meanwhile I'm watching old YouTube footage of McKercher ripping apart the infamous One Eye reef break!!
Yes Mauritius does have it all, so with our tickets booked to stay at the Riu Creole Hotel at Le Morne the Mullen family set off on our 2-week surfcation! My daughter Skye has been windsurfing now for just under 3 years, to be honest she has flat-lined a little bit on her excitement level for windsurfing. Cruising around in the harbour not planing in the summer time for anyone can get a tad monotonous so she really needed a kick start to her enthusiasm. Cue a trip to Ion Club in Mauritius, the windsurf centre based right next door to the Riu Hotel. The centre here has all the latest Fanatic and North equipment and a good safety boat but more importantly it is home to chief instructor and shit hot wavesailor Kuba. Kuba is well known for his innovative style of teaching kids to windsurf and especially for his tandem wavesailing rig. This is what Skye was most excited about trying out, she had seen the pics in Windsurf magazine and was very keen to give it a go, but in her words, "Only on small waves Daddy!" These small waves turned out to be almost double overhead in scale to Skye and barrelling on 'Little Reef' at Le Morne. Yes, you heard it, safe in the hands of Kuba, Skye was experiencing the joys of catching and riding waves at the age of 8. Normally Skye is ready to go back to mummy after 20 minutes but her first session with Kuba lasted 2 hours with Kuba having to end the session! In Skye's words, "Dad, windsurfing is the best, I just want to ride waves, can we do this everyday!!". To hear that as a dad made every penny of this trip worthwhile. Thank you Kuba and ION CLUB!

BEN SEVERNE
I met Kuba in Mauritius while he was teaching Timo's daughter to windsurf. He had her so stoked on windsurfing that she didn't want to come in! Kuba's developed his own tools and techniques to give kids a sneak preview of high-performance windsurfing. It's a way to make real windsurfing as instantly accessible as an iPad. And for kids that are used to that world, it's a real game changer. I've seen plenty of kids float around on a board holding onto a little sail, and that's also a really positive thing. But the look of sheer exhilaration on a kid's face when they bottom turn into a head-high wave is something else. It's something I absolutely recognize, as that's the same exhilaration I get when I do the same thing and the reason why everything I do is all about windsurfing and chasing that feeling. It's lucky Kuba is into windsurfing and not more lucrative / less legal highs – he's doing the equivalent of mainlining your kid to get her / him absolutely addicted. The (windsurfing) world needs more Kubas!
" It's a way to make real windsurfing as instantly accessible as an iPad. "