Tweet
Want to know how to do a table top – 2 x PWA World Champion Marcilio Browne tells us how.

Words  Marcilio Browne  // Action photos  Fish Bowl Diaries  // Lifestyle photo John Carter
" The table top is one of the oldest, but in my opinion one of the 'sickest' wavesailing tricks. It might sound simple and easy, but doing a proper tweaked table top is super technical and also demands a lot from the body.
---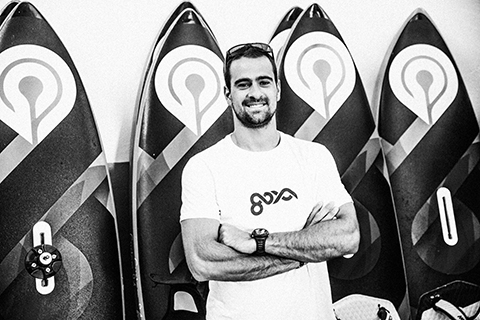 REQUIRED
The good thing about table tops is that they don't require epic conditions or super strong winds. You can try it anywhere from mast high waves and 3.7 weather to waist high waves with a 5.7! So yes, you can pretty much try them anywhere, no excuses, ha ha! Another very important detail is to be very warmed up before trying this move. I also recommend sailing around for 5 to 10 minutes before going for it, just to make sure your body is ready and to help avoid injuries.
TECHNIQUE
The hardest thing is to learn how to go high on a vertical ramp without leaning back too much, which stops the table top from getting more tweaked. One thing I always keep in mind is to keep my waist more elevated than the mast base, at all times, that's what will give you room to push a little extra.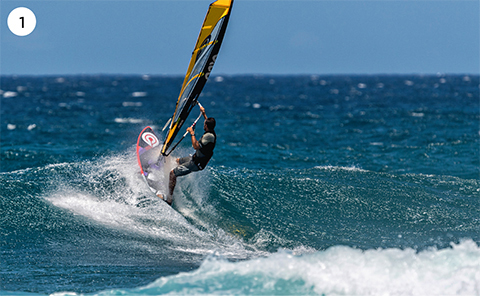 PHOTO 1
Choosing the right ramp is key, not too flat, not too steep. My favourite ones are the flat ones at the start with a little crest up top, those ramps allow you to go up and still keep control of your body and not lean back too much (head down, feet up). Bend your knees and elbows before hitting the ramp.
DO'S
Choose a moment when you have good power in the sail, not overpowered, not under either. Aim for good speed. Pick a nice wave, make sure it's not too big so you don't scare yourself, but also not too small. Having a bit of height helps as you get extra time in the air. The table top is a trick that you want to take your time with, it's not meant to be rushed.
DON'TS
Don't be hooked in to your harness, this can be very dangerous. Make sure you unhook as you set up for the wave.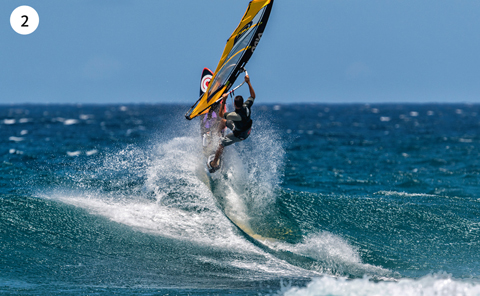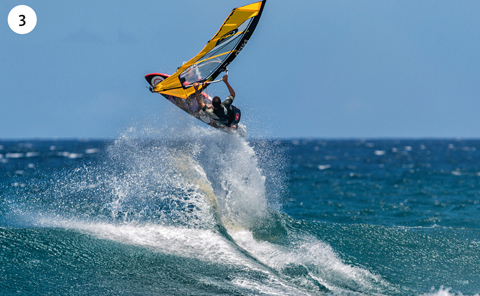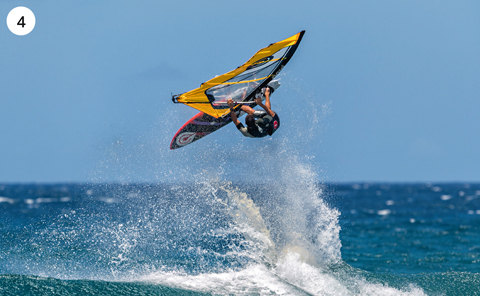 PHOTOS 2 TO 4
Start bringing your back foot up, almost like you want to kick someone
behind you. Try to keep forward momentum on your jump and bring your back hand a little closer to the front one, making your grip narrower than your normal sailing stance.
DO'S
Always keep in mind to point the tip of your mast to the sky, or at most have your mast/body parallel to the water. That is the key for getting it more tweaked and also being on a good angle for landing.
DON'TS
Never allow your mast / head to be aiming at the water. That will make it harder to get it tweaked and also harder to land. When that happens you usually land on your back or too upwind.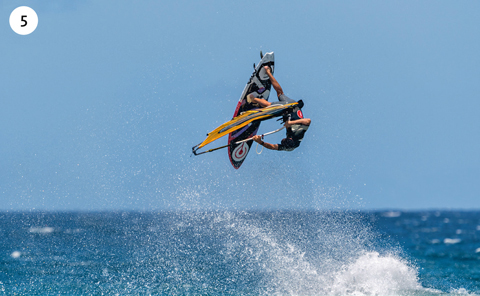 PHOTO 5
This is where you get the most tweak out of it. With time you will be able to get your self in that position, and once you do, it means you are ready to give it 100%. Kick your back leg as hard as you can, also using your hips and lower back, give it all you have. Aim to bring your outer hip close to the mast. Don't rush this moment, take your time to make it inverted, coming back is easy and quick so try to get the most out of it.
DO'S
To get it extra tweaked you can try looking down over your shoulder.
DON'TS
At that point never look under your shoulder, that will prevent you from getting tweaked.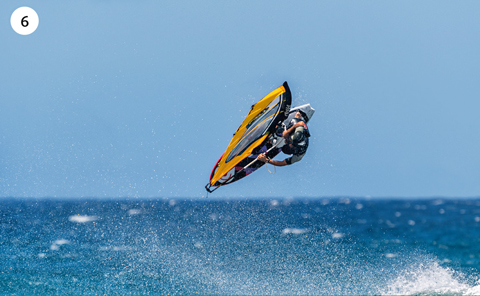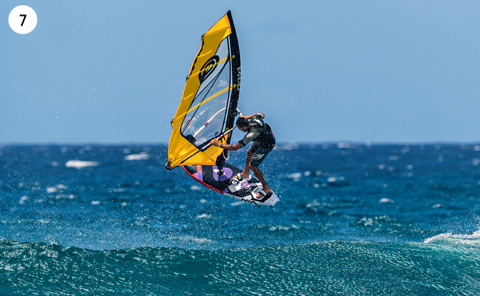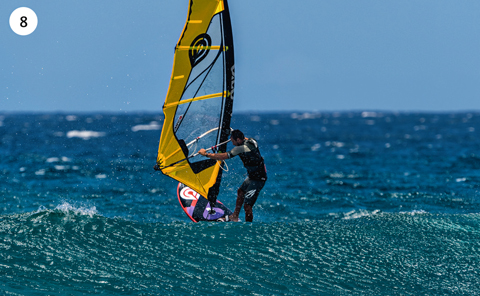 PHOTOS 6 TO 8
Once you start coming down, slowly bring your back leg down, so it goes below you for landing. Once your back leg is under you, look down between your arms to spot your landing.
DO'S
Keep you eyes wide open, spot your landing. You can also slide your back hand further back in the boom, where it was originally before the jump.
DON'TS
Don't keep your knees straight. Always bend your knees to land every jump. Same goes for your elbows.
FINAL WORD
I hope this helps your table tops and that you get the most out of and enjoy the experience. This is my favourite thing in our sport, the process of learning is just as fun as when you have it down. Enjoy playing with your technique and feeling the difference it makes by adjusting all the small details. If you fancy some more instruction, from May 1st to 7th 2018, Levi Siver and I are running a windsurfing clinic in Maui with one to one coaching, gear tune ups and video analysis in the evenings to correct mistakes for the next session to really help people improve their sailing. Email [email protected] for details."
To keep up with Marcilio, check out www.facebook.com/marcilio.browne and www.instagram.com/marciliobrowne.