Stats
Volume (L)
120
Weight (Kg)
7.9
Length (cm)
245
Width (cm)
68
Construction
Ltd
Fin
Hawk G10 39cm
Price
£1499
Tweet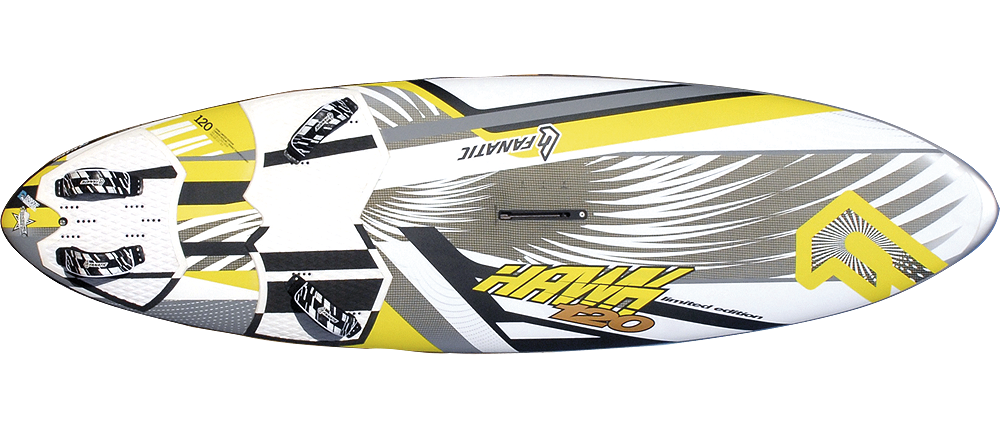 The low down
The Hawk is Fanatic's performance all round freeride board line, with features that are shared with their slalom and freestyle shapes. It is available in two different constructions, wood sandwich light or LTD Carbon Kevlar (LTD tested here) and comes in four sizes.
At a glance
The shape is unchanged from last year's model but it has some sharp looking new graphics for 2012. It has a compact shape, with a pintail and thin rails. The hull features a combination of double concaves and vee, while the deck is nicely domed for comfort under foot. The fittings are superb  with top quality footstraps and a Hawk G10 Powerbox fin. It also comes out very light in this construction, as well as looking the business with exposed carbon on the deck and an airbrushed finish on the base.
Performance
It is a very quick and easy board to get going, with the hull shape working to accelerate you instantly away from the beach and rapidly up through the gears. The ride from the straps is very comfortable and controlled, with the perfect amount of dome under foot, giving you heaps of confidence to push your limits. This is a quick board and you really feel like you're going fast, while at the same time it has a secure and stable ride, so you can completely enjoy the speed. Round the corners, this board is an absolute treat to gybe and rewards a wide range of gybing styles, from tight turns to high speed wide arcs, it carves beautifully.
The verdict
The Hawk is a high performance freerider that is fast and fun on both the straights as well as round the corners. It delivers this performance in all conditions and is very rewarding to ride. It is slightly better suited to higher level sailors but is by no means out of the league for intermediates, just be prepared for an exciting ride.