Stats
Volume (L)
96 (Quoted)
Weight (Kg)
6.25 'Naked' (Quoted)
Length (cm)
234
Width (cm)
61
Price
£1399 (CWS), £1699 (TE), £1999 (TEX)
Fin
MFC TF 19cm (Power Box) + 2 x 12cm (Slot Box)
Tweet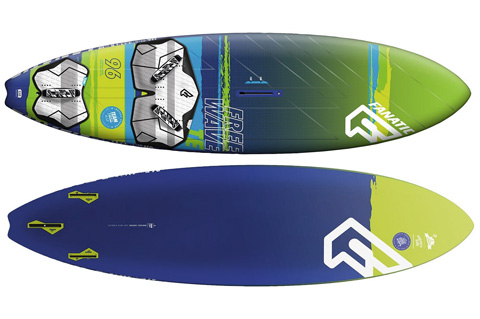 FANATIC FREEWAVE TE 96L 2015 TEST REVIEW
THE LOW-DOWN
The whole Freewave range is available in two constructions – custom wood sandwich light finish (CWS/LF) and Team Edition (TE) as we have here, using Fanatic's Innegra carbon light finish technology. Whilst the CWS versions exclusively use a single-fin set up, the TE boards are predominantly supplied with thruster fins from MFC. This 96 is the largest model supplied with thrusters, using a 19cm central fin and 12cm side fins. Along with the 86 and 106, this board is also available in Fanatic's premium construction TeXtreme, boasting the use of the same carbon weave seen in Formula One, allowing for "less resin, more strength, less weight" … and a healthy price tag to boot.
BRAND CLAIM
"The concept behind the FreeWave was to create a board that offers the ultimate freedom to any rider, on every type of wave the ocean throws out there. The compact fishtail outline, flatter mid-deck section and smooth, carefully formed rails combine to fashion a highly tuned shape that performs outstandingly on flat water, across chop and in waves."
PERFORMANCE
Stable and easy at rest, the Freewave 96 can take a 6.4m sail with ease and feels quite corky underfoot. This becomes even more apparent as power is applied, the board responding instantly and releasing early. It prefers you to drive forward with the front foot to deliver the power rather than being heavy on the back foot, which makes the fins lose traction and tail slip on occasion. It sits high on top of the water and has a lively active nature without feeling intimidating or too edgy for the less experienced pilot. With the straps inset, this engaging character encourages an upright manoeuvre-oriented stance. Dig the windward rail in slightly and the large side fin plays its part well, helping to make excellent ground upwind – a real asset around a break. It can also be pushed to a reasonable straight-line speed, which could no doubt be improved further still by using a large single fin and the outboard strap positions… although that's not where we think this board's real credentials lie. It would be like using a rally car for a drag race! Instead, this board's real forte is in manoeuvres, where it seems to be begged to be jumped, popped or put on its rail. Releasing well when hitting ramps, it felt light and compact in the air, its buoyant nature enabling it to stay on the water's surface and accelerate easily out of a landing. In the turn the Freewave grips beautifully, encouraging you to drive hard through the back foot and vary the carving radius. It's a lot of fun around a coastal break; an ideal companion to make the most of less than ideal conditions, whilst remaining surprisingly controllable and connected with the water when the conditions became severe.
THE VERDICT

With a corky, loose, yet controllable nature, the Freewave is a fantastic manoeuvre-oriented companion for making the most of any real-world coastal arena. If you can push to the
TE version with the thruster set up, you won't regret it!
---
OTHER BOARDS IN THIS TEST:
---
---