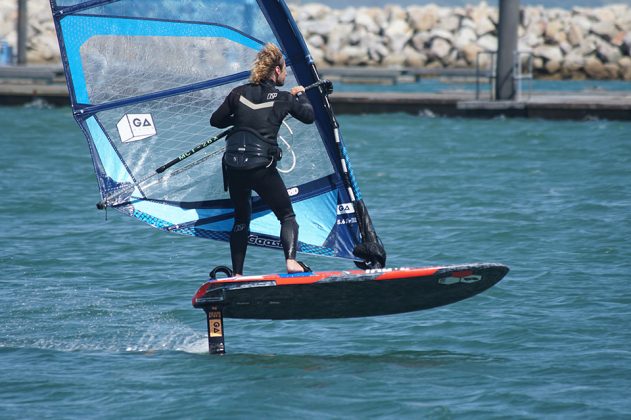 Tweet

GA SAILS HYBRID FOIL
2019 TEST REVIEW.

THEY SAY
The windsurf foil Hybrid brings all windsurfers into the air, creating an easy transition between windsurfing and windfoiling, but also offering lots of speed and performance in all conditions.
WE SAY
GA have taken their time to come into the windfoiling scene, but have introduced for the 2019 season a comprehensive three foil range to suit most riding preferences and budgets. The Hybrid is their price-pointed aluminium freeride offering, with an 80 cm mast stemming from a cast aluminium Deep Tuttle head with a skirt or lip to help locate the foil into the board and distribute forces. We found it easy to fit into most boards we tried, the enlarged bolt openings on the top surface of the head helping to cater for various forced angles. Supplied in a lightly padded cloth bag to house the dismantled foil, the rest of the Hybrid foil is easy to fix together, using a torx driver and some Tef-Gel lubricant to look after the joints (neither of which are supplied). We first tried the Hybrid in powered 5.6m weather, fixing it into a foil specific 110 litre board. Accelerating purposefully, it provides lift smoothly and progressively, feeling balanced yet alive underfoot. Continue to provide the power and the GA responds willingly with more acceleration, particularly off the wind, where its speed and efficiency through the water are impressive, really helping to captivate the rider. In these conditions, it is not really one for cruising around at half speed, but simply wants to put the hammer down and go! For an entry-level aluminium offering, its reaching performance is exceptional, yet does serve to highlight the foil's drop in efficiency when pointing back upwind. As such, when covering the four corners of a sailing arena, it prefers to be complimented with pressure from the rig to maintain both angle and speed to the wind. We also found the Hybrid's 80 cm mast noticeably shorter than others when used in heavy seas, requiring an extra degree of focus to resist any breach. Entering full flight gybes with the Hybrid was a real pleasure, the foil providing both the speed and stability to give the rider that extra bit of time during the critical mid-transition moment. Even if carving speed is lost during the corner, the thickness and curvature of the front wing allows it to maintain lift, keeping the board airborne and stable. Slippery and fast, yet smooth in response, it really does flatter the rider through the turn. In more marginal conditions, the Hybrid was partnered with a larger, wider board (up to 145 litres and 81 cm wide) to explore its light wind potential. With its mast being 80 cm, it could partner a 7.5-7.8m rig comfortably and provides a surprising amount of early lift and glide. Responding superbly to good pumping technique, its acceleration is again noticeable, thriving on being powered and simply asking to be turned off the wind for energetic downwind hacks. Just be conscious that it craves the power to point back upwind with any prowess! Providing accessible performance and manners over a wide wind range, this GA foil is perfectly named, furnished with a blend of qualities from both the high aspect and low aspect camps. And at £879 it represents excellent value for both novice and experienced freeride foilers.
VITAL STATS
FOIL
• Head: Tuttle Box
• Mast Length: 80 cm
• Mast Material: Aluminium
• Fuselage Length: 84.6 cm
• Fuselage Material: Aluminium
• Front Wing Span: 71.3 cm
• Front Wing Chord: 15.4 cm
• Tail Wing Span: 44.2 cm
• Wing Material: Carbon
• Weight: 4.54 kg
BOARD
• Volume: 201 cm (6'6")
• Width: 78.7 cm (31")
• Volume: 125 L
• Foil box: Deep Tuttle
• Sail Range (Quoted): 5.0-6.5m
• Sizes Available: 103,105,125.
---
Also in this test:
• AFS W85 FOIL
and AHD TOPAZ 127
• FANATIC FLOW FOIL 1250
and STINGRAY 125
• MFC ONE7 FREERIDE / RACING PRO
• NAISH WINDSURF MICRO HOVER
131 BOARD and 1150 FOIL
• NEIL PRYDE GLIDE WIND
and JP  HYDROFOIL 120 FWS
• RRD WH FLIGHT ALU 85 V2
and POCKET ROCKET 122
• SLINGSHOT HOVER GLIDE FWIND
and WIZARD 125
• STARBOARD SUPERCRUISER
and FOIL 111
---
---