Stats
Volume (L)
95 (Quoted)
Weight (Kg)
7.0 'Naked' (Quoted)
Length (cm)
228.6
Width (cm)
62.4
Price
£1499
Fin
TF FW Centre 25 US Box, Side 09 MT
Tweet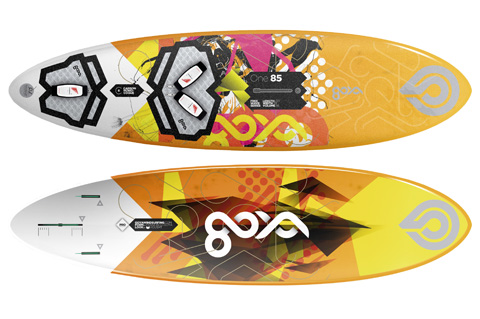 GOYA ONE THRUSTER WAVE 95L 2015 TEST REVIEW
THE LOW-DOWN
True to its namesake, this freewave range is available in only 'one' technology, classed as 'carbon' by Goya. The same design as in 2014, its bright livery remains eye catching indeed, yet for 2015 it comes supplied in a thruster set-up, with a 2cm smaller centre fin and 9cm mini-tuttle side fins. The one board to do all, Jack of all trades… will it be the master of some?
BRAND CLAIM
The One Thruster is an all-around board, but it couldn't be further from lacking unique character since it's loaded to the nines with dynamic shaping freebies. The One has increased range of not only conditions but also styles, especially when switching between Thruster fin set ups. These boards will feel at home anywhere as long as it's water you put them into. "Imagine turning and sliding with all new angles and speed. This is the magic of the One. These shapes turn average onshore conditions into paradises." Francisco Goya.
PERFORMANCE
The widest yet shortest in the test group, the One can carry rigs well and is one of the earliest here to release from the water. It accelerates smoothly and has a low-planing threshold, retaining a long wetted area, which in turn imparts a fantastic amount of control. This control translates to a real ease of use and practicality, and helps the board to handle severe sea states despite its wide outline. An experienced sailor often equates a "secure, easy ride" to mean a dull 'passenger- like' sensation … and in many instances this is true. However, it is certainly not with the One 95, which exhibits more than enough ability to retain the interest of (and even endear it to) the most demanding of pilots. Instead, the control gives you the confidence to push, and when you do so you're rewarded with a positive and engaging response. Load the rails and the One bites and holds its edge well. It is not nervous or sharp, but rather keeps its smooth, gliding character. In the air it felt light and compact underfoot, possessing the virtues of a smaller board when the conditions got challenging and the chips were down. It is a very dependable and capable board in any sea state or discipline, making it one of the most versatile platforms on the market today.
THE VERDICT
With a distinct combination of ease and ability, this is one of the most complete all-round boards we've used in a long time and as such is a firm favourite amongst the team. With a fantastic useable range in both wind strength and application, it comes well recommended.
---
OTHER BOARDS IN THIS TEST:
---
---