Stats
Volume (L)
93 (Quoted)
Weight (Kg)
6.3 'Naked' (Quoted)
Length (cm)
234
Width (cm)
60.5
Price
£1399 (FWS) £1699 (Pro)
Fin
Freestyle Wave 25 (G10) PB, 2 x side fin 10 MT
Tweet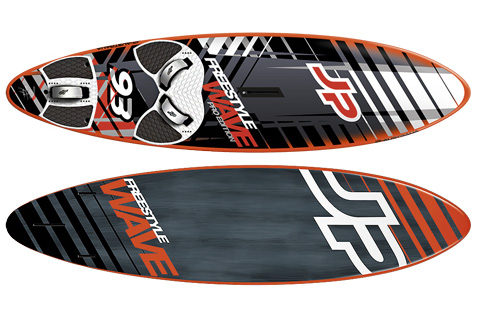 JP AUSTRALIA FREESTYLE WAVE 93L 2015 TEST REVIEW
THE LOW-DOWN
We have the Pro Edition to test here, constructed in the brand's S-Glass technology. The middle contender in a 5-board range, this top-of-the-range version comes with a 2cm shorter fin than it would in FWS tech, as well as 10cm mini-tuttle side fins, plus the blanks if you want to use it as a single-fin. It is worthy of note that the FWS versions do not have side-fin boxes.
BRAND CLAIM
"We were the first brand to introduce Freestyle Wave boards. Many brands followed. Then we launched the thruster setup for the smaller PRO Edition sizes and the others followed again. Some brands even copied the name and also call their boards "Freestyle Wave". If you want the original you don't need to look anywhere else. Fast and fun boards to blast around. Easy to control in the air, but it's in manoeuvres where they really stand out. They carve superbly whether you crank them hard or carve them smooth."
PERFORMANCE
On paper the JP is the narrowest in this group, both in the tail and max width, so it is not surprising that it doesn't carry much bigger than a 6.0m comfortably. That said its early planing ability is impressive once power is applied, and it accelerates like a bullet from a gun to a good top speed. It's not the fastest on test here, but you certainly feel you could match the competition, such is the 93's lively and engaging nature. The nose hunts as you skim over the water, making it very exciting and absorbing to sail; you can't help but be inspired to try some stunts. And whilst it is certainly not beyond the ability of a pro-active intermediate, this energetic character undoubtedly makes it more technical to sail than some others in the group. In the carve the FSW bites in with real purpose and can be driven hard through the back foot, the rounded stub-tail and side fins working well to keep the speed through the bottom turn and cut back. It bears the mantle of its 'wave' title admirably, being perfectly at home around a break. It has a real rail-to-rail feel, encouraging you to push more aggressively in the next trough, aiming for a more vertical line on the face. It's a fantastic option for the experienced rider wanting more life from their large wave-board, which equally wouldn't feel restrictive as the waves improve.
THE VERDICT
A true high-end performer that would not look out of place in a wave-head's quiver as their large board, light-wind charger. Lively and sharp, it provides a captivating ride that couldn't help but inspire. Whilst fast and loose enough to be fun on flat water, it craves ramps and better still waves.
---
OTHER BOARDS IN THIS TEST:
---
---