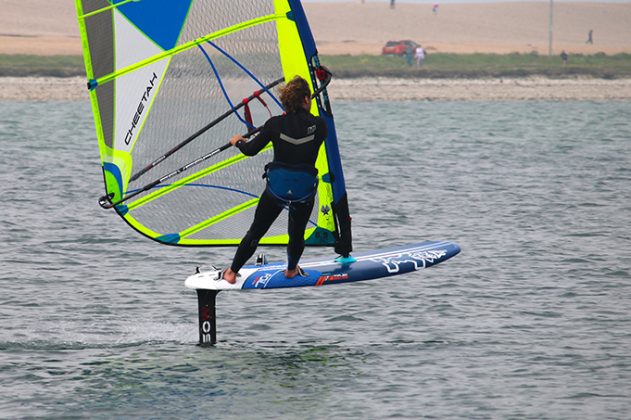 Tweet
 
MOSES VENTO 91L 2018 TEST REVIEW
THEY SAY
Well known in kitesurfing, Moses Hydrofoil have designed, developed and produced high quality carbon fibre hydrofoils since 2008 and manufacture all our hydrofoils to exacting design and manufacturing standards in our dedicated Italian manufacturing plant. The Vento 91 tested here is designed for freeriders looking to combine easy riding, control, stability and solid turning ability. Fitted with a standard Tuttle box, it allows you to equip it to old boards therefore reducing the cost of ownership.
WE SAY
Before fitting the Vento into the board's Tuttle box, it is worth paying close attention to the seam that runs along the top surface of the stanchion, which juts out from the top of the mast. As with all hydrofoils, the lift created will try to kick the mast forward, so this extension mitigates any chance of movement, but in doing so means that the seam imprints into the board's hull in front of the box. To stop this, you can gently sand the seam until the surface is smooth.
On the water, the Moses Vento is a very steady and dependable foil to use. In marginal winds, it was quite happy partnered with a 95cm wide board and 7.8m sail, generating plenty of feedback and acceleration for early flight. It is supremely stable, providing the time and practicality for the novice foiler to learn, before building their confidence and encouraging them to venture into more varied conditions.
Height control is intuitive and comes easy, the Vento appearing to translate gusts seamlessly into acceleration rather than any change in altitude. It doesn't particularly favour a more cantered-over committed stance, preferring the rider to relax and let it do the work; we almost found ourselves going faster the more passive we sailed.
In manoeuvres the 91 can enter quickly and thrives on being challenged, its quick-fire response through the back foot enabling you to counteract any loss in momentum or height smoothly. It's an excellent tutor for learning to gybe well, sustaining flight easily and capable of varying its angle as desired – we can appreciate why Moses have earmarked the 91 as their "jump and freestyle" contender, (if the mood takes you!).
It's ability to fly at slower speeds provides a good understanding of what's to come when you take the Vento out into stronger winds. Powered up, it remains well mannered and predictable, giving you the confidence to cover distance and keep the hammer down. Composed on all points of sail, we didn't experience any nervous twitch to note, although the foil did begin to whistle a little (particularly on starboard) when loaded. Perhaps some fine-tuning sanding would alleviate, but at £1399.00 (the most expensive on test here), we didn't feel it our place to experiment! And if the conditions turn on too much, the 91's forgiving nature allows you to ease the sail out and hover in a more sedate sailing style, as it doesn't need speed to avoid the drop. Comfortable on boards as narrow as 75cm, it has a fantastic wind range and just keeps inspiring you to explore its capabilities. The Moses system is modular, so you can continue to add components to your setup, such as another front wing or mast to provide more range. A newcomer to the windsurfing market, but if future contributions are as good as this, keep them coming!
VITAL STATS
FOIL
• Head: Deep Tuttle
• Mast Length: 91.0cm 
• Mast Material: Full high modulus carbon
• Fuselage Length: 83.8cm
• Fuselage Material: Aluminium
• Front Wing Span: 68.3cm
• Front Wing Chord: 19.9cm 
• Front Wing Area (Quoted): N/A
• Tail Wing Span: 48.4cm
• Wing Material: Full high modulus carbon 
• Weight: 4.34kg
---
Other sails in this test:
• FANATIC FLOW H9 & GECKO FOIL 133
• NAISH THRUST WS1 & HOVER 142
• NEIL PRYDE RS:FLIGHT AL & JP HYDROFOIL 135
• RRD WH FLIGHT ALU 85 & FIRERIDE V1 LTD 155
• SLINGSHOT HOVER GLIDE FWIND & LEVITATOR 150
• STARBOARD FREERIDE & FOIL 122
---
---