Stats
Volume (L)
85
Weight (Kg)
6.8
Length (cm)
230
Width (cm)
57.1
Price
£1599
Tweet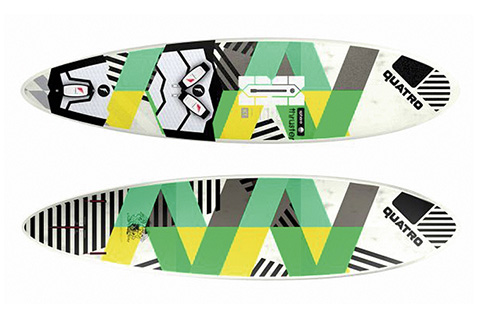 QUATRO SPHERE THRUSTER 85L 2015 TEST REVIEW
THE LOW-DOWN
Quatro's  All Around wave design thruster configuration features a v-bottom for early planing and a double concave to soften the ride at high speeds. Supplied with 18cm TF center fin and a pair of 10cm MT box thrusters.
BRAND CLAIM
Keith Teboul: "With the new Sphere I was looking to enhance the ease of turning while at the same time not losing its thrilling top end speed. I went for an outline that has some traditional qualities to it, appealing to a rider that is looking for a somewhat familiar feeling from single fin designs, yet I incorporated all the latest Quatro features into this shape, from foam flow, to where you are standing on the board in relation to the multi fin setup, bringing a very modern concept to the board.
PERFORMANCE
As with its bigger brother, the 85L Sphere was marginally the longest in the group and barring the JP Radical Quad, the narrowest too and smallest fins .As you might expect, the dimensions do have an impact on its early planing for the un-tuned rider. The first runs will most likely give the sensation of having to drive with your front foot to get up to speed. Some testers described this sensation as pushing over a hump, which was true of several of the more heavily tail rockerd boards in the test. A light footed technique and delicate touch that evolves from more time spent on it sees the sensation disappear and the board becomes almost "invisible" like the standout Goya Custom. In the Medano mush, more power from the rig resulted positively on the wave performance front. Our recommendation would be to try a single first, for softer onshore conditions and then stick with the excellent thruster set up for everything else. The board's narrower outline has the ability to keep you tighter into the curve of the wave making more instant rail to rail reaction. 85kg + riders may want a larger board to compliment this but for the 70-85kg bracket it would make a very capable one board solution that would be a great entry to multi-fin set ups if you haven't been on them yet.
THE VERDICT
Like its 95L counterpart the sharp looking Sphere has a very similar give and reward benefit that comes from quality time spent acclimatizing. Agile in the small surf encountered here, gripping with a positive connected feel, it offers a combination of New and Old school sensations to please all of the team.
---
OTHER BOARDS IN THIS TEST:
---
---