Stats
Volume (L)
99 (Quoted)
Weight (Kg)
6.9 'Naked' (Quoted)
Length (cm)
237
Width (cm)
62.3
Price
£1499
Fin
TF FW Centre 25 US Box, Side 09 MT
Tweet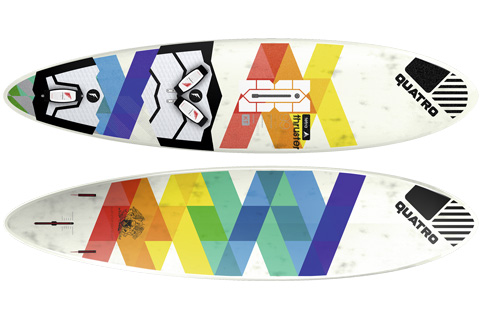 QUATRO TETRA THRUSTER FREEWAVE 99L 2015 TEST REVIEW
THE LOW-DOWN
The middle 'stick' of a three board line-up, the 99 comes supplied with MFC's TF_FW 25cm / 9cm thruster set-up, complimented with MFC straps and deckpads.
BRAND CLAIM
"The Tetra is the all-round Freewave board. Smooth entry with minimal tail rocker for super early planing but still playful turning board. All the models run a v-bottom with double a concave running through the belly of the board for a smooth, stable and fast ride. Sticking with our newer concept of putting the sailor further back on the board and adjusting the rockers for this we have created a board that is fast to plane yet easy to turn at speed because of the stance positioning. This is the go to board for blasting around and smoking your friends…" Keith Teboul.
PERFORMANCE
One of the larger boards in the group by more than just stated volume, the Tetra, is stable at rest and easily capable of managing with the quoted 6.5m. Apply the power and it releases from the water effortlessly, gliding up onto the plane and accelerating well. With its low nose shape and minimal tail kick, the 99 feels gunny and directional, blasting around a break with impunity to confused sea states. In the trailer video for the Tetra, designer Teboul suggests the board could be used as a single-fin, yet with the early planing and blasting prowess the 99 possesses in its thruster format, we don't think there is any need to change from this. What the thruster set-up does do is provide the extra grip and fluidity to the carve, helping the narrow drawn-out tail and pinched rails to exact a versatile carving arc. The Tetra is not a nervous, energy-sapping board that is constantly champing at the bit to be put on its rail, but the more you play with it, the more you realise its capabilities in this area.
For many it would be the board of choice in marginal conditions around a wave break, particularly in cross-on conditions, where its early planing and drive would be a major trump card to get out of sticky situations. Fun and capable if not lively and loose, it was very at home on a wave face and would reward a forceful riding style with plenty of performance. A great platform for the uninitiated to venture into real-world coastal conditions and waves, its ease and practicality would also endear it to the experienced rider, looking for a big board in their quiver to make the most of those 'less than ideal' days we all too often have.
THE VERDICT
Super early planing, the Tetra has fast, gunny, directional character that belies its abilities around the corners. A stunningly dependable board for any rider weight, the more we used it, the more we wanted to push it… and ourselves.
---
OTHER BOARDS IN THIS TEST:
---
---