Stats
Volume (L)
110
Weight (Kg)
8.5
Length (cm)
236
Width (cm)
75
Construction
Ltd
Fin
MFC 36cm
Price
£1470
Tweet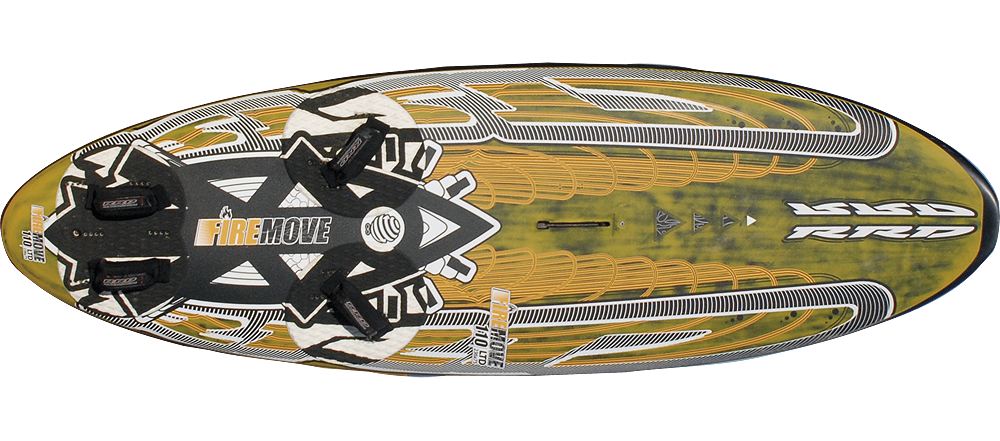 The low down
The Firemove is an all-new board range from RRD, available in LTD construction and coming in three different sizes and two constructions, it is a new concept that is designed to fit in-between freewave and freeride as an all-round manoeuvrable and fast board.
At a glance
It is very wide across the middle as well as short, with a rounded shape. It is the smallest board on test in terms of volume and length but it is also the second widest. On the deck, it has three footstrap position options, centre back strap wave setting, freeride or out-board speed setting. The fittings are top draw, with high quality Dakine Primo footstraps that offer unbeatable comfort and it is also supplied with a MFC Liquid Pro G10 Powerbox fin.
Performance
It is very stable underfoot, despite being the lowest volume board in the test, its wide shape positions the volume perfectly where it's needed, even for heavier riders, the stability is good. The hull shape and width works effectively to help the board quickly up onto the plane and it accelerates rapidly up through the gears, with an impressive top speed. It is comfortable and controlled in all conditions, riding high over the chop. Round the corners it is a very rewarding board that is highly versatile, thanks to its tight tail and thin rail shape, it grips extremely well through carves. The rounded shape makes it super manoeuvrable and gives it an extremely playful nature.
The verdict
The Firemove is an incredibly versatile board that is a lot of fun to ride, whether you like going fast in a straight line or caving fast turns, this board really delivers and comes highly recommended to riders that want a high performance, manoeuvre orientated board that doesn't sacrifice speed. If you like to dabble in a bit of everything on the water and most importantly, have fun, this board is for you. It would also suit heavier riders who are searching for a stable big freestyle wave board.