Stats
Volume (L)
120
Weight (Kg)
9.3
Length (cm)
236
Width (cm)
80
Construction
Ltd
Fin
PB 38cm
Price
£1485
Tweet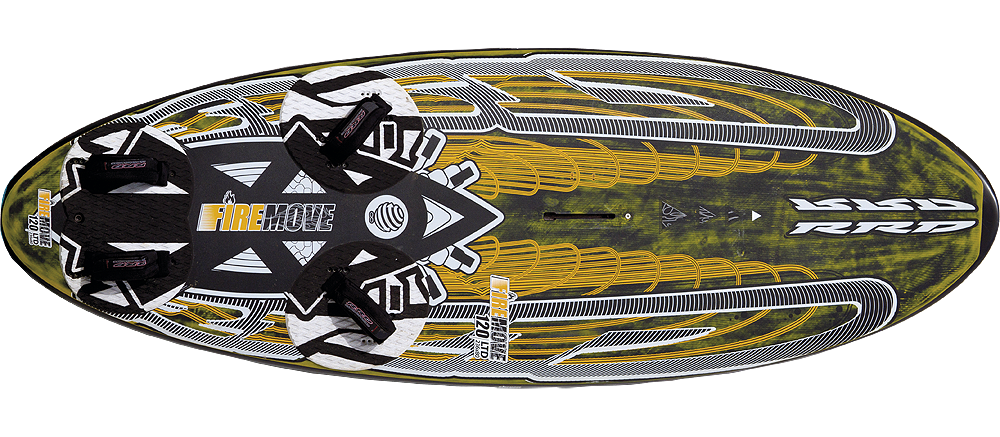 The low down
The FireMove is a completely new board concept from RRD, designed for all-round manoeuvre orientated freeriding they are aimed at filling the gap between freewave and freeride. The range is available in three sizes and two different constructions, LTD or X-Tech.
At a glance
The RRD has a very radical shape that is extremely wide and short with a very round out-line. At 120 litres it is the smallest board in this test by some measure but, due to its width, you can put on an extra 15-20 litres of virtual volume, which then makes it comparable to the rest of the fleet. Underneath it has a combination of double concaves, with vee in the tail and it comes with a MFC Liquid Pro 38cm Power Box fin. On the deck it is nicely domed and it has decent pads, along with quality DaKine footstraps that have multiple in-board or out-board position options.
Performance
Despite being the smallest board on test it is still stable at rest with the volume well situated under your feet. The width and hull shape allow this board to lift very quickly onto the plane. It accelerates rapidly up to an impressive top speed, the short out-line deals well with chop making the ride comfortable and engaging. Round the corners the FireMove performs exceptionally well and it is incredibly manoeuvrable for a board of its size. It can be cranked into any size or style of gybe with confidence and handles like a much smaller board.
The verdict
The FireMove has a very different out-line – being so short and wide this shape works extremely well and makes it a great fun board to ride. It is lively and surprisingly fast in a straight line as well as super manoeuvrable when you get to the corners. If you are looking for a manoeuvre-orientated board with plenty of volume this is the board for you – it is like a big, fast, freewave board. Suitable for all abilities.