Stats
Volume (L)
94 (Quoted)
Weight (Kg)
6.5 'Naked' (Quoted)
Length (cm)
236
Width (cm)
61
Price
£1370 (Wood) £1605 (Ltd)
Fin
MFC Freewave 28 G-10
Tweet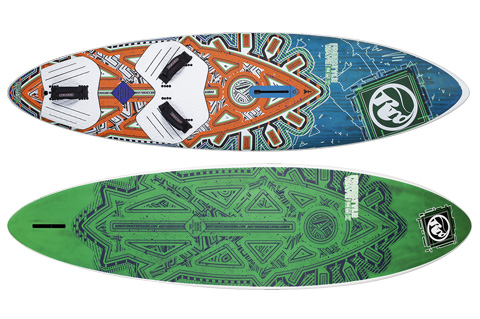 RRD FREESTYLE WAVE LTD 94L 2015 TEST REVIEW
THE LOW-DOWN:
The second smallest of a four-board line-up, the 94 tested here comes in Ltd construction, with a 28cm MFC fin.
BRAND CLAIM:
"As the trend of wave boards shapes keeps going towards multifin hulls, we have preferred to retain a "classic", reliable and fast planing single fin board line that would be suited for those who wish for a "do it all" type of short board. The new Freestyle Wave boards, Version 3, are four new simple, refined, retuned shapes that will cover the whole range of use of this program."
PERFORMANCE:
The Freestyle Wave from RRD has had real heritage and following over the years, being the benchmark in the crossover category for many, so it would be interesting to see how the third generation of this range performs. Slightly longer yet narrower than its predecessor, the first thing we noticed as we stepped onto the 94 is that it certainly feels smaller underfoot than its volume would suggest. Whilst in the minority here with its single-fin set up, the outline and rocker of the 94 would dispel any thought of it possessing a straight-line freeride bias. Its rounded plan-shape, narrow rounded tail, domed deck, tapered rails and pointed nose boasting a good amount of rocker has 'overgrown wave board' written all over it! All this translates into a very interesting ride. Despite feeling smaller than the stated 94L, it can carry a 6.4m fine and accelerates progressively if not exploding from the blocks. It has a fantastically controlled nature, never bucking or doing anything untoward and was the first choice for the more nervous rider in harsh coastal chop/slop. The single fin provides the security to drive against up to a good speed and the fittings offering the comfort we've come to expect from the RRD stable. It's in the carve though that the 94 really excels. Whether the water is flat or a bubbling cauldron of mush, the rails of the board bite so effortlessly it can nurse even the most timid rider round the arc. Enter with a more confident style and the board will grip as tight a path as you dare to prescribe. It is an ideal contender for those progressing into stronger winds and looking for the platform to explore diverse coastal conditions for the first time with confidence. Equally, it is a fantastic board for the more experienced sailor, seeking an impeccably mannered, dependable machine so that they can concentrate in pushing their own ability to the next level.
THE VERDICT
An eye-catching board that answers the 'crossover' riddle in a very different approach to others. With the looks of a large wave board, the third generation FSW from RRD oozes control, giving you the confidence that you can take it into any arena and be left beaming from ear to ear.
---
OTHER BOARDS IN THIS TEST:
---
---