Stats
Volume (L)
88
Length (cm)
228
Width (cm)
58.5
Price
£1649
Tweet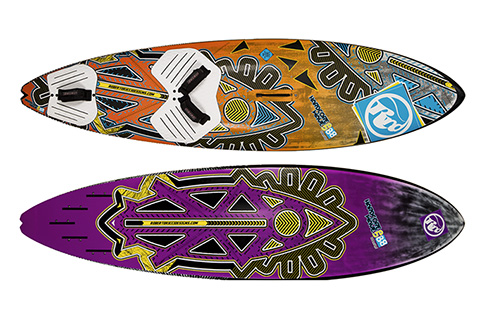 RRD HARDCORE WAVE V5 88L 2015 TEST REVIEW
THE LOW-DOWN
Billed as a "side-shore wave pro" the all new Hardcore Wave v5 comes with a quad fin set up and five boxes. RRD's usual conservative graphics make it unmistakable.
BRAND CLAIM
After 4 years of riding waves all over the world with the Hardcore wave shapes V4 we have been able to test lots of different new shapes or prototype boards, used with different riding styles and finalize 4 new magic shapes. The Hardcore Wave V5 are the most versatile hardcore boards ever built it since their introduction in our collection. 4 Shapes with 10lt of difference in between 98 all the way down to 68 all equipped with 4 Fins slot box system for maximum drive through the top and bottom turns.
PERFORMANCE
First thing you notice when you hop on the brand new Hardcore Wave is the balance, it is stable at rest. This poise allows the board to perform very strongly out of the blocks, with very little rider input required. It's as low an energy ride as you want it to be and we tracked speedily upwind to the harbor wall with no effort. The footpads were noted by some for the comfort but we think that is mostly the deck shape which was making the difference there. The Hardcore works well with a wider stance. At a quoted 88L it is more voluminous than the rest in this category which partially explains its eagerness but there's more to it than that, it's the distribution and combination with the rocker line that makes it – so slippery. RRD make the point that this is their "premium" rocker line  tweaked to do the job for this new line. All the evidence suggests that they have really got the combination spot on, for a board billed as "side shore" to feel so at home in some slack  onshore conditions.  Much like the Goya quad the Hardcore shared the ability to become "invisible" in feel very quickly . With the benefit of such a composed starting position you will remain unruffled as the terrain becomes more challenging. The easy planing attributes have not meant a compromise in its turning ability and grip. Testers all reported the positive "bite" initiating the turn and progressive hold as the pressure is increased. Great at carrying speed when carving deep downwind and that speed allows for more options on the wave. It has an easy throw about style and is a cracking big small board to compliment an existing quiver or one board solution.
THE VERDICT
A "big" small board that packs 88litres into a compact shape. Low end performance to rival some of the 95L category. Beautifully composed and comfortable to ride with razor sharp wave performance make for a radical yet relaxed combination. It was a board that made everyone happy, so we expect it to do the same for you!  RECOMMENDED.
---
OTHER BOARDS IN THIS TEST:
---
---