Stats
Size (m2)
7.8
Luff (cm)
484
Boom (cm)
214
Battens
9
Ideal Mast
Severne 460
Extension Req (cm)
25
Price
£869
Tweet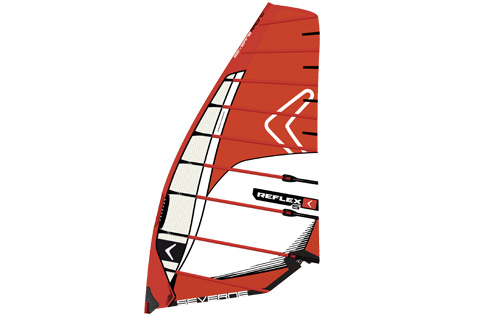 SEVERNE REFLEX 5 7.8M 2014 TEST REVIEW
BRAND POSITIONING
'The REFLEX5 is the latest version of our pro racing sail.  Based on the success of last year's 12.5 Reflex4, we have transferred the 9 batten layout to the smaller slalom sizes.  This enables us to rely more on the batten skeleton for stability, and less on the mast.  The reduced luff curve allows for faster sail response, and gives a much lighter, slippery feeling'. (Sic.)
PERFORMANCE
Like a lot of Severnes, once you pick this baby up you realise it's actually pretty darn light for a 9-batten, 4-cammed 7.8 race sail. And once rigged and on the water it's also dynamically-not-just-physically light as well too. Using an older Gaastra hard-top mast, (usually the closest characteristics to Severne) we found the Reflex 5 super easy and forgiving to sail. With soft and tolerant handling and fingertip-light control, it's surprising as the level of power on-tap is right up there at the gruntier, 'tractory' end of the spectrum in this selection. Is this a sign of refined power delivery, or is it actually just soft and all sponged away? For us it's definitely an unprecented level of sophistication as we'll explain in a second. With a tall and medium-length-boom profile this size was remarkably easy to gybe – the approach is forgiving, without too much pressure to ditch, which helps you get set up and to concentrate on the task at hand.
Exiting the gybe there's super, strong acceleration available instantly too. Across the wind the Reflex is cruisy and comfortable and we thought, compared to the rest, that it sucks you upwind pretty nicely too. But it's when super-broad and in dirty air that the answer comes – which is that you should probably sail this model 'one size up' than the rest. If it's all too easy, change-up! In a pure racing environment you'll be able to fly through dirty air like a trooper and gain another level of acceleration away from the pack by accessing the low-end power of the larger sail in the lulls. In other words, this 7.8 can easily be used in what's 7.2 weather on most other sails  – while still giving the power of the larger rig. We speak so often of the 'spectrum' of sail power (fast because they're easy to use ranging to fast because they're pure powerhouses) but hardly ever of sails that offer both. Yet surely that's the whole point? We think Severne get this more than anyone else and have provided an accessible tool that can be sailed to-the-max by actually quite a wide range of abilities. We think it speaks volumes that a bunch of punters like us were happy enough, vastly over-finned in approaching 30 knots and a challenging water state.
THE VERDICT
What Severne have done is produce a powerful sail that's so easy and soft to use that it's possible to use it a size larger than most of its rivals. Easy to gybe, amazing low-end torque, acceleration and excellent lightweight control make it easy to keep up more canvass for longer.  By far the most accessible of the pure, unadultered, power race sails on the market.
READ THE OTHER REPORTS 
GAASTRA VAPOR 7.9
NEILPRYDE RS: SLALOM 7.8
NORTH WARP 7.8
POINT-7 7.8 AC-1
RRD FIRE 7.8
SIMMER SCR 7.8