Stats
Volume (L)
141
Weight (Kg)
9.2
Length (cm)
247
Width (cm)
80.5
Construction
Carbon
Fin
TB 50cm
Price
£1599
Tweet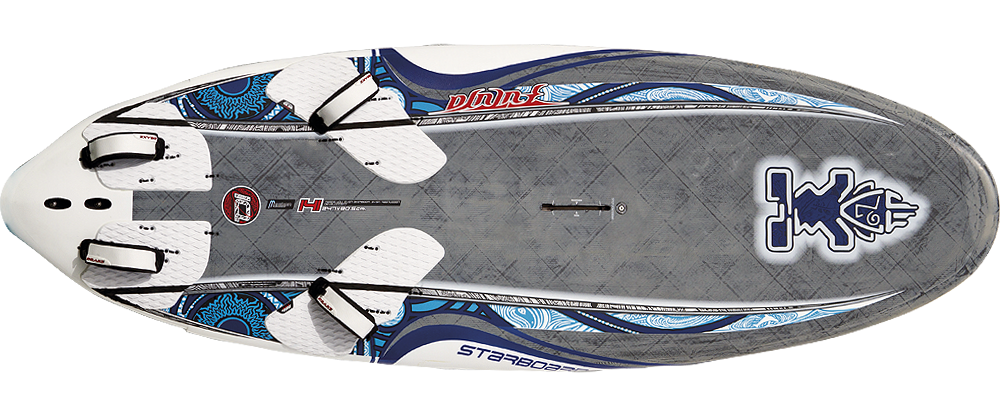 The low down
The Futura is Starboard's freerace board line, designed for user-friendly handling combined with slalom board style performance. The range consists of six different size models and for 2012 it comes two constructions, either carbon or wood.
At a glance
The 141 retains the same shape for 2012 – it is wide across the middle (widest in the test), has a rounded nose and an angled pintail with a slight winger out-line. Underneath it has a double concave hull and cut-outs in the tail, while on the deck it has a concaved scoop around the mast track and raised domed area around the footstraps. The fittings are top quality with Starboard footstraps and a Drake Veron 50cm Tuttle Box fin. The carbon construction is very light and stiff – it is the lightest board in this test and the exposed carbon finish looks the business.
Performance
It is very stable under foot thanks to the width and this helps it to accelerate extremely fast and plane exceptionally early. The ride from the straps is superb, the raised stance area lifts you into a great riding position and the dome under your feet gives you maximum grip to drive the board along in any conditions. This board is quick, it just keeps on accelerating and seems to have no limits to its top end. Round the corners it also performs excellently with a very versatile gybing character – you can either crank it around wide fast turns or tight hard carves and it will maintain its speed for every exit.
The verdict
There is no doubt that this is a quick board and it is also very easy and comfortable to sail, which gives you lots of confidence to push it faster and faster. It is very user friendly but at the same time can still give a lot of slalom boards a good run for their money! Well suited to a wide range of rider abilities but experienced sailors will appreciate the exciting and sporty freerace performance the most.