Stats
Volume (L)
94 (Quoted)
Weight (Kg)
6.6 'Naked' (Quoted)
Length (cm)
234
Width (cm)
61
Price
£1399 (Technora) £1449 (Wood) £1599 (Carbon)
Fin
Drake Freewave 28cm + Plugs
Tweet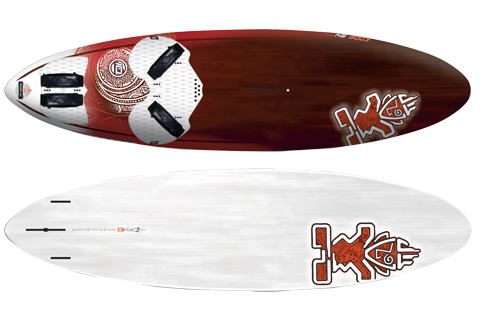 STARBOARD KODE FREEWAVE 94L 2015 TEST REVIEW
THE LOW-DOWN
The 94 is the second largest in the Kode Freewave range and is tested here in Carbon construction. In addition to the Drake 28cm fin supplied, we were issued with the thruster fin package – an MFC TF 20cm fin, along with a couple of thruster 11cm side fins.
BRAND CLAIM
"Starboard's aggressive, fast, award-winning do-it-all boards for waves, freestyle or freeride. The Kode FreeWave 94 has new thruster fin boxes added. This extends the versatility. For those who can sacrifice some top-end speed for much improved grip and control: remove the plugs and the single fin and fit a set of thruster fins. Aggressively 'accelerating Vee' makes the Kode FreeWave highly maneuverable and responsive, by adding more curvature to the rail line and leaning them in into the radius of the carve: an effect similar to the front steering wheels of a car." 
PERFORMANCE
Whilst not the fastest to plane in the group, once on top of the water the Kode Freewave 94 gathers pace quickly and winds up to an impressive top speed. In fact, a very impressive top speed! The 28cm fin provides plenty of traction to drive against and you find yourself racing against your peers, forgetting that you're on a supposed crossover board, such is its directional composure. And it is this combination of control and velocity-induced energy that can't help but inspire the rider to throw themselves into the next trick, jump or stunt. Because, at speed, everything is more expressive and the fact that the 94 releases from the water effortlessly only helps to encourage the aerial antics. Yes, there are conditions where this can be a downside; in short sharp chop for example, the lighter more nervous rider did find it hard to pin the board down. But that is where the optional fin package comes into play. It doesn't transform the board into an all-conquering wave-board, but it does temper the speed and help provide grip and fluidity through the turn. The bite into the arc is dependable and you can push hard through the back foot, confident the board won't stall or trip a rail on the top-turn. It is a lot of fun around a wave break, particularly on those fluky marginal days when those on specialist wave-boards are struggling to make the most of the knee-high ramps peeling in. It is a fantastically tunable platform that fulfills its 'jack of all trades' job-description admirably.
THE VERDICT
The Kode Freewave 94 is all about speed, and with it comes the ability to flatter any rider with a more expressive and explosive sailing style. The optional fin package is a must, unlocking yet more potential!
www.star-board-windsurfing.com
---
OTHER BOARDS IN THIS TEST:
---
---