Stats
Volume (L)
82
Weight (Kg)
6.7
Length (cm)
230
Width (cm)
58.5
Price
£1699
Tweet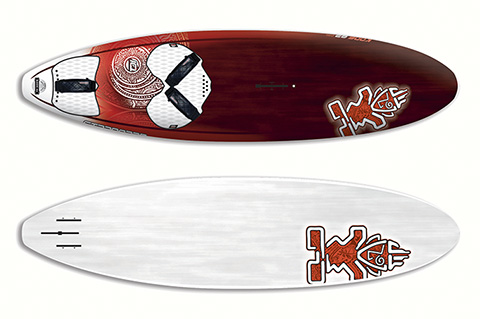 STARBOARD KODE WAVE 82L 2015 TEST REVIEW
THE LOW-DOWN
The Kode Waves come with vertical, square twin fins developed by MB Fins, specifically for the Kode Wave but also has a single fin option to turn the board into a high-wind blaster.
BRAND CLAIM
Fast to get on the plane with a high top end speed, they are the most ideal boards for big airs and double forwards. They just want to boost whether it's jumping or wave riding, with excellent projection above the lip along with being able to spin around it. Drive and speed are initiated off of the front foot, as is the rotational spinning style of Köster. MB Twinzer fins in a new G10 construction aid in the early release of the tail whilst the board is still able to maintain the drive required for going down the line.
PERFORMANCE
You don't have to look very far through the pages of this mag before you see Philip Köster heading for the stratosphere, or throwing huge spray from a heavy backside or front side hit. The Kode Wave relishes power and the more it can get, the happier you and it will be. But don't be misled by the talk of boosting huge loops and physics defying wave acrobatics into thinking that this weapon is a dangerous beast to be tamed. The Kode requires no more skill to ride than any of this group. The basic rule applies that the more skill you have the more reward you get. The more time you spend the more skill you get and so on. The Kode just shows another angle from which the design can come to solve the wave performance equation. It is a refreshing time for board design in that all the modern boards here have quite distinct flavors. It was not always so, and the variety offered by boards such as the Kode prove that the kit now has never been better.
As with the 92L 2014 edition tested last year the smaller 82L does have you driving through your front foot to command speed, angle of attack and early planing. The board gets up to speed quickly and the free, high speed sensation has you seeking ramps and carving easily with plenty of drive in turns and great for just blasting if you feel like that too !  A great board that shows its pedigree as Koster's choice, the Kode has the potential to turn the "average" into "epic"!
THE VERDICT
A board that everyone deserves to try. The Kode's full on power style works particularly well if you put your foot on the gas and charge!  Drive it off the front foot and enjoy the direct engaging experience. The 82L would cover most 80kg pilots to the top of their wind range.
www.star-board-windsurfing.com

---
OTHER BOARDS IN THIS TEST:
---
---