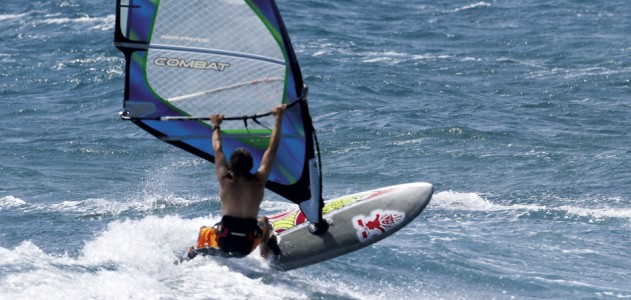 Tweet

Background
The Starboard Quads have been developed over the last few years by Scott McKercher and they are designed to deliver powerful, full rail driven, wave riding performance.
At a glance
The shape and fittings of the 82 Quad haven't been changed from last years model but the Starboard graphics for 2012 have been completely freshened up, with a full exposed carbon finish on this Woodcarbon model.
It has plenty of width across the middle, with a sharp pin tail and pointed nose. The fin set up comes with 2X13cm and 2X11cm Drake Slot Box fins which can be adjusted to be ridden with either the big ones forward or back, you also have adjustment to move the fins closer or further apart to tune for more drive or slide. By adding a couple of 15cm fins, it can also be ridden as a twin.
Ride & handling
The width of the Starboard makes it very stable under foot, even when not planing. It does have a lot of tail rocker, which does hinder its early planing ability but once you push it off the wind and get back into the straps it does get going well. From the straps it is a comfortable and controlled ride, the pads and straps feel really good on your feet.
Once you get onto a wave, the board really takes off and the tail rocker pays off, it generates heaps of speed on the wave and when you engage the rail, it turns as tight as you want, holding all its speed to the top for the cut back, where you get full rail projection back down the wave ready for your next hit.
When jumping the Starboard, you can pick up plenty of speed off the wind to go high and in the air it is easy to control and rotate, despite being so wide.
Summing up
If waves are your focus then this is the board for you, it is not the most exciting board for bump & jump blasting but nothing turns quite like it on a wave.
For more information on the
Starboard Quad IQ 82 Wood Carbon 2012
go to www.star-board.com