Stats
Volume (L)
125
Weight (Kg)
8.2
Length (cm)
250
Width (cm)
69
Construction
Ltd
Fin
Tabou 44cm
Price
£1525
Tweet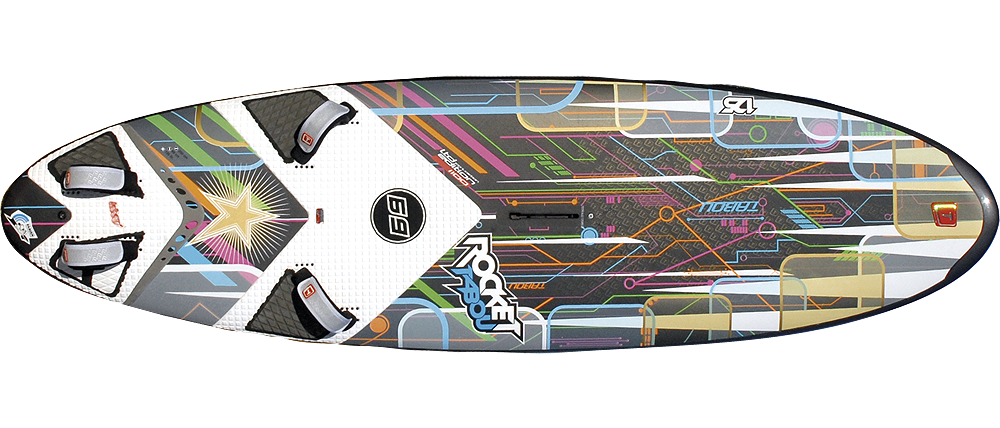 The low down
The Rocket is Tabou's freeride/race board line, with features that have come directly from their slalom, freestyle and wave boards, to make them as fast and as lively as possible. They are available in either standard or LTD construction (tested here) and come in six different sizes.
At a glance
The 125 went through a complete re-shape last year, so for 2012 it remains unchanged. It has a rounded profile, with a narrow tail and a slight winger in the tail. Underneath it has deep double concaves and on the deck it is fairly flat, with dome under the footstraps on the rail. The fittings are top quality, with Tabou footstraps and a bright orange G10 Powerbox fin.
Performance
It is extremely stable underfoot while off the plane but you're not idling for long as it lifts instantly a gust hits and takes off like a rocket. When blasting the ride is comfortable, with the straps positioned nicely on the rail, which allows you to grip the board and drive it off the fin. Through chop, the hull shape soaks up the bumps incredibly well, smoothing out the ride and giving you the confidence to push it even harder. It delivers great performance that is rewarding for all levels of rider. In a straight-line this board is well up there as one of the fastest in the category. It is rapid when you want it to be but it is also equally happy cruising around. Through the gybes it is very stable and maintains its speed well, whether you are carving it round a tight turn in rough conditions or cranking it through fast wide arcs.
The verdict
The Tabou Rocket is a superb high performance freerider, nothing else takes off quite like it, it really is like a rocket, as its name suggests, and its performance is also easily accessible to a wide range of rider abilities, from intermediates right through to experts. Intermediates will appreciate the stability and control while experts will love to smoke their mates on the water, everyone can enjoy the Rocket.