Tweet
Some say they are reckless and drink the blood of cheetahs, others say they carry missiles on-board – all we know is that they have skin-tight lycra suits, red helmets and a 4.8 metre long Tridem board … and we just had to run this story! The Fanatic boys have made headlines with their top secret Tridem project debuted at Défi Wind. Will this turn windsurfing into a team sport? We had the chance to meet the Tridonauts for an exclusive interview where they opened up and told us about their clandestine craft, but under one strict condition – they all remain completely anonymous and every magazine most be burnt after reading! Read on ..if you are ready for the most dangerous, exciting and incredible story ever told in windsurfing …maybe!
Words  Raf Filippi & Finn Mullen   //   Photos  Valère Caneri

The crew
The front rider: the lightest of the team at 1.75m and 67kg of muscle. Logically, he has the smallest sail but takes the biggest risk as in a wipeout, he gets smashed and crushed by the two rigs behind him. At full speed, he flies 50cm over the water without ever touching it. His main role is to shout like a mad man to avoid any collision with other sailors coming in the opposite direction. A human foghorn of sorts, both on the water and on land! The guy in the middle: 1.78m and 70kg. He stuffed himself all winter long in order to gain 4 kilos and not be the front rider. He could be used as a communication relay between the front and the back riders, but unfortunately he sails with earplugs. There is therefore absolutely no communication between all 3 riders; which makes every manoeuvre highly technical, highly entertaining and a health and safety nightmare! A tip that might help you to identify him: he sings in a band called The Virtual Slaps!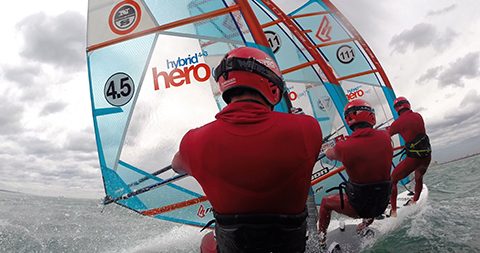 The driver: He's the man at the back of the Tridem. The Captain..or so he likes to think! 1.80m and 90kg of a fine mix of strength and fat. His body weight varies with the amount of beers he downs every night, which is the main handicap of the project. He can go very fast … when he manages to get his feet into the footstraps. He is the one who steers the whole thing and that is indeed the biggest problem. In his normal life, he works as a pharmacist, which allows the whole team to be supplied with doping substances for the race!

The challenge
"After two Défi Winds where we had exterminated all competitors in the Tandem category, we started looking for a new challenge. We wanted to develop the fastest sailing vessel of all time. Winning the Défi Wind is one thing, but breaking the world record of speed on the water is a dream we three have been sharing forever."

Why Tridem?
"A tridem offers the best weight to power ratio ever. We can load up between 12m² and 16m² of sails in 45 to 50 knots of wind on a board that offers overall very little contact and friction with the water. On top of it, windsurfing as a team is a true revolution!"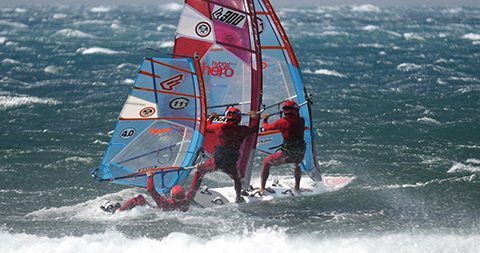 R&D
"We started from a race board, a Fanatic Ultra Cat from 1992 that belonged to Lise Vidal (French Olympic Team). She lent it to us and asked us to be extra careful with it and make sure we wouldn't damage it. We soon realized that having 3 riders on a 3.80m long board was a total no go. After several fruitless attempts and swims back to the beach, we decided to cut it in two and add a central bit. Lise still doesn't know."

Trimmings
"We had long discussions about the choice of fin. Pierre Bracar of Sun7 custom boards Fuerteventura had logically filled in the daggerboard case, so we went for a 44cm slalom profile. Given the overall rail length, we could use a much smaller fin but we fitted it with a hammer and can't get it out anymore! Anyway, we're losing 1cm every session through bad driving so by next year, we should be down to 28cm. We're currently considering a foil system, but that is top secret."

Memorable moments
"There have been many along the way, starting in the workshop of our shaper Pierre Bracar. He had to shape and connect a new central part while keeping the right rocker line: a true test of shaper skills!"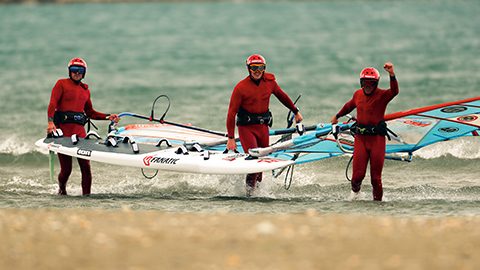 First tests
"The first attempts were pretty tricky since we tried it immediately in 60 knots of wind! We soon found the right trim and reached some pretty impressive max speeds, up to 51 knots on a couple of runs. All in all, we haven't actually had many sessions so our potential of progression is still huge."
Why anonymous
"We are originally all members of the Fanatic Team and more into wave riding, and we do not want to associate our image to this project that is far removed from our normal occupations. We are the Daft Punk of the windsurfing scene and we'll only remove our helmets when we have broken the world speed record. On top of that, the Captain's wife is not aware that he leads a double life."

Ideal conditions
"A fully downwind run with 60 knots of wind. We don't mind chop as we crush anything coming our way, but we need a good kilometre to reach our max speed. It's the reason why we can't make an attempt on a channel like Saintes Marie or Namibia. Anyway, we always thought that these channels were for chickens who don't know how to deal with chop."
The Future
"We'll keep training and you should see us again next year at the Défi Wind. It is the ideal type of contest for us because we have plenty of time to reach the highest speeds on a reach of 10 kms. In the meantime, we'll keep testing our wave prototype. We already have a very good speed at the bottom turn but still a few problems with top turns and in the jumps."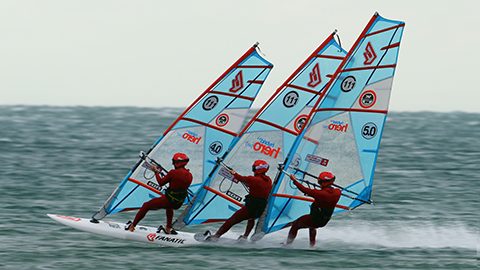 Final word
We asked Pierre Mortefon (vice world champion in slalom and winner of the last Défi Wind) for his thoughts on the Tridem, he didn't want to speak on record so we emailed him instead.
"The Tridem was by far the contestant I was the most wary of for this 2016 edition of the Défi Wind. The guys trained in secrecy, with a huge budget, their own engineers and from what I saw, they were on top form..in the bar! In the end, it's quite a good thing that we did not have wind this year because losing my title to this bunch of loons would have been hard to swallow. On the other hand, they're pretty cool because they're going to lend us their beast so I can try to beat the world family record together with my brother and my sister, that'll be a first!"
The Tridem Project – key numbers
1: Our ranking next year at the Défi Wind.
2: Minimum amount of people required to carry the beast.
3×3: 3 riders on the monster, 3 rigs and 3 times more fun.
12: The amount of footstraps.
20: The amount of glasses of rum that pushed us to initiate the project.
27: The amount of kilos of carbon fibre necessary to reinforce the beast.
51: The top speed in knots reached on our last session.
480,000: The budget in € invested by Fanatic into the Tridem Project.
50 million: The amount of expected viewers when the video will be launched – we want to beat Candide Thovex! (French professional skier).
" We are the Daft Punk of the windsurfing scene and we'll only remove our helmets when we have broken the world speed record "