Tweet
Up-and-coming Scottish young gun, Ruaraidh Somerville finished 4th in Tiree, 5th in Gwithian and a 3rd overall in the men's Ams fleet – he recounts his Tiree 2018 experience. Header photo by John Carter, in-post shots by Richard Whitson.
"2018's Tiree Wave Classic began in a different way for me this year. Rather than making the ritual journey to Tiree the night before, with my friends, idols and competitors, I arrived on my favourite place the week prior to the event. Getting there early paid off. I got to sail with the handful of pros who had also arrived early with a bit of practice in mind, and I improved some of my skills massively in the lead up to the event.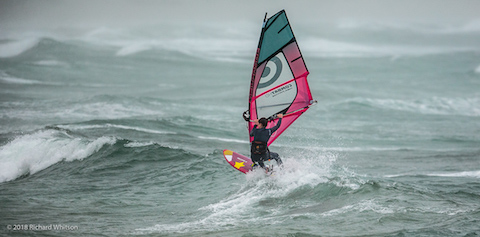 But a week is a week, and the event exploded into action on Tuesday morning. Rigging in the dark, with the sound of waves crashing against the rocks audible over the howling wind battering the shores of 'The Maze', was quite the build-up to my heats. I was nervous as hell! I started off my first heat with a couple of one handed jumps, playing it safe. Catching waves, stacked on my Combat 3.3 and my 69l Quatro quad was easy, but making the most out of them was not. I didn't feel like I'd sailed my best during the heat, but apparently the judges thought I did, so I passed my first heat, and advanced onwards into a trickier selection of sailors. The next heat I felt far more comfortable. I'd tuned my kit a bit better and felt much more relaxed on the water. This was where my week's practice before and my summer sailing in Tiree came in handy. I caught a couple of good waves and got a couple of rocket airs plus a tabletop, which was enough to get me through the heat in second place. It was the first time I'd ever sailed a heat that felt like freesailing. Because I went into the competition with the goal of passing a heat, after that I could sail without any pressure! It's amazing the difference being relaxed and calm makes to your heat.
But, good things don't last, and the final came. It was a disaster! I sailed out, just a little overpowered, got a nice one handed jump and then just as I reached the impact zone, the wind dropped. Immediately I got hammered by mountains of whitewater, lost my kit and spent the rest of the heat swimming after it. I swam onto a few waves to catch my kit, but apparently the judges don't score bodysurfing. Funny that. I finally got my kit with two minutes to go, sailed back out and tried to get a wave, but I was too late and I finished the single elimination sitting in fourth. Fourth isn't the best place to get, but this was my first time competing in the Amateur fleet and I hadn't honestly expected to make it through my first heat, let alone get into the final, so despite being exhausted I was as happy as I've ever been!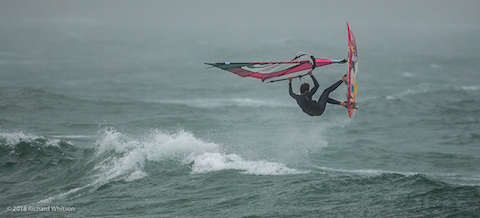 The next day came, but the wind from the day before had disappeared, taking with it the grey skies and rain. Crossapol was the place to be, so I rigged my biggest sail – my dad's trusty 4.9 Hot Sails Maui KS3, as my new Neil Pryde kit is on a boat somewhere off China! – and 80l Starboard Nuevo (again, Dad's), and floated out to get a few of the glassy, peeling waves. I was stoked to land the biggest aerial off the lip of my life in the morning! The wind stayed light all day, and after several attempts at running heats, the competition was called off for the day, much to my disappointment! (But nobody else's: I'm a lot lighter than everybody else, so light winds suit me!)
The next, and final day the grey weather returned, but alas, the wind didn't. We were put on standby at Balevullin, and enjoyed a fantastic barbecue by the Scottish Salmon Company. I'd eaten enough salmon to make my biggest board a sinker, but rigged up anyway and headed out to try and catch some waves. The wind was as light as possible, but I managed to get a couple of wave rides, take a lot of beatings, but overall had a good time! Getting the feeling back in my hands and feet took a while, though…
Once again, the conditions favoured 58kg me but just about nobody else, so the competition was called off, and the results for the Ams and Masters was based on the single elimination at the Maze.
That night we all went to An Talla for the prize-giving, a great night, especially for Marc Pare and Sarah Hilder, who got their swords for winning the Men's and Women's Pro fleets respectively, and for Luke and John who won the Ams and Masters!
Overall, I'm extremely happy with my result. I had a blast sailing in the nuking winds with the pros before the comp, and a great time sailing my heats and freesailing afterwards. Once again Willy and the crew put together a fantastic event, aided by Nigel and Geoff of the BWA team along with a whole lot of others. Thanks to everybody who made year 32 of the TWC as fun and memorable as the last."