Tweet
PWA Slalom racers spend more time travelling than any other sailors on tour, it can seem a lifestyle of international jet-setting but is the reality less glamorous? From how they pack their enormous kit bags to dealing with hotels, planes and car hire, the frequent flyers of the PWA detail the highs and lows of travelling with race gear.
Words  Sarah-Quita Offringa, John Skye, Lena Erdil, Kurosh Kiani   //   Photos  John Carter, Julien Leleu
---
Sarah-Quita Offringa
I feel like slalom gear is the most fragile gear I have. Unpacking my bags upon arrival and finding a dent in any of my slalom boards is a painful experience! So I try to avoid that at all costs! For slalom I will usually have about four bags, so that I can distribute the weight correctly. That comprises of one board bag, one sail bag with some masts in it, one mast bag and one boom bag that will also have my extensions, bases, harness and fins. Each bag should weigh about 30 kg if I do it that way. But the sail, mast and boom bag are usually closer to 35-40 kg. The goal is to not get it weighed at the check-in. Finally I will have a 25 kg suitcase with way too many clothes in it. So all in all I pack around 150 kg for a contest.
Excess Baggage
I've had some pretty bad experiences during check-ins, where I wasn't allowed to get on the plane, or I did manage to get on but I had to leave my gear behind. So honestly I get pretty stressed before travelling these days. I try to always book flights with trusted airlines and if I don't have an option, I make sure to pack the minimum equipment needed. The three airlines that I will always choose above others are: Tui, Transavia and Turkish airlines. Tui and Transavia charge between 35 and 40 euros respectively for each bag and they don't stress too much about weighing and measuring the bags. Turkish airlines charge 90 euros per bag, even though some riders manage to wangle one set (2-3 bags) for 90 euros. Sadly I'm not that good at bargaining! But there is hardly any measuring or weighing or any fuss about the size of the bags. Also, their ticket prices are usually very reasonable and just as competitive as the other airlines. These are flights for Europe, Asia and Aruba. To the States, I always fly with United Airlines. That is only because I don't have much choice. If you are lucky you can bargain to pay for a set, which is $150 USD. If you're unlucky you pay $150 USD per bag! The main thing is to book flights with airlines that charge per piece and not per kilo. And that is if you are travelling with a lot of gear. If you're travelling with one board bag, the "per kilo" airlines usually have a great policy that if you stay within a certain amount of kilo's (32 kg) you're allowed to take the sports gear for free. But as soon as you go over this weight limit, the price goes up dramatically. I had to change my ticket completely one time because they came up with the ridiculous price of $7000 USD for four bags at check-in, which would have been 200 euros with any of the other airlines I normally fly with. How can you even look at a passenger with a straight face and tell them they need to pay five times the ticket price for their excess baggage?

" Book flights with airlines that charge per piece and not per kilo."
Flying
Only recently did I buy myself noise-cancelling headphones, they are a great travel luxury, just a bit hard to fall asleep with because you have these big things covering your ears! My hand luggage consists of a computer, books and diary to entertain myself. I always feel like in a plane, I'm either opening or closing a chapter since I'm off on a new adventure or coming back from one. To me it's the perfect time to write down everything and put things in perspective. When I'm travelling I always feel like I'm allowed to cheat. So, in my mind it's okay to buy a $4 USD water bottle and pay $12 USD for scrambled eggs and some bread. Or have dessert for lunch and dinner on the plane. That might be a bad habit, since I spend a lot of time at airports! I don't bring my own food on the plane simply because I don't have space in my hand luggage, or the time to get food ready when I need to plan and envision the perfect check-in for 4 oversized bags. It would be best to bring my own food because I don't think airline food is very good for you as they need to add loads of taste enhancing products to make it taste ok while up in the air. Having said that, Turkish airlines… mmm I always look forward to meal time on that flight to Cape Town or Asia!
Jet lag
I am absolutely terrible with jet lag. I don't even try to get into another time zone before my trips, because I will usually have been in 3 different time zones before that. I love travelling west because you end up going to bed and waking early, which matches my natural rhythm. Flying East means I go to bed late and wake up late. Travelling 12 time zones towards the east means I pass out around 7 p.m., wake up at 2 a.m. and spend loads of time contemplating life or browsing in that strange section of YouTube watching weird and random videos. Only to spend the rest of the day walking around like a zombie and futilely pouring coffee into my system!
Hotels
I always share with people. It's always a good time together. During a contest I'm usually sharing with the girls. By now I know people almost anywhere I go, so it's relatively easy to find good accommodation. But I've definitely slept on couches and in less than ideal situations every now and then.
Car hire
There is always some sort of problem renting a car. I've learned that I shouldn't always go for the cheapest option. Get a better car, and save yourself some hassle. In Cape Town I went for the cheapest car. The gearbox broke twice so I couldn't use my car for two days and missed some sessions, then the roof racks broke off in the middle of the night on the highway and I ended up damaging my boards. Thankfully the road was empty. In the Canaries last year I managed to strap 5 board bags on the roof, some sails, masts and finally my mum on the inside. I could only see through my left side mirror. On the way to the ferry I got pulled over by a policeman. He started lecturing me that "Esto no es Africa" – this is not Africa. Although technically, the Canaries is only a stone's throw away from Africa and not so close to Spain, I had to agree. It did look like I was transporting fruits, vegetables and poultry. The fine would have been pretty ridiculous, but I name dropped PWA World Cup and windsurfing, smiled and he let me off. I had to call up a friend with a van to throw half of my stuff and my mum in there before making our way to the ferry though. Thank you mum for staying calm throughout and sorry for exposing you to the hassle!
Culture
I definitely feel like travelling has enriched my life, even more so following a tour with such a diverse group of nationalities. I've learned so much from the people on tour and travelling with them. Everyone sees things differently and none of it is right or wrong, just different. As a windsurfer you have to be very resourceful to make this life happen, so it's really cool to get to spend time with other people that have that same type of crazy lifestyle. Other than that, because of windsurfing we also meet local riders and then they are often willing to give you the local experience of the place you are at. I don't know how to put it all into words. But I'm often completely in awe of all the possibilities in life and the diverseness of this world. This planet is beautiful! And in the end you need to make the best out of it yourself. And that's what I learn every time, that everything is possible; there are no problems, only solutions.
Good and bad
I cannot think of a terrible place I've been to. Korea is not everyone's favourite place to be, but to be honest what I like about Korea is that all the riders end up spending quite a lot of time together. We have breakfast, lunch and dinner together in this big hall. We organise basketball or soccer matches, have coffee all day and we start pranking each other out of boredom. In the end all the stories come out and generally I feel like it's a good time. Cape Town is one of my favourite places just because it's such a huge melting pot of cultures which makes me feel right at home. I also adore Turkey. The food is great. The people are very warm and welcoming and it's interesting to be in a country with this mix of eastern and western culture.
Lost
On my last trip from Cape Town back to Amsterdam I had a layover in Istanbul. I was so tired that after going to the restrooms I just passed out on a nearby bench. When I woke up I had 1 hour until boarding and I couldn't find my passport. A couple of days before I heard from Ricardo Campello that he lost his passport on the plane and I thought to myself, "How can you possibly lose your passport?". Well, quite easily apparently. Of course I had left it in the restroom, but it wasn't there anymore. Communicating in Istanbul wasn't the easiest. So it took me a frantic 45 minutes and lots of power walking from one office to the next before I found my beloved passport. I felt like I didn't have an identity for those 45 minutes. My passport is really my most valuable possession during my travels. And then I left it on the plane on the trip after that! Passport stories, to be continued….!
Flying tips
Dress comfortably! Sweatpants are best. Get those socks that keep the circulation going in your feet as well! Find some massage chairs and spend all of your cash on them! Language I do love languages and find myself learning new words every day. This is difficult in Asian countries, but I love to be able to communicate in the local language, even if it's just hello and goodbye.
Plans
Honestly, I don't have the patience to sit and learn about new places. I normally only start planning what to do when I get somewhere after meeting some locals. I feel like I get a better idea of what to do, and what I feel like doing when I'm there. I don't necessarily look at the latest reviews. It's not the quickest way to learn about a place, I prefer the idea that my trip is open to whatever comes. I like exploring on my own without a fixed plan.
Food
I'm not fussy about food, but I've found that I have a weak stomach. The toughest places I have been to are Thailand, Myanmar and Korea. The first time I went to Korea, my mom and I lived on Snickers and iced tea and probably lost 10 kilo's each! In Thailand and Myanmar, I ended up having stomach problems for 2 weeks afterwards. In these countries there is a whole other world of vegetables, spices and tastes and apparently I can't handle them. So food is a struggle sometimes. I think my favourite food on tour by far was in Turkey. The Canary Islands is also pretty great when you find a good tapas restaurant and Morocco had tasty food for sure! The worst food on tour is Korea. During the contest they adapt the food for us westerners, but if I go to a local restaurant it's hard to find something I can stomach.
Dream trip
Lately I've been really wanting to just spend more time in the Caribbean, Guadeloupe and Barbados. Just because I love this culture where everything happens outside, where music is very important and the people are laid back. Other than that I'd love to visit the north of Europe a bit more just to explore nature that I haven't been exposed to since I'm from the Caribbean.
---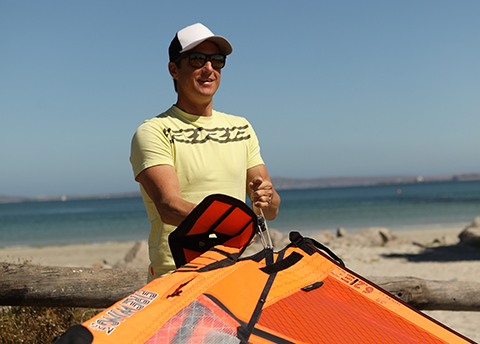 John Skye
For fifteen years I mainly just competed in waves and freestyle and the gear I had to take was relatively small. Typically it would be three to four boards in a board bag and eight sails in a sail bag, mast bag and then a boom/bits bag. If I was lucky I would check all that in as a "windsurfer" and pay for just one set of sporting gear, but it didn't always work. Only once did I travel with full race and wave gear to Sylt and I don't think I will ever do it again. Racing equipment is so much bigger and heavier that it makes airline travel a nightmare. The wave bags are all small and fit in lifts, on trolleys, in cars etc. The race sails are 3m wide and the race boards can be 85cm wide! Masts are longer, booms are longer, and personally it was just a nightmare. When returning from that trip I happened to be on the same flight as Bjorn and pictured him in the old days with gear for three disciplines, an unlimited number of race boards, one piece masts, and long course racing boards; now that must have been ridiculous!!
Packing
My best tip for packing is to try and keep all the big bags, like board bags, lightweight and then if I have to go over the weight allowance, I make sure the weight is in the small bags. I never try to lift my nice and small boom bag as it's normally 50+ kg, as it is full of extensions, fins and other heavy stuff. I always prefer to have things packed as small and neat as possible, as the impression it gives at check-in is that small bags are not such a big deal.
Baggage
What airlines are best changes all the time and it depends a bit where you are coming from and where you want to go. I have different tactics for different airlines and you just have to be adaptable to avoid costs. My two golden rules are 'NEVER' lose your temper or argue with the check-in staff. You can try to persuade them to do things differently, but getting angry always ends in disaster. The second rule is that sometimes you just have to take excess charges on the chin and when they charge you loads, always remember the times you got away with it. I would say over 60% of the time I pay much less than I should, maybe half of that time actually getting it for free. Then there is 20% when you are charged a normal amount. That means when they screw you the other 20%, you just have to look at the bigger picture and accept it. My top tactic now is to have a really lightweight quiver bag packed inside an overweight bag. Often they either don't weigh it, or you can cheat the scales somehow and get away with it. But it is important to have a back-up option and if they turn around and say they won't carry it, you have another bag to split up the gear. Out of the Canaries that works really well as they almost never weigh your bags!
On the plane
I definitely like the noise cancelling headphones. Two guys bought me a killer set of Bose Quiet Comfort 25 headphones years ago on a clinic and they are still my number one travel companion. Trying to be last on the plane can be a sneaky tactic. You can see if the plane is full or empty and if it is empty you can sometimes blag a better seat or a whole row. It doesn't always work, but when it does on a long haul flight, a full row is almost better than 1st class!
Cars
I have experienced three destroyed hire cars, and although I rented them, none of them I was even in at the time of destruction! So a good tip is don't let anyone else drive your car! Actually hire cars are sometimes the most stressful part of travelling. The airlines pretty much always take your gear in the end, but if the car hire place gets pissed off with you trying to load 200 kg onto the roof with no roof rack, then you are in trouble. Two times I had trouble, once we were chased down the motorway in Portugal. I pulled a ninja move pulling off the slip road at the last possible moment and we hid for an hour in a housing estate before carrying on! Another time we were stopped in Corralejo and they made us take all the kit off the roof and took the car back, leaving us stranded in the high street.
Culture
My first trip to Japan was one of the best ever for new experiences. New food, a totally different culture and the first time I was ever completely lost with a language. Around most of the world even if you don't speak the language you can read and recognise the signs, for example town names, but in Asia that is impossible and it was kind of scary. In all honesty I am not a good tourist. It took me fifteen trips to Cape Town before I made it up Table Mountain! On my first long haul trip ever I had an eight hour stopover in Sao Paolo. I took a bus into town and wandered around with my backpack full of computer and camera gear, looking like a total tourist. It was only later when I met up with Kauli and Brawzinho that they told me I was crazy and it was one of the most dangerous cities in the world!
Best and worst!
Maui is always special and I love going back there. For me it has a really nice mix of relaxed living, good sailing and enough real life if you need it. Maybe it misses a bit of nightlife, but I am too old for that now anyway. I can't even think of a worst place. I think everywhere has its own uniqueness and often the places that would be considered "worst" end up being the most interesting experiences. But really if I think of all the places I went to, I can't think of any that were really bad… but I have never been to the PWA in Korea!
Passport stress
I once went sailing at Ho'okipa with my passport in my pocket. We had spent all morning organising a car and dealing with insurance and I was desperate to get on the water. After about ten to fifteen minutes I felt something heavy swinging around in my pocket and realised it was my passport. Luckily we managed to dry it out pretty well, but eventually the plastic separated and I had to get a new one. I was a bit gutted, because that passport had five more years on it, and would have been an amazing record of all my travelling in one passport!
The bad!
In general I have been super lucky. The worst we had was our cleaning lady one year in Cape Town. She slowly robbed us 10 Rand at a time throughout the trip and taking the occasional watch along the way. I always keep foreign currency when I leave somewhere because I know I will be back. I had some dollars in my bag, maybe 100-200, I didn't really know. By the time I left I literally had 1 dollar bill left. The strange thing was the lady was super nice all the time and would chat to us like she was our aunty…. then rob us blind the moment we left the house!
Skye's travel tips!
I think I could write a book on how to travel with windsurf gear, airport by airport. I think in the end travel tips end up being very specialised. I have my routine when I arrive in Maui for example, always going straight to the 24 hour supermarket to make sure we at least have something to eat when we wake up. Most of the airports I go through a lot I now know which lifts to take with gear and which car rental companies have easy access with gear – NEVER choose an off-site rental place with free shuttle! Leaving the UK out of Gatwick I know that every bag has to be under 32 kg. Out of Gran Canaria I often fly with 80 kg because they rarely check!
The Lingo!
I am terrible at languages. I do try to learn, but being English we are lucky and most of the world can speak better English than we can speak their language. Living in Spain, Spanish has taken up all my language learning brain capacity, but now I feel like I want to extend that a bit more.
Chow down!
My first trip to Japan was a real eye opener. The food was really crazy and I am not talking about a bit of Sushi like you get everywhere else. The first meal I went to during that trip I was presented with a tentacle from a squid, that was cut off the living animal. At that point I thought I either go all in, or pussy out, and I decided to just go for it. In most cases that has been my attitude with weird food, but there have been a few times in China where I have drawn a bit of a line!!
Best grinds
I have never been to Korea, but I heard many times that wins the worst food award. I still like the big buffets at nice hotels. It is not so often that I score that, so when I do in a 5 star hotel it is always quite a novelty. The thrill of hotel food normally wears off pretty quick though, and I know when I see the PWA crew that spend two months solid over the summer eating from buffets they are definitely over it.
Dream Trip
I have been very lucky and travelled all over the world and ticked off almost everything on my bucket list. The only two places I still need to go to are the Gorge and Punta San Carlos (Baja). They are two places that have been on my list since I was fourteen, and although I am sure, particularly in the Gorge, I will be over them quickly, I still want to do it. The other thing I really want to do is go on a proper "surf" trip. On a boat in Indo or something like that. I have never done that and after so many windsurf trips it would be a nice change. Obviously I would still sneak a wave board and sail with me though!
---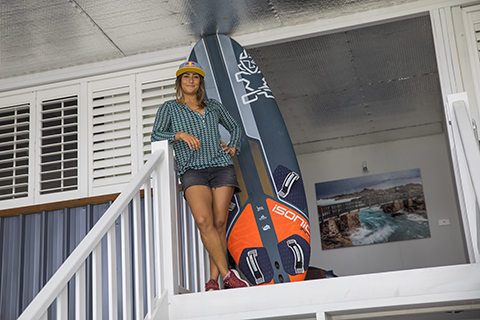 Lena Erdil
When I travel I pack a sail bag containing five race sails, one big board bag containing three boards, my mast bag containing ten masts, my boom bag (which in my case is another board bag) with five booms and all the little accessories like harnesses and wetsuits. I often put shoes in there as well or any items I can't fit in my suitcase. My boards in the big board bag are packed again in separate single board bags for extra protection! It is important to take the footstraps off to avoid damaging the bottom shape of the boards. It is also important to take the vent screw out before aeroplane travel because of the change in air pressure while flying. When I go to competitions I will also have an extra gear bag which will have my extensions, fins and all sorts of tools such as screwdrivers and other things needed for repairs of boards or battens. Being prepared for the worst case scenarios gives me more peace of mind while racing.
Baggage
By far the best airline is Turkish Airlines, I can often fly with all my gear for the price of one windsurfing 'set'. Which depending on distance travelled is between 30 – 90€, so is really economical. But it can depend a lot on the airport I'm  flying out from, sometimes they charge per bag, but often the  bags are not weighed, which is amazing considering my bags are pretty much always over the limit! Make sure to know the rules and then try and interpret them in your favour. Normally always try to get around weighing the bags. Say that it won't fit or is too complicated and tell them that you know the weight! Here you should say the maximum allowed kg minus one or two! Normally I make my bags heavier, but leave myself the option of being able to repack at the airport in a way that will fit the regulations. Don't be afraid of repacking at the airport!
If you have more than one bag the best trick that often works is to say that it's one windsurfer in several bags. So you try and pay for just one set of equipment, even if it is in more than one bag. When it does come to weighing my bags I also often try and hold them a little while on the scales to make them appear lighter, but that is not always possible if you have shrewd check-in staff. So yeah there are many different tricks at the airport with the bags that you learn over time. By now I even know which airports are usually good and which are not! If I have connecting flights and have to recheck my bags in I try and make this change at smaller airports. By all means avoid airports like Paris Charles de Gaulle or Barcelona, where you may have to change terminals using trains, which is definitely my number one nightmare of airport logistics with windsurfing gear!
In the air
If it is a long distance flight I usually try and sleep as much as possible. Having frequent flyer cards can sometimes help you get better seats. If the flight is not fully booked I try to get a seat with an empty seat beside mine. Being friendly at check-in usually helps.
Hotels
For last minute trips I usually go on booking.com as they seem to have the best deals. If I stay longer Airbnb is also decent. But actually since the windsurfing community is small I also use Facebook asking friends and 'friends of friends' if they have rooms for rent, this is usually the nicest option as staying with local windsurfers will allow you to experience the country and spots in a much better way. Each time I have done this I have made so many new friends; I had an extremely good time in New Caledonia where some locals let me stay with them for example. It is hard to imagine I would have got the same connection staying in a hotel.
Car hire
Since minivans are often at least double the price, we normally end up hiring the smallest cars and putting everything on the roof, so hiring a car with roof racks can be a life saver, but not all agencies have this option available. Having proper roof rack straps in your bag is also an  absolute  must, 
ideally in combination with blow-up roof racks. I once hired a car that had a glass roof and after strapping my bags directly onto it (without racks that is) the glass actually cracked!! We were lucky the rental company didn't notice!
Culture
I loved the Polynesian culture of Hawaii and French Polynesia and how deeply connected the local people were with nature and especially the ocean! Being so remote, people in French Polynesia were especially welcoming to us, more than most other places! I felt like a messenger from another planet, or something along those lines. I also loved experiencing Japanese culture; the orderliness and politeness of the Japanese culture is truly fascinating. I always love meeting new people and cultures, it helps me to be more open-minded and broaden my horizons. I very much feel that I have stopped looking at things through a particular frame of mind and am definitely free from prejudice of any particular culture. But in the end, travelling above all shows you that even though we might have different cultures and religions, in the end we all have the same needs and enjoyments, so it is great to get together through sports, food and similar activities and build lasting friendships. In general meeting and becoming friends with local people is the best travel tip I can give.
Best and worst
I wouldn't like to single any place out as best or worst, each place has something to teach me and I enjoyed the experience of a new culture and country.
Passport dilemmas
Once at the last minute I was refused boarding on a plane to Cape Town in Istanbul because I didn't have a blank double page in my passport! I had several blank single pages, but not a double page, so they actually took off all my luggage and I missed my flight and had to go out through security. I had to go to the embassy to get a new passport, luckily it was quite easy and quick to get a temporary passport to fly with! I have about a million stories of missing connecting flights because of delayed planes, but that would be a whole other article!
Travel mishaps
Losing yourself a little bit every now and again is fun actually! I love walking through a new town without maps! But of course it's only fun if you feel safe! On one of my first trips to Cape Town we were driving back from a day tour and took a wrong road and we just wanted to get off at the next exit to get back to the other side! Of course in Germany this appears very logical, but in Cape Town's outskirts, taking a random exit led to us ending up in the middle of a township. There was bins burning in the roads and people stumbling around looking like they were on drugs and not well, the kind of people who have nothing to lose and it felt like one of them would pull a gun on us at any moment. Luckily nothing happened and we did find a way back to the highway pretty soon after. I have had my car broken into a couple of times, once in Maui and once in Cape Town. In Maui amongst the items they stole was my driving licence, which was a real mess as it was still a Belgian license from the time that I used to live there, which now had got stolen in the US and I needed to get a new one in Turkey, where I now reside. That took me nine months! Having my iPhone stolen in Cape Town was another funny story. As you might know there is a 'find my iPhone' app in your phone or laptop, so after it was stolen I could actually track it and was even able to show the police, but as it turns out they didn't care so much about recovering it!
The lingo!
Most of the time I do like to find out some background information on where I'm travelling to and definitely try to learn at least a few basics in the local language. When I did some backpacking around South America I really enjoyed using the Rough Guide or Lonely Planet books while planning my stays in new cities. Other than that, Google is my best friend!
Grinds
My stomach is usually quite good at handling new food, the only place I ever had food poisoning was Bolivia. During competition I try to stick to the basics, normally avoiding fish and ice potentially frozen from tap water. But when I'm just travelling for training I do like to experience as much as possible the local food. Especially food stalls on local markets. I think food is one of the most important parts of a county's culture, so really trying to get the most authentic experience is more important to me then perhaps getting the healthiest food. However, luckily in places like Mediterranean countries or Japan the local cuisine is naturally very healthy!
"Avoid airports like Paris Charles de Gaulle or Barcelona, where you may have to change terminals using trains."
---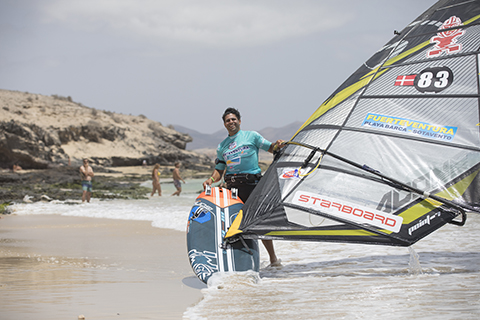 Kurosh Kiani
To pack everything perfectly is nearly an art form with the amount of equipment we travel with these days! Let us start with the boards. I usually travel with three to four boards in just one triple board bag. I always place the smallest board in the bottom, on top of wetsuits, towels, mats or any protection I can find. In the middle I place my biggest board, which is the one I'm looking after the most. And finally on top I'll have my medium sized board. I will usually squeeze a harness and a bit of clothing into this bag as well.
I then normally will have another triple board bag where I have all my booms and accessories. This bag is the most prone to being super heavy as it is easy to just throw stuff in there. Apart from booms, this bag generally will have some fins, extensions, wetsuits, shoes and anything else I couldn't find space for! Then there is the obligatory mast bag. It will usually hold 8-10 masts. There is no other way to travel with your masts. Finally there is the sail bag. Even though I try my hardest to keep it as light as possible, this bag is hard to keep under 32 kg if you plan on having six sails inside. And now with foiling a part of racing, you could have to resort to dividing this bag into two. Oh, and if there is foiling on the program, throw in another board bag as well!
Excess!
Things have changed over the years. These days, especially when traveling in Europe, you usually will have to go on the low cost airlines. That is not necessarily a bad thing. You can pre-book bags and with prices around 50€ per bag, it is almost not worth the hassle of arguing with them at the airport, and it gives you less stress. But if you show up with six or seven bags, it's still expensive. My advice is to do your homework with airline baggage rules and arrive at check-in as prepared as possible. It can save you money, and for me, it often has. More often than not, the people checking you in are just handling agents who handle check-in for perhaps 20 other airlines, and they won't be updated on all the rules. And if you are not aware of the rules either, it can be costly. The worst-case scenario, which has happened to me, is that they can tell you that they won't accept your bags! So do your homework. The good old days of bringing your stuff onto the plane just because of your charming skills and kind eyes are vanishing. It still occurs, but only on rare occasions. You will still get the smile back though while they´re ravaging your credit card!
In the air
As you travel more you develop some routines. I cannot fly without my headphones. It's a total disaster if I show up at the airport having forgot them and I will go directly to the nearest store and buy new ones. I generally budget for 2-3 lost pairs of headphones yearly. A plane to me is not a clean environment. I try to stay away from the tray tables, the coffee/tea, as it can come from the plane's water tank, and finally I will try to boost my immune system if I'm going on longer flights. I don't like eating on the plane, so often I'll eat just before. Pilots say it's important to stay hydrated, so remember to have plenty of water with you. I don't like movies or too much entertainment on the plane. I like the escape from the internet and computers when I'm flying. I like to just listen to music and write down ideas which have been in my head and sleep.
Travel
I love meeting new people and discovering places and cultures, I guess it is because of my multicultural background. Though often when I've entered America I've been through secondary immigration due to my Iranian roots. I've faced any sort of question you can imagine over the years. The most embarrassing experience was once I was boarded and sat on a flight from London to somewhere in America and agents walked into the plane and searched me and all my stuff right there in front of everybody. I've never actually been robbed whilst travelling; I've always been quite careful of what I do and try and keep all my stuff under control. There was that one time though when I left my laptop in security in an airport in Germany and flew to the Canary Islands and had to fly back for it!    
"Do your homework with airline baggage rules and arrive at check-in as prepared as possible."