Tweet
THE FRESHEST
Words  FINN MULLEN //  Photo  JOHN CARTER
Windsup maybe one of the freshest categories in windsurfing but the concept of light wind windsurfing is hardly new. What has changed is the multi role aspect of the boards on offer; the ability to stand up paddle as well as sail has driven growth with the obvious advantage the boards offer as an all-round light wind/no wind beach toy. With summer upon us and peak windsup season open for business, we take a look at the market with an overview of the offerings from the brands and some expert advice from the industry.
Hard or soft
There's no denying it, the market for windsups has blown up, pardon the pun! Inflatable sales now account for an extraordinary amount of sales in the market. Brian Johncey from Blue Chip Windsurfing, one of the longest running shops in the UK, estimates conservatively that inflatables make up at least 95% of his sales. For myself, there is still nothing that can replace the feeling of a hard board gliding under your feet, especially in waves where the finer rails offer greater transitional ability in the surf zone. But the performance gap is closing fast. Advances in construction technology are being driven by the SUP community as the demand for stiffer, finer railed inflatable boards is encouraging manufacturers to develop and innovate ever more refined products. The advantages of inflatables for storage and portability on cars, planes, bikes and backs are obvious !, but they also offer another benefit as our test editor and owner of the OTC, Tris Best, explains, "The relative early planing ability of inflatables often surprises people. They aren't earlier than a conventional windsurf board but they plane easier than you might think  due to the thick high volume rails, where they lose however is when the wind starts to pick up and conventional windsurf shapes soon take over. A hard, wave biased, windup typically has a lot of tail rocker for manoeuvrability in the waves which has little disadvantage at non planing speeds but does hinder planing performance". There are limitations to inflatable's performance, Peter Hart explains, "Of course you can take inflatables into the waves so long as you understand the limitations. Fine straight-lining on white water – not so good cracking off hollow lips."
For the nervous beginner, kids, curious family and friends, there's something inherent in the softer, tactile feel of an inflatable which seems to naturally instil a sense of comfort and curiosity. In addition inflatables have an attractive ability to withstand dings and shoreline abuse. In short, hard boards offer greater performance in the waves and will always be the preference for those who still like foam under their feet but inflatables are the popular choice and well worth a look and very far from being a gimmick in their modern guise.
Length
Brain Johncey of Blue Chip sees most sales in the 10 foot range, being a good compromise size. Go shorter if you want more surf performance, longer if you wish more flat water glide. In hard boards, for surf and flat water use I've always found 9'5'' – 10'5'' a go to size, big enough to still have glide onto a wave or paddling, yet not so long as to impair surf use. 9 foot boards start to swing the bias even greater into waves while still having just enough volume and tracking to make flat water paddling possible. Sub 8'5'' you are definitely into the specialist wave use for most average weight people but don't discount the genuine performance of these boards under paddle or sail, Starboard designer Scott McKercher or Fanatic's ripper in chief, Victor Fernandez are just some of the pros that can regularly be seen making these boards look anything but a compromise on the wave face and a lot of fun in light winds in the right hands.
The market
UK Champion windsurfer and paddle boarder, John Hibbard, is a founder of one of the world's largest SUP brands, Red Paddle Co. Having been in SUP at the very start of the sport, how has he seen the windsup market develop. "At first we were focussed very much on making the company a specialist SUP brand and keeping windsurfing a distinct sport but there is an obvious crossover which we have responded to with a windsup model. Paddle boarding when it's windy isn't fun and even novice paddle boarders are soon keen to explore windsurfing on their boards, so it has been a great backdoor to introduce people to windsurfing while gaining unexpected sales from windsurfers too". Brian Johncey agrees, "We definitely see more paddle boarders taking up windsurfing, they are soon converted once they see how much fun they can have in light winds messing around with a sail. I don't like the industry concocted term – 'windsup', to me that belittles windsurfing. If you put a sail on a board it's windsurfing, simple as that. That said, I always recommend people to buy a board best suited to their paddling needs first". Tris Best again sees an encouraging uptake in the market, "Windsup is a great summer sport and family board option. We see paddle boarders taking up the windsurf challenge and moving onto regular windsurf boards as they progress, anyway we can get people into windsurfing has got to be good".
Advances in the market that Red Paddle co envisages are improving the upwind performance of the boards. John Hibbard explains, "Most advanced windsurfers won't have a problem staying upwind with a windsup but for the beginner we are looking at methods to improve this. In Inflatables be it retractable daggerboards, centre fins or even tail fins you have to be conscious of the durability of any fittings under hull. Those are easy to repair on a hard board but not on inflatables which is why you need to make sure your board's fittings are robust. Fixed centre fins help but can be prone to damage on groundings, retractable daggerboards while better can be expensive but we are developing a system which addresses cost, performance and durability, watch this space!"
Rigs
Less is more when powering a windsup. Small sails or even sails with no or one or two battens are best suited for non planing fun and performance with 5.0 to 6.0 the popular size band.  Mistral even have gone so far as to include a picture in their marketing of a vintage soft sail being used on their boards! Most of the brands now offer a modern soft sail standalone product or a keenly priced package which Tris Best has seen stealing customers away from buying kayaks as their summer beach toy when they see the "2 sports for the price of 1" rig and board deals on offer. Brian Johncey commented that windsup has seen him reduce his quiver right down to 2 boards and 3 sails, "My biggest sail is a 5.7, in light winds I mess around on the windsup, then once it's windy, change boards to my short board. In the old days I carried a mountain of gear to the beach, now it's just my sup,  Kode 94, a 5.7, 5.0 and 4.5. It's less hassle, allows me a light wind option and still keeps it fun!"
The coach's view
Sam Ross is a highly experienced SUP athlete, instructor and windsurfing guru. An enthusiastic advocate for windsup, he explains why.
"Productive time afloat has got to be the main reason for windsups being a must have piece of kit. They allow you to make the most of light winds and with the absence of a longboard or dagger boarded board in most people's quiver they actually offer some performance in light winds rather than just a platform. The usual light wind board of choice for many people would be a big freeride board; short wide and with no waterline length. Whilst all time on the water is usually of benefit, these boards don't give the sailor great feedback on skills they are trying to improve. With its extra glide and usually less than excessive width, a windsup gives a great platform to experiment and try things whilst also giving the sailor an enjoyable time. The comfort and performance of the kit also allows windsurfers to dabble with new environments especially waves.
We usually venture into waves in high winds and small boards and for many sailors they may well be operating well outside their comfort zone – kit and conditions wise. A windsup allows the sailor to go out on something they feel comfortable on in conditions they might not feel comfortable in. In addiction there is more time to read and understand waves and therefore improving the decision making process later down the line. If it's not windy then you can still get on the water, keeping your fitness up and getting more in tune with waves and conditions on the water."
Retro good
With a wide range of product on market, we asked several brands for an example from their range and cover them in the following pages with a market overview. Some may view these as just another industry retro fad but is retro really that bad? Riders in other sports embrace the different feelings alternative vintage inspired products offer. Surfers swoon over classically styled single and twin fin boards, many keen cyclists are fixated with fixed gear bikes and the biggest market growth in skateboarding right now is replicas of the boards used in the 70's. Windsups are the modern reinvention of our sport's roots and give us a chance to reclaim the fun of light wind windsurfing we all had when we started. With windsups now included in almost every shop and brand's demo fleet, grab a free trial this summer or better still bring family and friends along to try them too. As an introduction to windsurfing, you never know where that might lead!
---
AHD SEALION 8'3"

Price £849 or £1299 for Double Skin Carbon • Web www.ahd-boards.com www.kaisports.co.uk
VITAL STATS
Volume (Quoted) 135 litres
Length 8'3'' / 253 cm
Width 29.5'' / 75 cm
Weight 8.5 kgs or 8kgs for Carbon

THE LOW-DOWN 
The SeaLion concept is a unique Wind Sup (Windsurf board cum SUP) concept putting you on the water on any day. With outstanding performance when light wind windsurfing and free riding or when stand up paddle surfing, the SeaLion will allow you to have great sessions in any condition –  waves, flat water, strong or light winds – you just need one board to experience it all.
FEATURES
Our SeaLion concept is based on retro-fish surf boards, in order to mix speed and manoeuvrability even in light conditions. Along the years we have further refined the shapes for the SeaLion to ensure great performance when planing in strong winds, as well as when paddling in the surf. A wide board along its whole length, with moderate thickness makes it a stable and accessible board, without sacrificing radicalism in all conditions.
Features include:
Balanced volume distribution; Continuous and slightly hollowed V bottom; Thin rails at the tail; Fish Tail; Evolving array of graphic colours to choose from; Carbon version available with extra reinforcement and lighter weight.
HOW TO CHOOSE YOUR SEALION
SeaLion XL – 9'0 – 150 litres: For larger riders or for those who are looking for more ease of use and accessibility when paddling or sailing. It also offers the option to fit a large fin as a centre board, thanks to the power box located at the board's centre. The summer board full EVA deck version is outstanding for families and centres.
SeaLion 8'3 – 135 litres: Both accessible and radical. This is a good compromise between the XL and PRO.
SeaLion Pro 7'6 – 115 litres: For smaller riders and also for experts who are looking to maximise redirection ability and radicalism.
SeaLion Wings 7'6 – 109 litres: Our latest baby, ultra reactive and radical, you'll be able to use it windsurfing or stand up paddling or with a foil.
FINAL WORD
The Sea Lion (Wind Sup) for me is the perfect solution to enjoy windsurfing way more.  It's a must have toy for both windsurfing and suping, perfect  for those light wind days when it's just impossible to use your short board, the Sea Lion does beyond the job by putting a huge smile on your face especially when you go sailing with some friends!  It turns just like any well shaped short board, so you can attack the wave however you want, what I love most about it is that it's strapless which for me helps to improve my wave skills, balance and gives unlimited learning potential – Diony Guadagnino.
CONTACT 
Kai Sports Ltd • +44 (0)2380 840 777 • [email protected] 
---
FANATIC VIPER AIR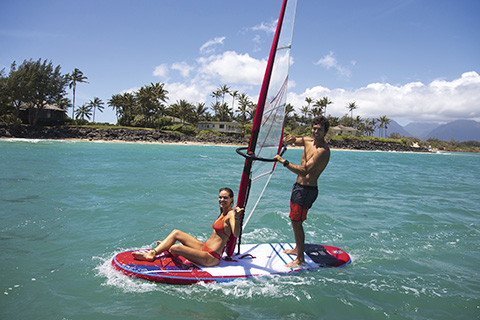 Price £999 • Web www.fanatic.com
VITAL STATS
Volume (Quoted)  290 litres
Length  10'4'' / 315 cm
Width 33.5" / 85.1 cm
Thickness  6" / 15 cm
Weight ('Naked', Brand Quoted) 10.5 kgs

THE LOW-DOWN
Lighter and tougher than traditional boards, the Viper Air is the ideal watersports toy. Pure fun for the whole family, schools and clubs. Windsurf enthusiasts and SUP lovers are equally stoked about the diversity the Viper Air has to offer. With years of experience in building the best entry level windsurf boards; we made sure that the Viper Air is spiced with similar characteristics; optimum glide, stable platform, great turning potential and all round manoeuvrability. These classic traits are rounded off with our high quality Double Layer Technology for optimum stiffness and light, hassle free handling.
FEATURES
Without a doubt the most desirable inflatable WindSUP ever, it is lighter and tougher than the traditional boards. Safe, straight forward and utterly sensational, features include:
• High Quality Double Layer Technology with top materials and manufacturing
• Comfortable and grippy footpad, towing eyelets and comfy carrying handle
• Deck net to attach luggage
• Mastfoot insert for windsurfing option
• Two removable fins (rear & centre) make it easy to switch from Windsurfing to SUP and adjust the Viper Air to your needs.
• For super easy transportation, we've packed the Viper Air in our premium Wheely Backpack with padded straps, belly belt and compartments to have all the accessories in place, including our new ergonomic Fanatic Double Action Pump.
FINAL WORD 
The Viper Air is an Inflatable Windsurf board which is also perfect for SUP. Thanks to the new parallel outline the board sails and paddles really well in a straight line. The new model is longer compared to 2015 but the same width. It offers 2 fin options so beginners can optionally use a centre fin (also good for SUP beginners for tracking help). Due to the heavy duty construction, the board is stiff and durable and offers lots of volume for maximum stability and water flow. Perfect for family fun! – Daniel Aeberli (Product Manager).
CONTACT
www.k-66.com • +44 (0)1903 368 253 • [email protected]
---
JP AUSTRALIA LE WIND 11'0'' INFLATABLE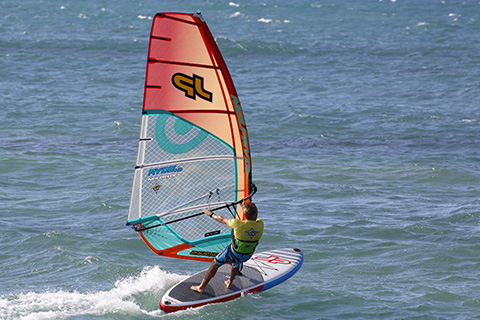 Price £699 • Web www.jp-australia.com
VITAL STATS
Volume (Quoted) 330 litres
Length 335 cm
Width 87 cm
Weight ('Naked', Brand Quoted) 8.5 kg

THE LOW-DOWN 
The 11'0"x34" is a new size that will suit most people getting into stand-up paddling and windsurfing due to the added width for stability and length for directional glide. The integrated mast plug makes attaching the rig super easy without having anything big left on the board and the additional centre fin gives you all the upwind performance and directional stability you need.
FEATURES
The LE stands for "Light Edition" – Light weight, Light design and Light on your pocket! The drop-stich material itself is thinner than our standard JP 'DOUBLE LAYER' construction. Therefore the boards are lighter, yet they retain a very similar stiffness to the standard JP construction inflatables. This has been achieved with a special lamination bond during the material production. The new material that we use for LE boards is very unique and not to be compared with other "single skin" inflatables on the market which are often not 100% airtight and are much softer than a standard construction board. The advantages of the LE construction include the fact that the boards are almost half the weight of some of the competition boards in the same size, they can be rolled tightly and therefore take up almost half the space of some of the competition boards. This led us to developing a more compact bag. To keep the boards light on your pocket we opted for a minimalist design in white color. We supply the boards with a high pressure single-stroke pump and they come in a single fin option (the Windsurf option comes with an extra centre fin and box). The fin-box is an all new US-box compatible system! and suits short base US box fins. Unlike most fins for inflatable boards, these new fins are foiled.
FINAL WORD
Windsurfing Inflatable SUPs is a great way of getting either yourself back into windsurfing or sharing our great sport with friends or family without breaking the bank or the issue of storage. You are getting 2 sports for the price of 1!! – Andy Chambers.
CONTACT
www.agenteight.co.uk • +44 (0)1202 620 299 • [email protected]
---
QUATRO GLIDE 10'4" ALL ROUND THRUSTER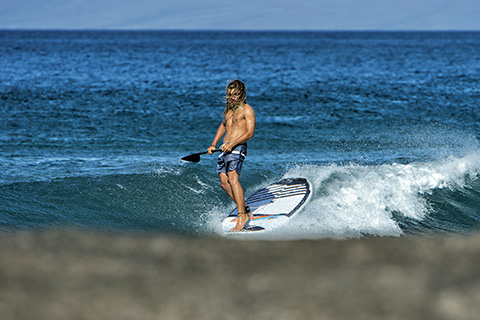 Price £1399 • Web www.quatrointernational.com
VITAL STATS
Volume (Quoted) 190 litres
Length 10'4'' / 315 cm
Width 33'' /83.8 cm
Weight ('Naked', Brand Quoted): N/A kg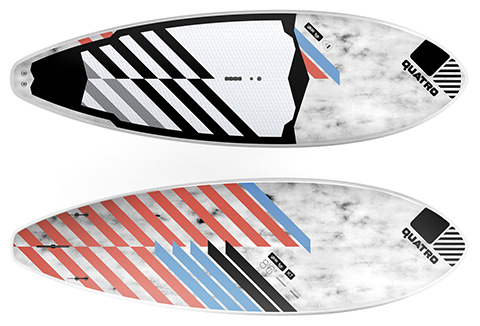 THE LOW-DOWN
The idea for the Glide was to create something easy, stable, and fast to paddle, yet have a shining spark in its manoeuvrability. The biggest asset and capital of our brand is not its rocker stick archive or its CNC machine, or its carbon weaves. The biggest difference that sets Quatro apart is made by the people creating and riding our products, which coincidentally are one and the same people. The Glide also comes in 8'6'', 8'8'' and 8'10'' sizes.
FEATURES
This board comes with solid rockers and full outlines, giving it a completely different level of stability and comfort, greatly enhanced by our new Integrated Stability Deck ISD, which serves as an ergonomic stance platform. ISD works slightly against the convex deck dome, offering a more solid stance. The nose rocker has a lower entry for ease of paddling and a very constant glide, hence the name. The bottom transitions from a single to double to v for an agile and maneuverable board. The board comes with a set of perfectly corresponding FCS fin models and sizes to complement its superior shape and a custom tailored single density pad, giving you cushion under your heels and perfect grip throughout and has the option to attach a windsurf rig.
FINAL WORD
To me the Glide is the go to board for cruising and small waves. This is the SUP that my girlfriend and I grab and go to the South Side, throw our dog on board and ride the fun waves. – Keith Taboul.
CONTACT
www.zerogravitydistribution.co.uk  • [email protected]
+44 (0)1924 445 594
---
RED PADDLE CO 10'8" RIDE WINDSURF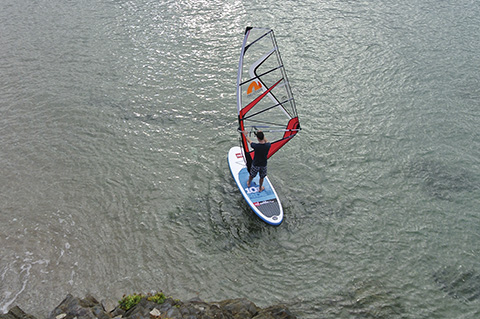 Price £745 • Web www.redpaddleco.com
VITAL STATS
Volume (Quoted): 296 litres
Length 10'8" /  325 cm
Width 34" / 86 cm
Thickness 4.7''
Weight ('Naked', Brand Quoted): 12.9 kgs

THE LOW-DOWN
Inflatable SUP's are becoming more and more popular because of their versatility, practicality and durability. With the 10'8" Windsup, you get another dimension on top of the usual benefits with the ability to screw a windsurf sail onto the deck and the board comes with a US fin box at the back, to assist with tracking.  The combination of overall width plus the wide tail creates an unbelievably stable platform. This makes it the perfect board in our range for a windsurf version for those that want to have their first goes at windsurfing. As a regular SUP it still has fantastic glide and stability which is perfect for families, larger riders or teaching new people to get into the sport.
FEATURES
At Red Paddle Co we are obsessive about quality. Our boards are made of the most innovative materials and we use pioneering manufacturing techniques to ensure you have an authentic paddle boarding experience. Our Tec Air construction is not a product, it's a process. We looked at how we built boards, and by focusing in on the key areas of the production process, we have been able to refine each process to make the very best boards. All Red Paddle Co boards are built using our Tec Air specification to ensure the best possible build quality. Our strength comes from the inside. The liberating thing about an inflatable windsup is how easy you can take it everywhere with you. Once at the beach with the world's best pump you will have your board inflated in half the time and half the effort than any of our competition! Just one inflation is all you need to understand the progress that we've made with our new High Pressure (HP) pump. Inflating a board over 15psi is now much, much easier.  The board also comes with the best back pack as standard making getting to the beach easier than ever!
FINAL WORD
"I miss the days of being an instructor and playing around in light winds. The main reason I don't do it more back in the UK is because of the justification of purchasing a heavy floaty windsurf board that in reality I wouldn't use very much. But having the 10'8'' Ride windsup is a lot more of an attractive purchase. I have a board that is easy to transport and store. It is a brilliant board for my girlfriend to paddle or to teach a friend on. It's a lot easier for me to take down to the beach with a group of friends to put a rig on and go for a cruise around the bay or practice some light wind freestyle on. The board has 296 liters of volume, it gives you a great feeling of stability but doesn't feel like you are windsurfing a huge weighty beginner board. It cruises around effortlessly, turns easily and is a pleasure to windsurf." – Jamie Harman – Red Paddle Co.
CONTACT
Red Paddle  • +44 (0)1803 712 140  • [email protected]
---
RRD AIRSUP CONV PLUS 10'2"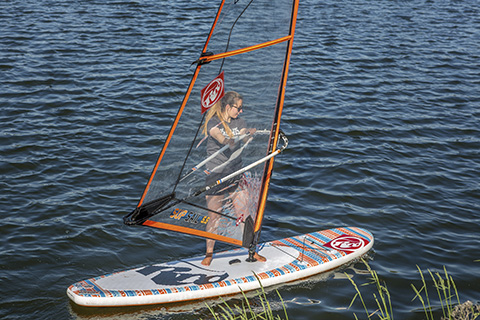 Price £740 • Web www.robertoriccidesigns.com
VITAL STATS
Volume (Quoted) 160 litres
Length 10'2"
Width 32 inches
Weight N/A

THE LOW-DOWN
One board that does it all, ok, so it comes in three sizes, just pick your size, 9'8", 10'2" or 10'4" and you're set for whatever the weather throws at you no matter what your level.  While the AirSUP is the perfect playmate for all the family it's more than a summer toy, throw it a challenge and it'll step up to the plate, no matter if it's your first time SUPing a wave or setting out on a windsurfing adventure, the AirSUP Convertible Plus will take you all the way.
FEATURES
The new inflatable SUP board program is equipped with a windsurfing mast attachment and an innovative removable centre and rear fin system that is stiff, strong and easily removable for packing or paddling. All our boards are made with our durable, stiff and light drop stitch construction. The boards can be used both as a SUP board or as a special inflatable windsurf board. Used in combination with the new SUP Sail and rig, each CONV PLUS+ model is now the perfect choice to discover watersports with the whole family.
The AIRSUP 9'8" CONV PLUS is the perfect small/mid size board, good to ride waves as a SUP, and enjoy learning how to windsurf. Planing on this board and jibing is a pure thrill. Very manoeuvrable, quick to plane and lightweight!
The AIRSUP 10'2" CONV PLUS is the central size of the range with which we have started our Inflatable Boards collection. It's the one-for-all board that will introduce anyone straight to any watersport in the blink of an eye.
The AIRSUP 10'4" CONV PLUS is the most appropriate type of SUP board to also learn how to windsurf. With its 34" of width, it makes it super easy for anyone to step on, paddle or uphaul a sail. It's the most popular size for families who wish to find a board to satisfy everyone. Also available with a 6" thick profile, to enhance stiffness for heavy weights, it's an easier board to paddle or windsurf, thanks to its increased floatation.
FINAL WORD
Don't often do what if, but having been the proud owner of the first Windsurfer in the UK, I wonder what we were doing. While many of us battled through the difficult years, Windsup's are the answer for anyone who says, "I tried windsurfing once". The stability and multi functional use of the windsup opens the world of windsurfing to everyone, adding the latest AirSUP technology into the mix affords windsurfing a durability and convenience of travel never seen before. If I could go back, I'd be taking an AirSUP Convertible with me to double or quadruple my time on the water – Dave White.
CONTACT
Dave White  • +44 (0) 1206 890 814 • [email protected]
---
STARBOARD WINDSUP 12'2" X 30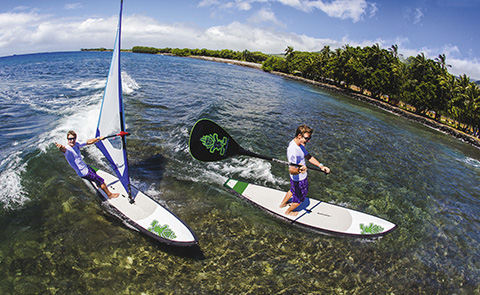 Price Freeride 12'2" x 30" Electric £1,199 or Freeride 12'2" x 30" ASAP £849 • Web www.star-board-windsurf.com
VITAL STATS
Volume (Quoted) 238 litres
Length 373 cm
Width 75.0 cm
Weight ('Naked', Brand Quoted) 14.3 kg (Electric) & 14.1kg (ASAP)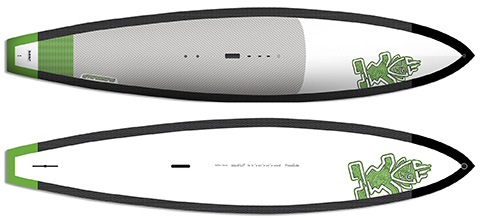 THE LOW-DOWN
Surf the local break, cruise the lagoons with the kids, teach them to windsurf or sail out into the open ocean. Essentially, Starboard's WindSUPs utilize the same shape and fittings as their SUP counterparts but add a mast track to attach a sail and a retractable dagger board in the Electric models or centre fin in the ASAP models, to keep the board upwind. WindSUP 12'2" x 30" Freeride (planing) brings back the authentic Windsurfer with a unique planing glide, it absorbs the chop thanks to the deep-vee double concave nose, and performs as a fast all-round racer as a stand-alone SUP board. Hop on and travel back in time!
FEATURES
As the wind increases, the board accelerates naturally and gets planing completely smoothly without 'energy hump'. The rider naturally moves him or herself into a planing body position. The special distance between the mast insert and the tuttle box and their position relative to the geometry and centre of gravity of the board allows the Freeride to track upwind and glide beautifully in light non-planing winds. The tuttle finbox option is recommended for the innovative glide-planing experience. It's the easiest board to get planing on, with no extra skill required and a lighter board weight. Recommended also as a cross-sell for paddleboarders. The daggerboard option is aimed at windsurfers preferably and is recommended for easier handling off the water and storage.
•  Traditional soft rails up front with sharper rails in the midsection for planing release
•  Daggerboard option or tuttle fin box – 'Planing' option available
•  Square tail for planning release
The WindSUP Freeride is aimed at everyone looking for a very fun toy for light wind conditions. It's for anyone looking to rediscover windsurfing the way it was back in the day, with a performing board that remains accessible and that provides good sensations and an overall nice feeling.
FINAL WORD
The WindSUP 12'2" Freeride is the waterman's board, great for paddling on flat water, open oceans and for windsurfing. It's especially as a windsurfer that the board becomes the most fun, gliding fast and accelerating on to a plane seamlessly.  Because of the board's forward fin position, it handles small-sail glides with beginners all the way to fully powered planing sessions without the need for a daggerboard. It's a true family board, for all conditions from zero wind to 20 knots. We also package it as the Waterman Package, complete with a WindSUP sail and paddle, for a complete Back to the Future experience – Tiesda You.
CONTACT
Tushingham Sails Ltd  • +44 (0) 1803 712140  • [email protected]
---
VANDAL  11'0" FLOW W/S INFLATABLE WINDSUP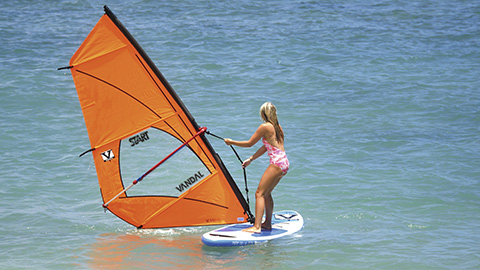 Price complete board £749 or complete board and rig £999 • Web www.vandalsails.com
VITAL STATS
Volume (Quoted): 320 litres
Length: 11'0''
Width: 34 inches
Thickness: 6 inches
Weight ('Naked', Brand Quoted): N/A kgs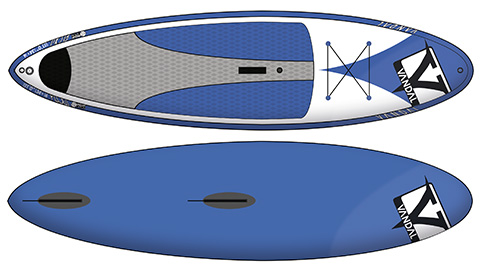 THE LOW-DOWN
You can now transform your inflatable SUP into a perfect windsurfing beginner's board with the FLOW windSUP option! The FLOW windSUP's come with a two fin option for the user to transform their board from a regular iSUP by adding an additional centre fin for windsurfing. The new FLOW's also include a US Fin Box system; this popular system gives many options for fin sizing and is much stronger than regular fin boxes. Our highly durable and versatile collection of iSUP and windSUP's are ideal for beginner SUPers and Windsurfers.
FEATURES
The completely new FLOW range is our multipurpose all round range of boards that come in 3 different sizes (10'4'', 11'0'' and 12'6'') and are suited to a tight budget.
Features include:
• 2x fin option for rear and centre fin windsurf option
• Secure 'lock in' inflation valve
• Slide in and lock fin technology
• Double layered rails to maximise stiffness
• EVA pad on deck
• Soft handle for convenient board carrying
• Heavy duty leash attachment on nose and tail
• Tall high pressure pump designed for ease of use
• Comfortable heavy duty backpack with pockets for extra storage options
• Easy to use repair set
• On deck rope storage system
FINAL WORD
I love the total idea of the windsup; it can suit the whole family for summer beach fun, but at the same time can be used for more serious training as a sup. It's super easy to put together and take apart. You can put it in your car along with the rig pack and off you go. I think everyone can use it for something and progress from there. The complete rig and board packages are the best buys of the season!!! – Ross Williams.
CONTACT
Ross Williams Windsurfing  • [email protected]  • 07583 314 276
---