Tweet
THE OLYMPIANS OF VERSATILITY
105L CROSSOVER BOARD TEST 2016
Test Editor Tris Best // Second Testers Maurin Rottenwalbter and Joe North
Photos Tris Best // Test Location Southwest England
Wave-slalom … bump-and-jump … chameleon … freestyle-wave … freewave. This style of board (and sail) has been branded and rebranded, defined and redefined time and again since the dawn of 'funboard' windsurfing. So why the distraction of constant reclassification when surely it only serves to confuse? Providing the answer to this question in his article this month, Peter Hart delves into the history of the Crossover class with his usual articulation of whit and eloquence, offering some real pearls of wisdom to help fine-tune your set up.
This test was originally published in the January/February 2016 issue.
Taking a step back for a moment, it is easy to see why the Crossover discipline (if that is what we can call it now?) has been pulled about so much. Back in the 80's, 'funboarding' (others called it 'shortboarding' or windsurfing on a 'sinker'… but you get the idea), quickly evolved into the three competition disciplines of wave sailing, course racing and slalom. Now, as disciplines evolve and the boundaries of what is possible are pushed to the next level by the pioneers of the sport, the equipment used to achieve these new heights becomes increasingly niche. More importantly, designs mature to deviate further and further from the requirements and demands of the recreational market. Try stepping on Kauli Seadi's latest Ho'okipa board for example, and chances are few of us would get much further than 100m off the shore before throwing in the white flag! Yet we need to recognise that we shouldn't want it to be any other way. In the classic triangular model of a modern sport, it is healthy for the pinnacle to challenge convention, to innovate in new directions and develop new designs.
So the most important thing for the industry's brands to do is distinguish the wheat from the chaff; the true progressions in design from the fads. These changes can then be filtered back into the mainstream boards and sails for the benefit of us all. With this in mind we can begin to understand why the definition of this crossover 'jack of all trades' class has been so turbulent. As new disciplines have been introduced into the sport, new ideas have been adopted, pulling the designs in a new direction and emphasis. That said, the overriding demand from the market has been consistent throughout – that is for all-rounders that perform in real world conditions. Early planing, fast yet easy to manoeuvre, with enough life to inspire whilst remaining controllable and comfortable in any sea state. Not too much to ask is it?
FINDINGS
The problem in the past was that the demands on the 'all-rounder' were too much to ask and ultimately ended in compromise. But not today. To put your mind at rest we've got seven very accomplished designs on display here. A general trend within the group is that there seems to be a shift away from freestyle and more focus towards performance in a wave environment. That's not to say these boards can't perform the odd new skool foundation freestyle stunt, be it a Vulcan, spock or grubby … but for any discerning freestyler wishing to push their wizardry (and let's face it, actually know the names of the stunts beyond those mentioned above!), a more specialist machine would be the obvious preference.
With wave boards witnessing multi-fin mania over the last eight or so years, it was only a matter of time before they filtered into the crossover class. The rumour mill has been buzzing as a result and it's been suggested to me on several occasions that the thruster inclusion is really a bit of a gimmick in these boards; a move to appease market demand. But having tried this latest crop we are pleased to report that, in our opinion, the multi-fin concept undoubtedly has a place in this style of board. More importantly, the fin set-up of every board in this group can make a MASSIVE difference to the board's performance. So take time to experiment – read Harty's article and make the most of the versatility these boards have to offer.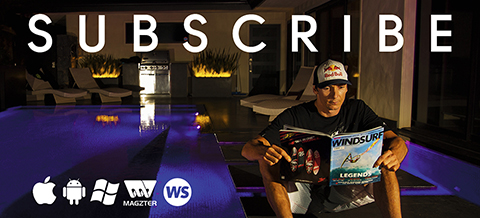 SUMMARY
The best nugget of advice I've ever heard when choosing which kit to use is also mentioned by Harty in this issue: "Choose a board for the conditions you get, not the ones you dream of getting, and then play to its strengths." Never a truer word said. Going through the boards on test, there are two single fin boards – the Tabou and RRD, both supplied with 32cm fins. Both fast in a straight line and comfortable covering distance over heavy seas, they have different characters in a wave break yet benefit equally from experimenting with fin changes. There is the Tetra from Quatro that is true to its quoted volume and feels the biggest in the group, making it ideal for the larger rider or those looking for that easy float and ride option. Goya's One also comes from a wave-bias origin, requiring the influence of fin drive and time to really dial into, but feeling incredibly compact for its size and a real gem once dialed. Fanatic's Freewave is a plug and play dream, enjoyed by all that stepped on it, whereas the Starboard is a real grower – the more you use it, the more you understand it and learn to love it. It is undoubtedly the most tuneable – a Jekyll and Hyde character – so distinct is the change in its style. That leaves the Freestyle Wave from JP – a board they claim trail-blazed the path for all to follow. Its sharp alert character won't suit everyone and with the narrowest width here, it certainly goes against the grain and struggles with bigger sails. But for many of the team it was captivating to use and remained the go to board, whatever the conditions.
TEST LOCATION
This test was conducted at locations found in and around Weymouth, from the idyllic flat water and constant wind of Portland Harbour, to the typically gusty coastal scene at Overcombe. Spread over a long test period it has given us an opportunity to test in all manner of conditions that these boards could (and should) be used in, from light marginal winds, to overpowered gales; from blasting on flat water to playing with fins to mix it up in the waves.
uk.otc-windsurf.com

THE LINE UP
STARBOARD KODE FREEWAVE CARBON 103
---
---