Tweet
FOUNDATIONS OF FUN
105L FREERIDE BOARD TEST 2017
Test Editor Tris Best // Second Testers Maurin Rottenwalter & Joe North
Photos Alex Best // Test location Portland Harbour
Small freeride boards have their work cut out for them. The demand on their ability is high, but from two potentially very conflicting directions. The word 'freeride' gives it away in the first instance – the boards should be easy to use. Easy to step on, easy to plane and comfortable for long periods of use (including over varied terrain). They should glide through carving transitions as if on rails, tutoring those that are at the stage of progressing their cornering, and forgiving clumsy footwork or misuse of the rig's power. But in addition to all this, the boards NEED TO BE FUN! After all, that is why we windsurf isn't it – to have fun? And striking that balance right between ease of use and a fun captivating ride is the million dollar conundrum that is often hard to assess at the developmental stage, not least because the goal posts are different for every sailor.
This test was originally published in the March 2017 issue.
Let's look at it another way – all the brands that have submitted boards for this test also have a freerace and/or slalom board range in their 2017 line-up. That is to say that their in-house shapers are more than capable of designing and shaping no-compromise boards that will be competitive at national and international circuits … and be better classed as hell-raisers for the nervous recreational rider! So performance is not an issue. Everyone can design a fast, electrifying platform. The trick therefore is to build into the design a large dose of practicality and control that enables the performance to come easy. There is nothing more fun than racing your peers and passing them as if you're cruising and they're fighting. Everyone has visions of grandeur in their mind when they're sailing – that they've reached speeds as fast as the local pro, or landed an aerial that Campello would be proud of. But if it comes easy, it encourages the rider to push harder next time. Get the balance wrong and it feels like the board is holding the rider's progression back … and that's when it soon finds itself at the bottom of the favouritism pile, soon to be listed on eBay. In the not too distant past, there was a major board brand that initiated a marketing campaign, stating that it was the 'family brand'. Whilst with good intent (promoting a community feel etc), it was a disaster for one simple reason. Even if an individual was a family guy and could only get on the water when commitments permitted, when he did get out there, he wanted to feel that he was pushing boundaries, part of the whole attraction to this radical sport of windsurfing. If a brand's design can make sailors think that they are on the limits … they'll be hooked. And above all, they're sure to be having fun every time they go on the water.
FINDINGS
The first obvious point worth noting is that the wide-thin concept is well established and not going anywhere. It compliments both divisions of the ease/fun balance, the extra width (and flat deck) making the board easier to use, whilst the reduced thickness makes the board's volume work harder. It means experienced riders can realistically look at lower volume boards and therefore opt for a more agile platform for the same wind range as their old freeride board. The second observation is that every board here has a mass of footstrap placement options. Vary your stance on the board and you can dramatically alter its character. Every board here can be fine-tuned for the individual pilot and it is well worth spending time tinkering and getting the strap positions just right for you. Encouragingly, one design variable that has (unwittingly?) been agreed upon between the brands is the fin box type and fin size. The Power Box is used in every board here … and all bar the Tabou are supplied with 36cm fins. The fin shape is definitely varied though – more on that in the individual reviews.
So the biggest variable in the ease/fun balancing game is you, the rider, and the demands you have. In analysing your own requirements (and this is the part where you need to be brutally honest with yourself), only then can you begin to narrow the field to the right platform for you. You could be a progressing rider – you may well still own your first 140-150L 'short-board' and are looking to compliment it with a smaller platform for the stronger wind days. You may be an experienced rider (a weekend warrior, or someone returning to the sport after time away), looking for a board that just gets you on the water with minimal fuss, so that you can enjoy the precious moments you have. Bottom line is – if you're looking at a 100-105L platform, you're actually already a very good sailor – undoubtedly water starting and having a stab at carve gybes at the very least. There are some fantastic platforms in the line-up in this review – choose for where and how you sail, not where and how you dream to sail.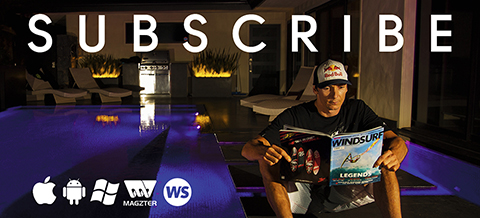 SUMMARY
The Fanatic Gecko is the veteran amongst the ranks, having been around nigh on since the inception of the wide-thin freeride path. It is a stunningly easy, forgiving board to use and would make a great tutor for the progressing rider. Fanatic are quick to point out that they haven't been standing still for the last few years though, and also have the all-new Blast in their range – a board with a real performance base, evolving from the new 'compact' design concept first seen in their Stubby wave boards. We shall find out more next month when the Blast 130 takes to the stage in the Freerace test. The only other 'old' design here is the Starboard Atom IQ, the 104 shape now in its second year of production. With plenty of feature and fitting refinements for the new season however, it is as if it is a new board, providing incredible blasting comfort once you tap into its unique feel underfoot. All the other designs tested are new for 2017. The Goya Volar and Tabou Rocket Wide are the two stand out designs, pushing the wide-thin concept to new highs. Super stable at rest, they plane effortlessly, accelerate at will and feel electrifying to sail … whilst actually remaining perfectly in control at all times, and always possess the manners to relax into an upright stance if desired. The choice between the two is a tough call, but boils down to the style of the ride and the type of feedback you yearn for. The JP Australia is an involving board to sail, dynamite upwind and a lot of fun through the turns. Just get an extra fin to really explore its full wind range. And that leaves the Firemove from RRD. Now into its third generation, the board that really set the wide-thin snowball rolling has altered its course away from that of most of its rivals. The Firemove is much more about manoeuvre-oriented sailing than simple straight-line blasting. Happy in any environment, it will encourage the rider to explore and develop skills rather than simply race in comfort from A to B.
THE LINE UP
• STARBOARD ATOM IQ 104 CARBON
---
---