Tweet
7.5M NO-CAM FREERACE SAILS
(This feature appeared in the July '13 issue of Windsurf Magazine. Print and digital subscriptions are available here.) Report by Brian McDowell Pic Mark Kasprowicz
To compliment our 110-litre freerace board reviews, we've tested some of the best and newest no-cam freerace sails designed to be stress-free, fun and fast. 
As with the freerace boards these sails could broadly be considered as either 'detuned' or as freeride sails with a race bias. The overwhelming message with this type of sail is user-friendliness, namely being lighter and faster to rig than cambered sails, easier to manoeuvre – yet still capable of racing speeds. 
TARGET USER
The competent sailor who wants more performance from their freeride gear or maybe those taking their first steps into competitive racing that are reluctant to buy full-on, technical, camber-induced racing rigs.
TRENDS
As with many sail categories in recent seasons, and to match movement towards wider, shorter boards, there's a definite move towards lower aspect ratio outlines (shorter and wider). This helps drive the newer styles of hull and helps widen the wind range with more downwards drive to settle the board at the high end, all while delivering good old fashioned low-aspect, bottom-end torque. All of these models feature dropped clews with a mix of benefits from reduced swing weight and manoeuvrability, rider-height-related trimming options throughout the wind range and allow for a shorter-and-therefore stronger boom length – in fact duck gybing a 7.5 these days is a breeze! As well as being easier to rig than cammed sails, most brands' larger camless ranges are a lot more flexible in terms of mast type (SDM or RDM) and size than days gone by.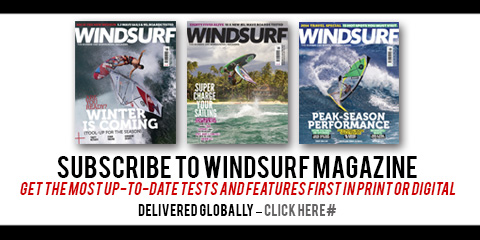 TESTING SET-UP
We used these rigs on the freerace boards in the same conditions as featured in this issue's board test, but also on some bigger freeride boards when the wind was a little lighter. They were sailed by different size sailors of differing abilities and style in a wide variety of conditions. As always, to avoid pre-judgments on size and specification, we go straight out on the water before taking a detailed look at shape and construction. To begin with we rig them with near-maximum downhaul and start with slightly positive outhaul then tune them particular to the conditions.
MATCHMAKING
There is a broad spectrum of suitability within this category. Some are 'grunty' and feel more like cammed race sails, whilst others are lighter and more freeridey. It's important to identify what you want to get from the sail and where and in what conditions you anticipate using it. For example someone wanting a real slalom feel for flat water blasting might consider pairing their race-orientated board with a more growly engine, whereas a more manoeuvre-oriented rig might better suit a coastal sailor on a large FSW for some sea-breeze drag-racing in and out of the surf.
DOWN-AND-OUT
It is notable that nearly all these sails have one recommended downhaul setting which can be set and pretty much left alone unless the sail is being used at the extremes of it's wind range. Apart from any technical advantage this may have, it is without doubt much less hassle. The fine tuning is instead made through the outhaul, with most sails using up to a maximum of about 3cm positive outhaul. Nik Baker kindly lent us some North Platinum booms to use, each with an adjustable outhaul and this is well worth considering. Whether a casual freerider or a fledgling racer (Nik even uses it on his wave kit), an adjustable outhaul can give a big advantage to the overall enjoyment of your precious time on the water. Apart from the fact that you can instantly tune your sail depending on the wind, without having to return to the beach, it also gives you a tactical advantage depending on your point of sail. Crank on a bit of outhaul as you head upwind and you will find you can point higher. Similarly, easing off the tension for a broad reach will give maximum drive and power for top speeds. And don't think that if you get one you'll be forever tripping over ropes as if you were dinghy sailing, it's really easy to set up and once on, you can rig the sail as normal.
WHAT DO YOU WANT?
So, take the time to identify what it is you want to get out of your new sail. What water-state are you most likely to sail in? What wind strength? What's your preferred sailing style? What type of board will you be using it on? Also, don't forget to consider where it will fit within the rest of your quiver – and will it fit the masts, booms and extensions you already have? Once you've done all that have a look over the next few pages to see our recommendations and observations which will hopefully be all you need to make an informed decision to get you on the water, going fast and hopefully having as much fun as we did! Enjoy! BM

READ THE INDIVIDUAL REPORTS:
Gaastra Savage
Goya Nexus
North X-Type
Point-7 AC-X
RRD Fire
Severne NCX
Simmer V-Max
Tushingham T4