Tweet
(This feature originally appeared in the September 2013  issue of Windsurf Magazine. Print and digital subscriptions for readers worldwide are available HERE. You can access more equipment tests HERE. )
This is probably the last time we'll test sails in a specifically 'compact' category. For those of you who're catching-up on modern sail developments, the term compact started when a movement towards, broadly speaking, lower-aspect ratio (I.e., shorter luffed sails) spread throughout all the main brands as the benefits of lower swing weight, shorter and therefore stronger masts, less battens and associated weight savings – and more – became commonplace. Now almost all wave sails are 'compact' – so next time we're likely to purely concentrate on size and purpose.
SIZE MATTERS
The 4.2 – 4.5 bracket is an interesting one. Even for fairly featherweight individuals this is a sail size that is mostly going to be used in a pretty powered-up scenario and rarely used in a pure  'float 'n ride' scenario for most body types, so designs will be tested in their ability to deliver in, not only all-round high-wind use, but also in pure waveriding terms.
ONE GOOD TURN DESERVES ANOTHER.
Prior to this test, in the interests of staying on-the-pulse, we did our usual counselling of a host of main-player brands on what they think we should focus on when reviewing [wave] equipment. The majority wanted us to assume buyers of wave kit are advanced sailors who know what they want and like, based on experience and personal preference and style.
Specifically they seemed to think how sails and boards turn in the surf should be the priority rather than their general sailability. Fair enough. You're big boys and girls and may well know your onions. After all, with wave gear, making turns is  what we're hopefully going out to do and so we decided to go along with this focus, until …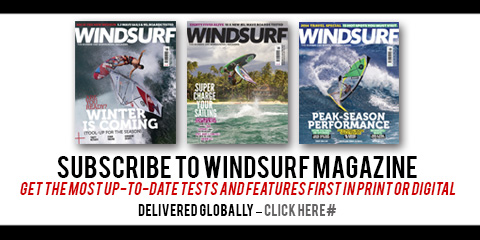 TEST CONDITIONS
… presented with less-than-ideal conditions in Tenerife's El Médano, we soon found that, actually, all-round use is vital. You have to be able to 'get around the park' and be able to get to the peak and be in the game – 'in it to win it' if you like. Even skilled sailors will struggle if there's sketchy wind or a lot of water moving around a narrow take-off zone, so general rideability is key.
Sadly we didn't get a lot of water moving around or loads of banging 4.2 wind, so it's pertinent to say these smaller sails got way less water time than the larger gear we had with us, which got a much more thorough examination.
You'll read about this and our the next point shortly – and more in coming tests too, but, basically, we found that all the latest boards and sails, mostly in larger sizes than right here, tend to fall into two camps.
The first being those that are awesome wave riders, that perform and feel at home in-the-moment and on the face of a wave, but are not necessarily the easiest to motor about on.
Or secondly, those that are just 'invisible' and easy in all aspects and generally just make life easier.  However, what is interesting, is that amongst all the board and sails we had, the ones that are easy and effortless to sail around in a straight line are often the most joyous to turn as well – and if that is so in tricky, onshore, small wave conditions (and as we know that much of this selection is billed as dedicated down-the-line stuff), that this type of gear is then likely to work absolutely everywhere.
POINT OF VIEW
It is a matter of perspective though. While were there the PWA was in town and, regardless of whether we liked it or not, all the gear we had – and more – was flying around and performing in awe-inspiring fashion, proving that often it's the sailor who limits the gear more than anything.
All-in-all we like to think that we're decent and experienced enough sailors who've ridden a lot of kit over the years to pass comment, but clearly we're more like you than Philip Koester and friends, so all of our feedback is with your kind of sailing in mind.
In a nutshell, if we can unlock the performance of the vast majority of these pros favourite sails and boards, then we're confident you'd go on the same trip and reach the same conclusions.
PROCESS
Like all sails we try not to judge on appearance or specs first and try to get an initial feel on the water first. Often sails and lines need a little 'bedding-in' first too. (We're always surprised on the first morning how battens need tensioning again after their first outing, plus of course down and outhaul lines stretch.)
These 4.2s were mostly only used late in the trip, so this time we had to make our notes on outline and construction first, but all the specs are quite similar with boom lengths all within 10 cm of each other, with only the North, Severne and Simmer having differing luff lengths from the main crowd.
Usually we set them with a good deal of outhaul first and minimal outhaul and then tune from there to find the sweet spots. The annual Médano wave test trip is also interesting as, with the PWA in town, many designers, Product Managers and pro riders are on hand to swing by and give insight into their gear and development directions and pass on tips for maximising the settings.
WHAT DID WE FIND?
• Unlike some of the larger sails, all were super stable in high wind bump 'n jump scenarios and wave riding
• Most had power-clew/backhand bias for wave riding, making sure you felt you had something in your hands to tighten up turns and put you on the back foot when you wanted to be
• All had a lot of tech with lightweight stretch control to keep everything nice and tight. (There's a lot of scrim and technora cloth on the market – plus a Dacron revival – and not many pure film sails left on the market.)
• Most of the designs were compacted with big roaches
• All had a good low-end grunt and stability when super powered than sails of years-gone-by
• Compact sails work even better now with the next generation of quad/tri/thruster fin boards as they are more secure in all conditions
• All rigged easily, but now more than ever, correct mast selection is a must to get the most out of them. 
TEST TEAM 
Chris Rainbow 75 kg
Julian Da Vall 85 kg
Brian McDowell 95 kg
TEST LOCATION
Tenerife Windsurf Solution (TWS) of El Médano, Tenerife made us feel very welcome during our two-week trip. Marko and his team have a great setup in the South Bay that has direct access to the gentler waves of 'Chicken Beach' and is a short beat to the nearby Harbour Wall reef that offers side/side-on conditions as well as being a further leisurely cruise upwind to PWA venue Cabezo.
TWS (formerly 'The Official Test Centre', or OTC) continues the concept of being more than a rental centre, with the best masts and pro edition boards on offer for serious punters to try out in advance of a purchase.
We must say that this is an excellent idea, especially in view of current prices. Trying kit in what is actually pretty similar conditions to many 'euro' beaches – with a little extra power in the reef waves thrown in – gives you a good overview of what's on the market and what categories of kit you get on with most considering your style and ability and targets.
They mostly have wave and freestyle wave gear as well as some quality freeride equipment that the majority of the south bay is perfect for getting to know.
More at tws-windsurf.com
THE LINE-UP 
HOT SAILS MAUI QU4D 4.3
NEIL PRYDE COMBAT 4.2
NAISH CHOPPER M
RRD FOUR 4.2
SIMMER BLACK TIP 4.2
SEVERNE SWAT 4.2
GAASTRA IQ
GOYA GURU
NORTH HERO