Tweet
4.7 HEAVEN
The 4.7 is the Holy Grail size that almost all windsurfers want to be using on the 'dream days' – even the heavier lads and lassies. And with bigger and floatier boards that turn like smaller boards of days-gone-by becoming the norm, the 4.7 is now a viable choice in much lighter wind than it used to be.
This means wind range, without compromising wave-riding ability, is more critical than ever, because, in 'traditional' 4.7 weather, the wind is already likely to be fairly strong – but now the lower end is challenged like never before.
GOOD BEHAVIOUR
On the whole in this bunch, we thought the usual trend of wavesails being in two categories – either all-out manoeuvre-oriented models that are sometimes a bit of a handful in a straight line, or, settled and stable rigs that not only perform on the face, but allow you to be in position to catch more rides – was bucked a little by most of the candidates being broadly in the latter.
We think that, no matter what type of sailing you do, that this is vital. For one, you have to be able to get around the break and be in a good position with good power to maximise ramps and snag the peachiest set waves. It's no use if you're wrestling with a twitchy rig and not on the peak, even if you tear one or two up when you do grab 'em.
Secondly, in stronger winds, when perhaps positioning is less vital and you have enough puff to zip around the park, you need a stable, settled sail that can cope with fiercer gusts anyway.  Throw in some onshore slop – like we had on test – and sideshore drift and your demands increase fivefold as early planing power and ability to reach ramps early and get out of trouble come into play. It's like we could all do with 'power' wave sails – but with the throwabout nature of the original 'compact' models.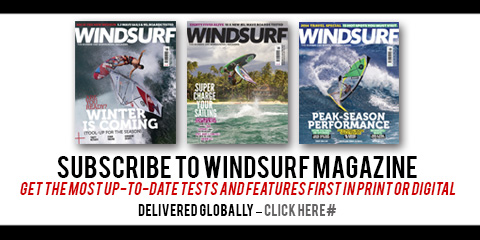 WE LIKE BIG BUTTS AND WE CAN'T DENY …
One of the overriding trends of the 2014 wave sails we've put through the mangle is that, in onshore conditions especially, year-on-year, outhauls seem to want to be set slacker and slacker.
More shape, although not necessarily increased depth from downhaul and associated skin tension and leech 'activation', seems to help give the more 'neutral-in-the-bottom-turn' sails more 'backhandedness', which helps to shorten your turns in tricky wind angles – especially on modern multifin boards.
'Bagged-out' sails also can also help settle and pin the board to the water more in rougher, more overpowered conditions too.
This means sails are often touching the boom quite well forward of the adjuster clips, something in the past we were taught was a no-no. Our view is that this shape in the foil is vital, but that booms could perhaps do with wider back ends to accommodate this? Like race sails do for example. Watch this space and let's see if wave boom curves adjust …
MASTS ARE NOT UNIVERSAL
We're always banging on about using the recommended masts for your sail. But recently – and not necessarily in this test selection – we're noticing more and more variation in performance from mast-to-mast, not between brands – but within model-for-model scenarios.
If board factories are advertising tolerances of up to 6% (which is incredibly vast really if you think about it) then we reckon some mast factories are pretty inconsistent too. You'll encounter many pros who cling on to favoured masts because they're familiar with the behaviour of a certain selection of spars and are reluctant to 'take their chances' on new ones.
For this reason we're suggesting you make every effort to demo new gear with your local dealer, while strongly considering keeping your existing masts if they're gems. Decisions on planning new quivers can be critical if buying new or sticking with current masts already, but, unless they're on the opposite end of the soft-top/constant/hard-top bend spectrum already, bear in mind you might already have the right mast for your new toys.
Of course, if your maiden outings on demo gear hit the spot straight away, then buy what works! But similarly, if you don't like something at first, ask to try another mast of the same model and perhaps try your own ones too. If your dealer's singing the praises of something then try it using the mast they liked it on first – and, if you like what you feel, ask to buy the exact mast you used instead of a fresh one off-the-shelf.
We've definitely noticed a few instances of  'duff sticks' recently when an 'identical' make and model performs radically better than one of its 'siblings'.
Right then, read on and see what might be a good fit for you! BM
THE LINE-UP

GAASTRA MANIC 4.7
GOYA BANZAI 4.7
HOTSAILS QU4D 4.7
NAISH FORCE R1 4.7
NEILPRYDE COMBAT 4.7
NORTH HERO 4.7
POINT-7 SALT 4.8
RRD MOVE MKII 4.7
SEVERNE S1 4.8
TEST LOCATION
Tenerife Windsurf Solution (TWS) of El Médano, Tenerife made us feel very welcome during our two-week trip. Harco and his team have a great setup in the South Bay that has direct access to the gentler waves of the South Bay and is a short beat to the nearby Harbour Wall reef that offers side/side-on conditions as well as being a further leisurely cruise upwind to PWA venue Cabezo.
TWS (formerly 'The Official Test Centre', or OTC) continues the concept of being more than a rental centre, with the best masts and pro edition boards on offer for serious punters to try out in advance of a purchase. We must say that this is an excellent idea, especially in view of current prices.
Trying kit in what is actually pretty similar conditions to many 'euro' beaches – with a little extra power in the reef waves thrown in – gives you a good side-by-side overview of what's on the market and what categories of kit you get on with most considering your style, ability and targets. They mostly have wave and freestyle wave gear as well as some quality freeride equipment that the majority of the south bay is perfect for getting to know. More at tws-windsurf.com
Special thanks also to UK North distributor K-66.com for the loan of some Platinum booms with adjustable outhauls that were a massive help in examining these products' setting on-the-fly.