Tweet
BREAD AND BUTTER
Ask any retailer or distributor and they'll say that hardly any 75L boards arrive, or leave, through their doors these days. Maybe the odd one for kids, ladies or extreme lightweights and, of those, most are probably pros.
85-litre boards, as tested here, used to be considered quite large. But with the trend in using bigger and bigger boards for one's given weight continuing, where does the 'medium-sized' 85L board fit in?
Before brands started advising us to use boards with slightly more volume (in litres) than our equivalent weight in kg, an 85L board was a floaty board for lightweights, a one-board-does-all, solution for midweight riders and a 'change-down' size for the big boys when it's howling. So what is our humble 85L now?
SUPERSIZE ME?
It's easy to think of an 85L as being a quite small, pigeon-holed category of board in terms of scope of use. Yes, it's been a popular size – still very much a meat and potatoes, daily-staple wave board for most of us from, say, 20 knots or so upwards. But is it in fact, these days, actually a pretty small board – for almost everyone? And what exactly is volume worth these days? Is it a currency that's value's changed? In the freeride sector we're seeing how width is playing an arguably larger part in terms of delivering higher 'perceived volume' or 'float. (120L boards feeling like 140s etc.)
The trend for wider, thinner boards brings benefits of a more stable platform and carvier, less boxy rails, a lower, more settled riding position for high wind control and, of course, reduced weight for the purpose compared to 'actual volume' counterparts. As 'compact' has made it's influence known in most board types, the widths have burgeoned and overall lengths have shrunk. But how far can this go before it's a hindrance to turning? And are we at the peak of it yet?
The fact remains that, although 85 litres might now be quite petite, it's actually a pretty versatile size that has to cater for a wide range of body types. Circa 90-100L boards are more than likely going to be populated by heavier riders, who are, we think, nine times out of ten more likely to have most of their 'extra' weight through being tall. 85L boards however have to accommodate all heights and body types within the given weight range – a big call for manufacturers' design briefs. In our minds this means the 85L dedicated wave board has to tick the most amount of boxes of them all.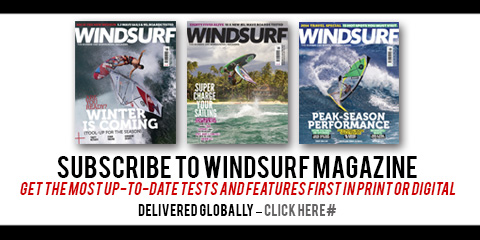 VITAL SIGNS
With that in mind we suggest looking at where brands develop their boards and who their main sources of input come from to give you clues as to their likely best fits. Look at their teams and rider builds, see if they're prone to developing with a strict in-house protos policy only (say, Fanatic) and who's involved and what they use on tour compared to and in the glossy shoot trips to 'real surf'.
Most of the brands in this selection are aiming for versatility without compromise. We think they're getting pretty close as most of these boards are known for serious down-the-line action but have excelled in both our tricky onshore slop test conditions as well as on the pro tour's predominantly onshore conditions.
How have they achieved this? Mostly through reduced length that means a smaller – but flatter and faster/earlier to plane rocker line – can still fit into the pocket of a steep wave without the need to be shaped like a banana. That's a pretty sweeping statement, but about as close to an overall explanation as you can get.
TEST CONDITIONS
We'll level with you and say our trip to Tenerife– based at the TWS Centre in El Medano – was not exactly blessed with the full gambit of testing conditions. Of course the place is 90% onshore sailing anyway – something we think helps tell a lot about a board's turning ability regardless – but we didn't get much high wind either with most of our two week's time spent on the 95-litre boards we published last month.
We mainly used the 5.3s from the October issue test as well as the 4.7s yet to be released and a just couple of days on the 4.2s from the Sept. edition. In addition, the Tabou and RRD in this group have also received some further testing in UK south coast onshore conditions.
READY TO RIDE
If you read our recent 95L test, you'll have noticed how the boards that all sizes of tester liked in common where the ones that needed very little tuning. We're all inherently either freaks that love a bit of tinkering and tweaking, or – and this is probably most people – are lazy, not bothered or plain uninterested. On test we usually agree a suitable 'spread' of stance to suit a range of tester builds and the scope-of-use.
This time, focusing on riding use, we opted for the widest possible stance as our starting point. We also place the mast tracks in the middle as we expect a well-tested board to have a central track placement as a good base line to explore from. Once again, the shapes that were 'plug 'n play' out-of-the box, were the ones that held good general agreement for all shapes and sizes. Read on for your individual takes on each model.  BM
THE LINE-UP
What we got 'ere then? A twinser Quad (JP), a 5-box offering (Simmer Quantum), four dedicated quads, two trifins – one that can be sailed as twin or tri (Tabou) & one dedicated three-fin model (Witchcraft) – plus a singlefin (Naish).
READ THE INDIVIDUAL REPORTS
FANATIC 82 QUAD
GOYA CUSTOM QUAD 84
JP TWINSER QUAD 82
NAISH STARSHIP 90
QUATRO CUBE QUAD 84
RRD WAVE CULT QUAD 83 V5
SIMMER QUANTUM 85
STARBOARD QUAD 82
TABOU POCKET 85
WITCHCRAFT SHAMAN 88
Special thanks to North Sails / K66 for the loan of test booms and adjustable outhauls, Tenerife Windsurf Solution (TWS) for hosting us and Sportif Travel.