Tweet
FeelViana, a brand new sports resort, located in north-west Portugal is Planet Windsurf's favourite new holiday destination. Here are just 5 reasons why you should visit this amazing destination: 
1. Some of the world's best windsurfing
The beach at FeelViana will make all your windsurfing dreams come true. The resort is run by a competitive windsurfer, and is purpose built for sporting enthusiasts with a fantastic centre, stocked with all the latest equipment, right on site. Beginners learning to windsurf will enjoy the large area of flat water created by the port's breakwater while a couple hundred yards down the beach, the waves start to peal, creating the perfect playground for more advanced sailors. The thermal wind picks up through the day so it is not uncommon to be able to windsurf from sunup right through to sunset in the summer season.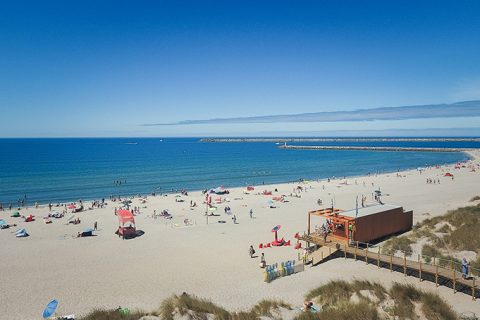 Beach in front of hotel with kit centre/beach bar and breakwater in distance. Winds normally blow from the right – starboard tack cross shore.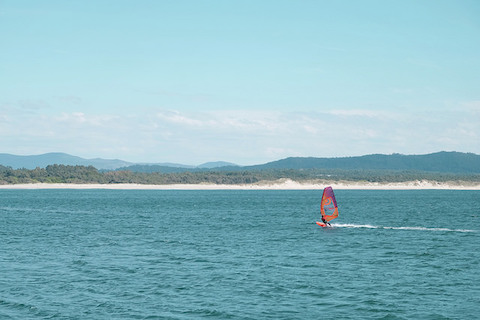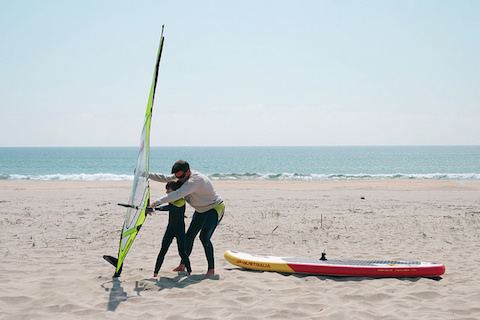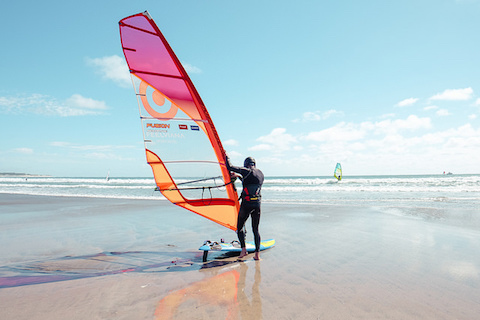 2. Fantastic, safe conditions
This area of Portugal is said to provide the most consistent wind in the whole country and the horshoe-shaped bay offers safe windsurfing conditions no matter your skill level. The hotel also has a unique set up with the local lifeboat society who offers a free rescue boat service during the summer months to anyone using the beach – a luxury that is offered almost no where else in the world.
View of the bay.
3. Discover authentic Portugal
FeelViana is located on Cabedelo Beach, near the traditional port town of Viana do Castelo. Here you can enjoy a truly authentic Portuguese experience, far away from the bustling tourists resorts, crowded beaches and commercial hubs of Portugal's Algarve. An authentic atmosphere, well priced cuisine and a great local experience will have you returning again and again. Located just 40km from the southern border of Spain, the resort also offers the perfect base from which to explore the surrounding region.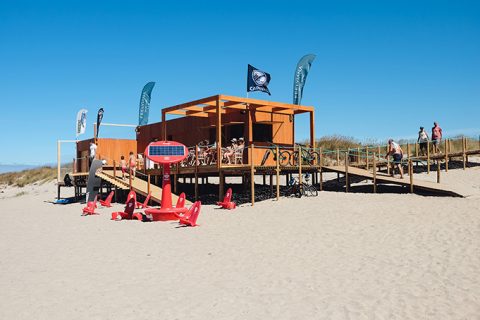 Hotel's beach bar / cafe/ kit centre
4. Great value for money
The hotel offers a four star boutique experience that is suitable for a wide range of clients at an affordable price. Planet also has exclusive rates at FeelViana to make it even more affordable, including pre-reserved rooms for the PWA 2018 event that will be held at the hotel between 14 and 24 June 2018. There are lots of flights to Porto available from the UK, from London, as well as some of the regional airports, making this a very accessible destination – even in the busy summer holiday months.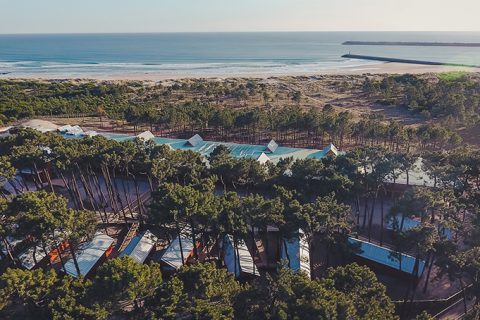 Aerial view of hotel with beach in the background – if there's swell like in the pic there's waves right on your door but still flat water inside the breakwater.
5. Great for multi-activity holidays
The area surrounding FeelViana is rich in cultural and historical sites as well as outstanding natural beauty – perfect for the outdoor enthusiast. When you are not on the water windsurfing you can learn to kitesurf, enjoy a spot of SUPing, fishing or sailing, or explore the land on foot or by bicycle. One thing not to miss out on is FeelViana's guided cycling tours. Utilising only the best equipment and offering over 400km of tracks to explore, in the mountains and on the roads, by the river or by the beach, FeelViana offers a cycling experience second to none. You can even cycle up the river to an ancient village to enjoy some fine wine and cheese or pop into Spain, enjoy an afternoon of tapas and fine wine, and make it back to Portugal in time for a sunset windsurf session!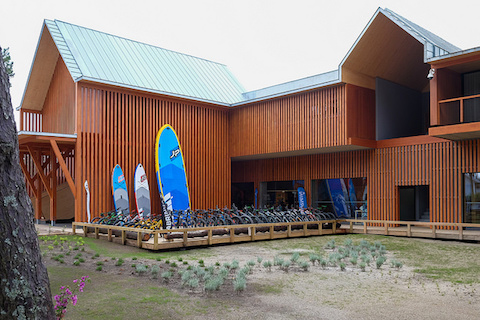 The hotel's impressive cycle and sup centre.
So what are you waiting for, contact Planet Windsurf Holidays to book your trip to FeelViana today!