Tweet
THE STRENGTH OF BEING SOFT
6.5M FREERIDE SAIL TEST 2016
Test Editor Tris Best // Second Testers Maurin Rottenwalter and Joe North
Photos Tris Best and Alex Best // Test Location OTC, Portland, Dorset
Back in the early nineties, when the haze was slowly lifting from windsurfing's hangover of its heyday in the late eighties, there were still plenty of people getting into the sport for the first time, myself included. The sport was vibrant and the energy in it tangible. 
This test was originally published in the March 2016 issue.
The PBA World Tour, as it was known then, was accruing as many events as it was sponsors outside the industry and techni-colour was used extensively throughout, from wetsuits and sails to surf clothes and watch straps. As a fledgling windsurfer, taking your first steps into the bright lights of planing windsurfing, the largest sail you tended to opt for was a 5.3-5.5m. Go much bigger and the weight of the rig would soon have your back out whilst you tried to uphaul it. Yet go any smaller and you needed to go out in what felt like hurricane wind strengths to harness any power sufficiently enough to achieve any sensation of planing. It was a fine conundrum to get right and made the progression into stronger winds and windsurfing utopia that much harder.
FINDINGS
Fast-forward to today and there are plenty of developments that have occurred to make the journey that much easier. Windsurfing as a sport (and the attitude of those learning it) has undoubtedly matured. Tuition is now perceived more as a sensible right of passage rather than an option for the unadventurous few. A little bit of tuition goes a long, long way, and we have certainly seen this at the OTC centre. But this shift in attitude pales into insignificance when you look at kit. The modern windsurfing package makes learning planing technique so much more accessible that you can realistically learn the sport in a fraction of the time than it took most in the nineties. And if we were pressed to single out a sole item of kit that this advancement boils down to, we would have to say it is the mast. Yes, boards are now more stable, more responsive and lively, but a mast makes the sail feel lighter, easier to handle and most importantly enables the sail to be used over a much wider wind range. So looking at the sails in contention here, all now set on a 430cm mast (many of which are RDM). The sails themselves are much more compact and manageable, to the point that a 6.5m could realistically be purchased by a progressing enthusiast as their first planing windsurfing sail. They are now light enough to be used in non-planing conditions, to pootle around with and practice manoeuvres, and light enough to uphaul several times per session without feeling you're lifting weights. But the main bonus is that a 6.5m provides enough sail area to harness enough power in lighter wind strengths, so the intermediate rider can experience the sensation of planing in conditions that they are likely to have been out in before with a smaller sail. Instead of having to venture out of their comfort zone in a big way, they can now keep some variables constant and learn to plane on familiar kit and in familiar conditions. Now that can only be a good thing to speed up progression…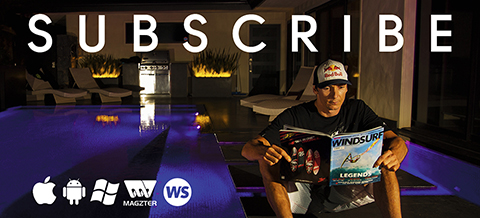 The consensus between all brands on test here is that with these freeride sails, all are aiming for a soft and easy-to-use power delivery. They have achieved this through different design concepts, be it reduced luff curve, increased depth and movement in the profile or the use of a Dacron luff panel. In the past, the word 'soft' would cast dark assumptions in an experienced rider's mind that the sail would feel lifeless, even dull in the hands. Sharp and precise with instantaneous response – that is what the pros were after, so surely that is best for everyone else as well, right? Well, the simple answer is no! A smoother, more gentle delivery means the progressive power is easier to handle and transfer to the board. If a violent gust suddenly hits, the less experienced rider that didn't see it coming would not get pulled to their toes. And to top it all, it makes the sail easier and more forgiving to handle in the lumpy stuff, enabling the sail to annul any impact as if it were a glorified shock absorber, making it more sympathetic to the intermediate rider's tentative sailing style. And these modern sails do their job so well that 'soft' has been rebranded to become synonymous with comfortable, smooth and accessible to such an extent that performance comes easy – making them attractive to more experienced riders alike.
SUMMARY
Amongst the nine sails on test here, there are some very interesting design refinements and directions. The North Sails and RRD both have a long boom/low aspect and provide obvious power, feeling locked in yet user-friendly, whilst delivering fantastic performances in a straight-line. The GA Sails and Neil Pryde are high-wind thoroughbreds, yet have more skin tension to deliver their super top-end efficiency so require more subtlety to make the most of their bottom end power. The Goya, Vandal and Tushingham all opt for a 5-batten layout, with the obvious advantage of lighter more manoeuvre-oriented capabilities. The Nexus treads the fine line between softness and response beautifully; the Addict gets a massive thumbs up for its performance versus price balance, whilst the Bolt champions getting the most out of light to moderate conditions, with the ability to take lots of abuse. That leaves two sails from lofts at very different ends of the design spectrum – one that loves to constantly innovate and push the boundaries of convention; the other that prides itself on being a fad-free design house. The Severne and Ezzy feel very different in the hands, yet both provide useable power, handling and fantastic stability over a simply massive wind range.
TEST LOCATION
This test was conducted at the Official Test Centre (OTC), on Portland, Dorset. The centre is based within the grounds of the National Sailing Academy that hosted the Olympic sailing classes in 2012. With the best wind stats on the south coast, mirror flat water in prevailing winds and a safe launch area with excellent facilities, it provides the ideal test venue. Much of the kit is still on site, so why not go and try some of it for yourself?
uk.otc-windsurf.com

THE LINE UP
---
---