Tweet
THE FLOW OF EVOLUTION
85L WAVE BOARD TEST 2020
Test Editor Tris Best // Second Testers Maurin Rottenwalter,
Joe North & Dan Hallam.
Photos Tris Best // Test location Rhosneigr, Overcombe, Ringstead & Kimmeridge.
We have nine exciting and eye-catching wave boards in the test lineup to whet your appetite. Some of the boards were so eagerly anticipated, that the first delivery had already sold from pre-order, meaning we had to patiently wait for the second shipments to drop before we got our hands on them! Of the nine here, six hail from completely new ranges for the coming season, making it quite possibly one of the biggest refreshes the wave market has seen for some time. And since we've already been experiencing some excellent conditions, there has been plenty of kit and conditions for our test team to get their teeth into.
This test was originally published in the Nov/Dec 2019 issue.
FINDINGS
Unlike seasons past, when new concepts and revolutions have appeared on the scene to grab the limelight, we believe 2020 will go down as a year of subtle yet significant evolution in wave board design. There has undoubtedly been a gradual blurring in the line between compact and conventional designs. Sure, there are still some visual hallmarks between the two, yet it is unquestionable that the progression and development in compact design has pushed performance in the conventional too. After all, it's the natural path for iterative design: see what works by making bold leaps, then whittle down the design to identify the most defining attribute before integrating the features into existing lines to improve their performance as well. Whether it be subtle changes in outline, rocker, volume distribution, rider stance or bottom shape, the changes have come about through many prototypes and countless hours R&D from each brand. As a result, the new designs seem to get going sooner; they point higher and reach faster speeds than their predecessors. All qualities that, in effect, make them easier to use than ever before … and there is a lot to be said for plug and play comfort! Your time on the water is precious, so why bother struggling? You want something that flatters your riding style or ambition, and makes you feel like you're sailing like the pro you aspire to!
Looking at the boards in greater detail, there seems to be some correlation in the developments witnessed this year, in both design attributes and practical aspects. Wingers and swallowtails are en vogue for some brands, as is the use of a straight rail edge in the tail. The reasoning given for this feature by its advocates is that it improves grip in carving turns, and stability in the transition from rail-to-rail. It's obviously hard to quantify the claim without isolating the exact design element; we just found it interesting that more than half the brands have incorporated it into their designs this season. Practical improvements start with the introduction of dual screw inserts for back footstraps, to eliminate the chance of any twisting. Some have gone further and now use double screw plugs for all straps. Dual density deckpads with diamond groove patterns are used exclusively throughout to provide the traction and connection, albeit the thicknesses and densities used vary between brands. And whilst the majority give the option to play with various multi-fin setups on their boards (even providing long fin boxes to facilitate fin position experimenting), there are two notable exceptions in Quatro and Goya that use a combination of mini-tuttle and short US boxes, so that any tuning range is eliminated. We played around a lot with fin setups during this test, and my gosh does it make a difference! The different approach between brands is therefore unambiguous, some saying 'experiment away' to meet your riding style or match the conditions, whilst the other brands mentioned above are taking any guesswork out of the equation, clearly defining the optimum position for you. 
Which brings us onto the last point worthy of note. When testing low volume wave boards relative to the other tests we conduct throughout the year, the weight of the rider plays a larger determining factor in findings, simply due to the narrower margins between weight and volume. It means more time on the water is required; a greater variety of conditions and more setup permutations to fully understand and confirm results. Test team rider weights for this review varied from 75-83 kg, meaning that many of these boards would work as the 'one wave board only solution' for some … or fit neatly as the smaller sibling in a two board quiver, since the performance range, versatility and top end control of the modern wave board has improved so much over the years.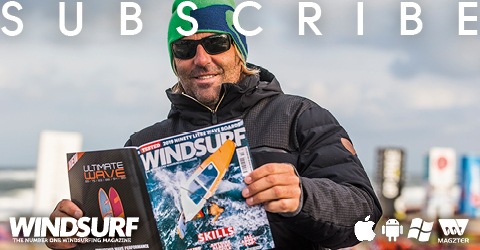 SUMMARY
Onto the individual boards and we'll start with the most established design of the group – the JP. Three years and counting, this second generation Wave Slate was an exemplar of the compact concept when it first arrived, and remains so today. It is a pleasure to use in any UK coastal environment, particularly when the conditions need a bit of spark. Another real all-rounder is the Quatro Cube, retaining the line's reputation for early planing, quick acceleration and a planted feel, yet with more top end control and bite through the tail. It excelled particularly in cross-onshore conditions, when it could carve tight all over the wave, before cranking hard back upwind and out of trouble. The Fanatic Grip is a masterpiece of a board, which is just so easy and accepting to sail, its forgiving nature belies its raw ability on the wave. We're now full advocates for its use in quad setup and it's impressive how subtle tweaks have made all the difference. On the other hand, the Simmer Flywave is supplied as a quad, which is stellar for those clean cross-off days and large open faces. For typical UK conditions though, this board's character is transformed when changed to a thruster. Lively, active and engaging, it just felt a little stiff as a quad to get back up the face tightly, but change it into thruster mode and there's an addictive level of bite, before flowing seamlessly from rail to rail. The Tabou Da Bomb is a full rail carving thruster through and through, and whilst feeling a little dampened and quiet in humble conditions due to the cushioning effect of the thick deckpads and soft footstraps, it switches on when the waves come in and the wind turns on, and the aforementioned fittings come into their own for comfort. Play with its settings and you really learn to trust it when the chips are down. The Starboard Kode is unique amongst the group with its onshore wave / freewave design brief. It is however a real gem, being incredibly versatile and performing well in the onshore to cross-shore conditions we had during the test. Much like many ambitious slalom sailors would actually be better off sailing freerace kit, those that aspire to sail in good waves, yet all to often find themselves faced with typical coastal slop may be wise to consider a board with true freewave capabilities. The Severne Nano is another unique natured board amongst the test group, but for very different reasons. It has a definite back foot surf style personality, thriving on an active riding style, full-blooded bottom turns and aggressive hacks at the critical moment. If this sounds like your riding ethos and you're looking for the next level, this could be it! The Wave Cult from RRD is the smallest board here by quoted volume, yet gets going early and easily. It likes to be comfortably powered, where it sits high on the water's surface and has a connected feel with the fins; carving smoothly and carrying its speed well, forgiving of any clumsy pilot error. That leaves the Goya Custom 4 – an all-new quad range championed by Marcilio Browne and used by him in both training and competition. A compact rocket ship of a board, it is all about control and simply seems to get better and better as the wave conditions improve, with supreme feel and grip through the rails and tail. There is something for everyone and all coastal conditions in this pack; just start the journey of deciding which is for you by being honest about your needs and what conditions you sail in predominantly … not the conditions you wish you sailed in most regularly.  
THANK YOU
Thanks to Steve Thorp and Murray Saunders from K4 Fins for their support in supplying a vast quiver of fins for us to use and play with during this wave test. This in turn helps us  to vary and experiment with the setup of each board here, an invaluable tool in understanding their potential.
THE LINE UP