Tweet
You may love to windsurf but would your family prefer rather to spend their time on the water kayaking, diving, SUPing, snorkelling, or all of the above?
The team at Planet Windsurf Holidays understands that a holiday without the family just isn't the same and has scoured the world to uncover some of the best family-friendly resorts to suit the needs of both you and your family. These destinations also offer amazing conditions to learn to windsurf so are great for introducing your partner or your children to the sport we are all so crazy about!
LE MORNE, MAURITIUS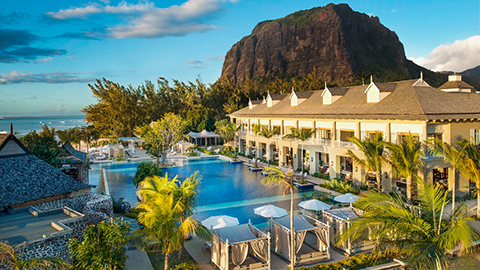 Mauritius offers value for money second to none. At Le Morne, the team at Planet works with a fantastic all-inclusive resort right on the spot, offering an incredible kids club, exquisite dining options and fantastic activities for the whole family to enjoy. This is also an incredible destination for introducing little ones to the ocean as learning to dive, windsurf and kitesurf has never been easier than in Mauritius with an awesome centre with top-notch equipment, a large flat water lagoon and super reliable winds!
THE ALGARVE, POTUGAL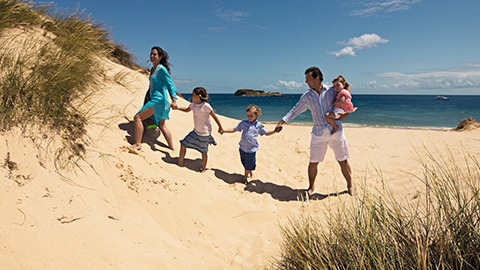 The Algarve offers something for everyone with a host of exciting activities for the entire family to enjoy and a safe learning zone for windsurfers of all ages with amazing all-inclusive accommodation right on site. With 300 days of sun per year and with few days with less than 15°C water temperature, this is a stunning option for sun lovers. And when you are not on the water learning to windsurf as a family you can enjoy fishing and sailing, cycling and hiking, pilates or yoga, tennis, horse riding, golf, SUPing and kayaking or diving.
LANGEBAAN, SOUTH AFRICA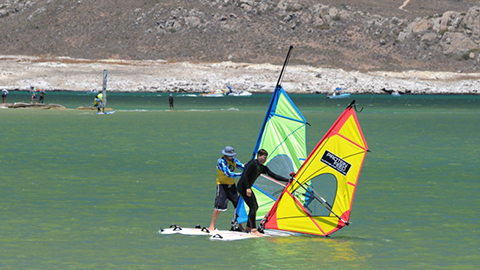 The beautiful seaside town of Langebaan offers a turquoise flat water lagoon where families can spend their days learning to windsurf, kite or SUP in absolute safety! A number of fantastic hotels offer great laid-back accommodation options and with the amazing Pound-Rand exchange rate, you won't find better value for money. With reliable winds in the South African summer months between November and March, the time to book is now.
SARDINIA, ITALY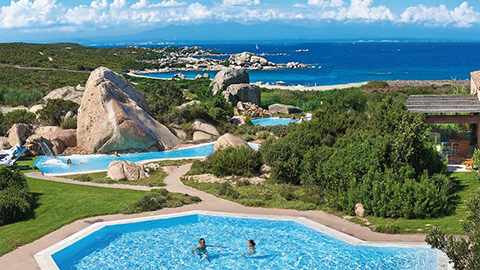 The stunning island of Sardinia is ideal for those short haul holidays with the family. With amazing family-friendly accommodation just a short drive from the windsurf centre, the Porto Pollo region offers the best windsurfing on the island. The dunes along the bay offer shelter to non-windsurfing partners looking to soak up some sun on the beach. There are so many hidden coves, areas of natural beauty, stunning beaches, and pockets rich in history and culture that your days will be spent exploring the island with your family, when not windsurfing of course.
CAPE VERDE
Enjoy the sunshine and reliable winds of Cape Verde with the family! Cape Verde is an excellent destination to learn to windsurf and with reliable winds between November and March it's the perfect destination to escape the cold winter months. It's also just a short haul flight from the UK or most major European cities so travelling here with the family is a painless experience. Cape Verde also has a lot to offer non-windsurfing partners or family members including amazing diving, kitesurfing, snorkelling, SUPing and boat trips around the islands.