Tweet
WINDSURF MAGAZINE #388 AUGUST 2019
The August issue is out now!
Progression: Windsup special – Board tests, Travel & Technique; High Wind Foiling; Entry-Level Wave Sailing with Peter Hart; Défi Gruissan Diaries; Mykonos – Island of the Winds; Basic Rigging with Jem Hall; Kimmeridge Waves; Dorian Van Rijsselberghe profile and Sagres spot guide.
---
Subscribe and receive your copy in either Print or Digital format.
(Prices include delivery anywhere globally 10 times a year.)

---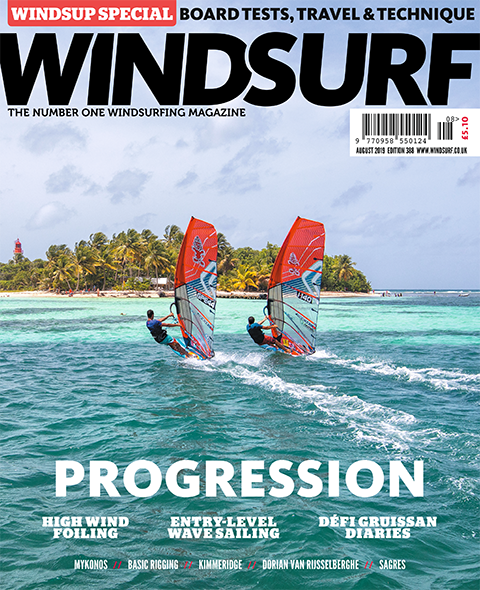 Cover Matteo Iachino and Tristan Algret blasting at Îlet du Gosier, Guadeloupe. Photo John Carter.
---

BIG JUICY READS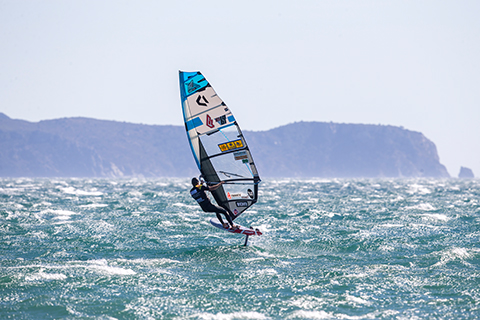 FLYING ON THE EDGE
The 2019 Costa Brava PWA World Cup saw sailors on the edge of foil performance; the pros give us their thoughts on extreme foil racing.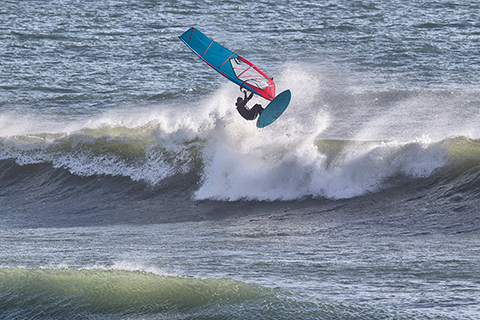 A SWELL SOU'EASTER
Southeast winds and south coast swell prove the perfect ingredients to fire up Dorset's finest wave, Kimmeridge, we get the lowdown on the session.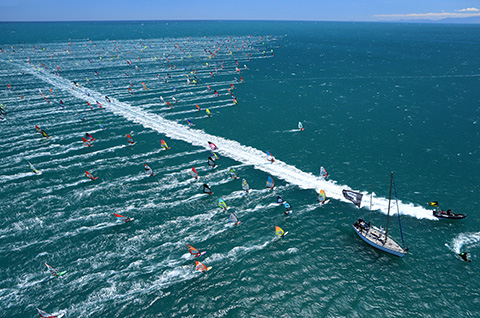 DÉFI DIARIES
Seasoned 'Défi' dude John Skye and first timer, Karo van Tonder, take us behind the scenes of the world's largest windsurfing race – the Défi Gruissan.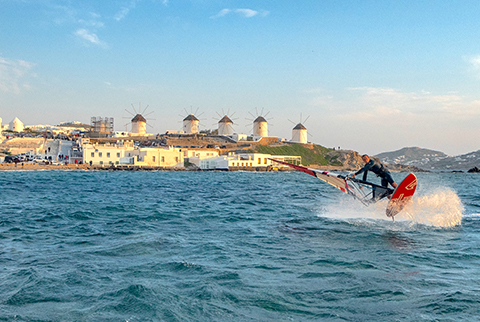 ISLAND OF THE WINDS
Mykonos may be known as a playground for the rich, but it's also famous for its consistent winds. Chris Sammer tells us why it's ideal for a family windsurfing trip.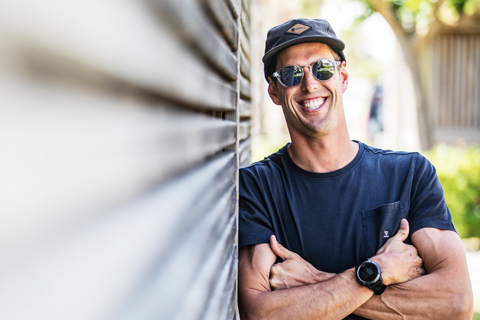 LIFE OF DORIAN
Dorian van Rijsselberghe is the proud owner of two RS:X windsurfing Olympic gold medals; he gives us an insight into his life, and thoughts on foiling.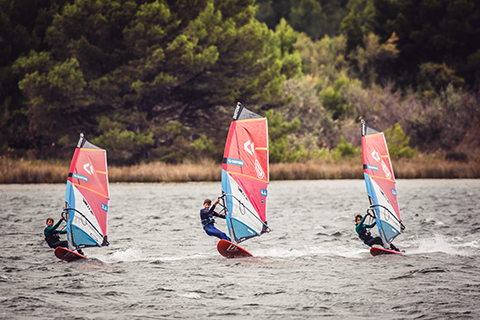 KIDS RULE
Raf Filippi organised a mega French road trip for a bunch of talented kids, this is the story of how his 'Water Academy' went down!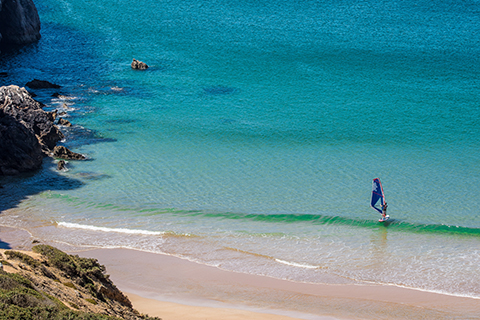 THE SIMPLE BEAUTY OF SAGRES
One sail, one windSUP and the simple beauty of Sagres – Franz Orsi gives us a guide to this beautiful corner of the southern Algarve.

GEAR SHED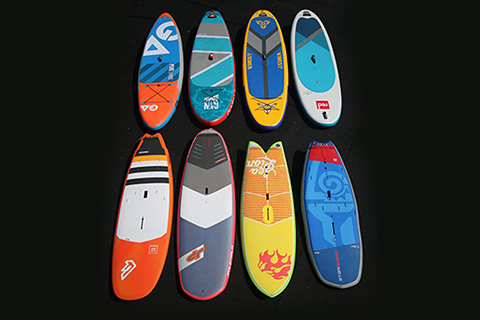 ON TEST: 2019 WINDSUP BOARDS
The test team look at a selection of the latest windSUP boards in hard and inflatable technology, including some multi-purpose foil designs. 
FANATIC STUBBY FOIL EDITION,
GA PURE FREE WS 10'7",
GUNSAILS CRUZ'AIR 10'6",
JP FOIL SLATE PRO 8'10",
O'SHEA WIND+SUP,
RED PADDLE 10'7" WIND MSL,
SEALION WINGS 7'6",
STARBOARD HYPER NUT 4 IN 1 7'4" STARLITE.


TEKKERS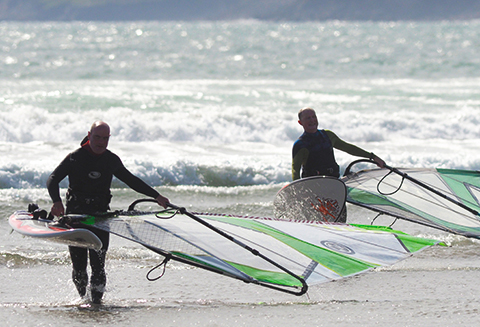 PETER HART MASTERCLASS – ENTRY-LEVEL WAVE SAILING
Peter Hart, with the help of comments and reflections from clients, introduces us to the art of wave sailing and how to get into it.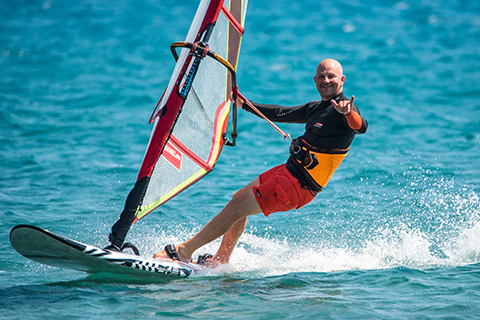 MOVE ON UP WITH JEM HALL – RIG TUNING BASICS
In keeping with summer, the high season for newcomers to windsurfing, Jem goes back to basics this month and looks at the fundamentals of rig tuning.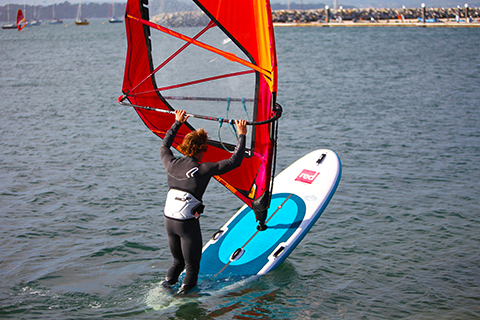 SAM ROSS TECHNIQUE – WINDSUP SKILLS
Sam Ross gives us a few top tips to make the most out of windSUP's this summer.
BOARDSHORTS
LATEST & GREATEST
More exclusive than the Royal Box at Wimbledon, we bring you hot off the press news of all the latest windsurfing bits and bobs!
RYA KNOWLEDGE – TEAM15
The RYA tell us more about their Team15 programme for young windsurfers.
SITTIN' ON THE DUNNY
EDITORIAL – PROGRESSION
The editor muses on windsurfing's latest progression.
AFFAIRS OF THE HART – THE LIFE AND TIMES OF THE WINDSUP
In keeping with the windSUP theme this month, Harty relates his personal 13 year relationship with these overgrown surfboards.
---
Get your Print or Digital copy now!