Tweet
Ever fancied a quiver of sails custom made to your own colours?, read on for the story of how a regular windsurfer asks David Ezzy for some advice and ends up buying a quiver of custom coloured sails and was involved all the way through with pictures of his sails being made in the factory. Special thanks to David Ezzy, UK Ezzy importer, Seasprite, Danny at SURFLADLE who sold the quiver and Daryl Matthews, the lucky customer who all brought us this story.
From: Factory to Ferring
Daryl Matthews is a long term local who sails at Worthing and Daymer Bay, here's how he came to own something a little different and how not everything 'is' as you would expect it to be when dealing with a worldwide supplier of Windsurfing Sails.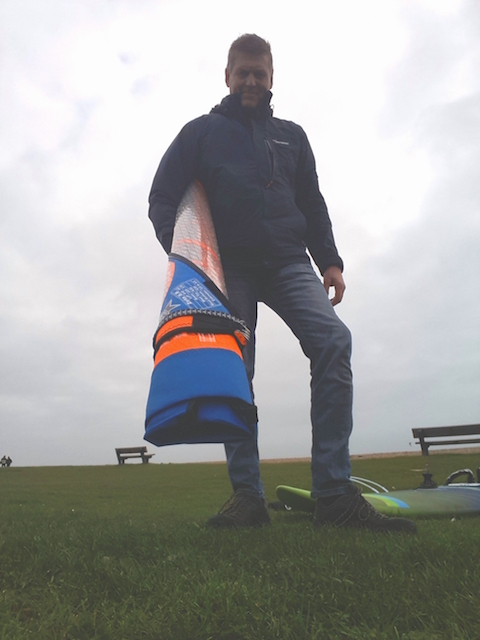 First email – Daryl Matthews to David
Hi David , I was wondering if you could offer some advice. I'm a long time Ezzy user still using 2006 orange and black SE's which you kindly helped me source back in the day ! I'm thinking about updating my quiver but am not sure of which sizes to go for as I understand the tuning range of today's sails are a lot different to back in 2006, My quiver at the moment is 4.0 4.5 5.0 5.8 6.5 , most used sails are 5.0 , 5.8 , 6.5, as I sail in the tidal breaks of Daymer Bay Cornwall UK, I like my sails to feel light, i.e. not back handed , so I set the 06's to max wind setting ( possibly at the expense of power ) so with sails I have now I generally take a size bigger than you would normally think to give me the extra grunt needed in the tidal conditions. I was wondering if I should go for similar sizes in the Zeta? FYI I'm 82kg sailing on Fanatic Freewave 96lt and Fanatic Tri-Wave 88lt. Kind regards Daryl Matthews
Reply from David
Hi Daryl, Thanks for your email, it's great to hear from you. The '06's were good sails. If I were to criticize them, it would be that the low-end was not as good as it needed to be. That would explain why you like taking a size bigger. The new Zeta has better low-end and high-end, so I think you will be pleased. I'm with you on hating back-hand pressure. It is probably one of my most important design criteria in my sails. My suggestion for sizes are: Zeta: 4.2, 5.0, 5.8, 6.4 The 4.2 Zeta should cover your current 4.0/4.5 '06 sails. Please let me know if you have any further questions. And if you do decide to get the Zeta, please email me if you need any rigging hints. Best regards, David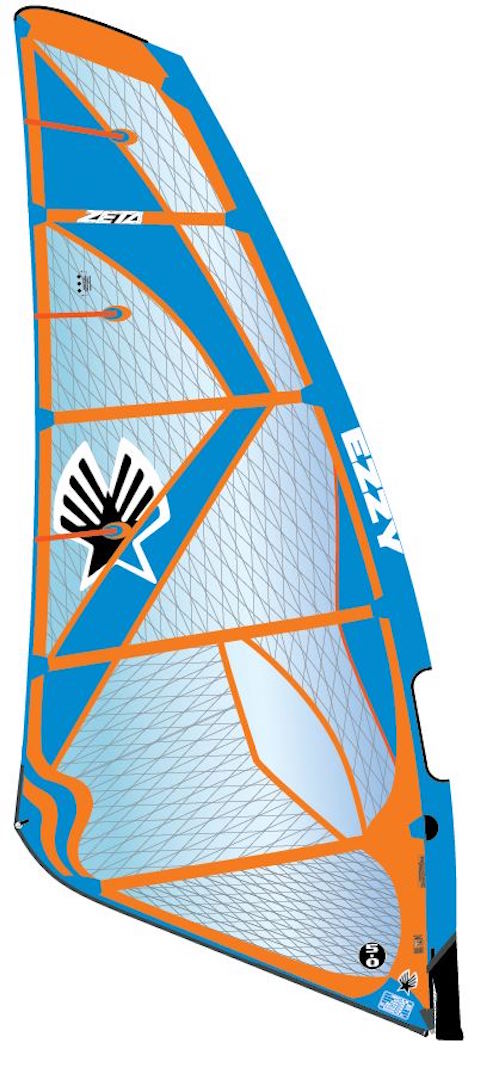 Reply from Daryl
Hi David ,Thanks for the quick reply . If I can go to 4 sails that would be good news! I'm keen to stick with 5 batten format so probably will go with your suggestion zeta sizes. Shame there is no orange colourway available ! 🙂 Many thanks for the advice cheers ! Daryl
Reply from David
Hi Daryl, Shame there is no orange colourway available ! 🙂 I can make you custom sails if you want orange. Let me know. Best, David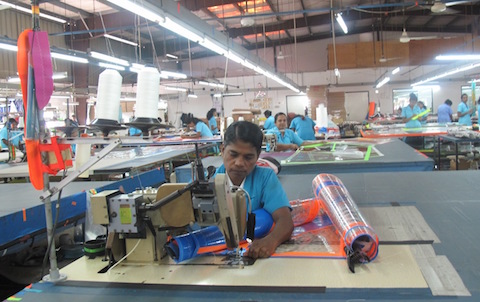 Daryl's comments
The sails were put into production! David even changed the sail design layout to incorporate the custom colours! I added in an extra size at the last moment which once again.. was No Problem!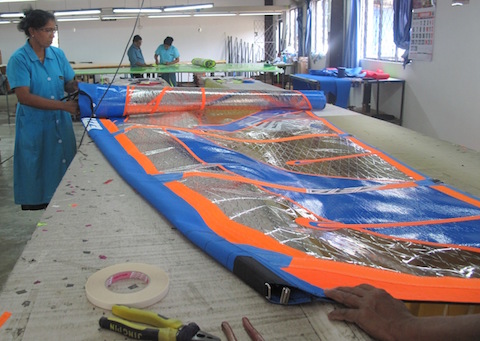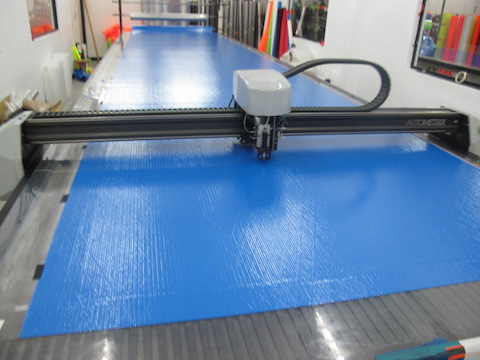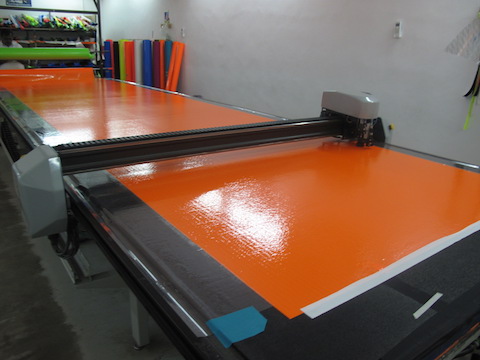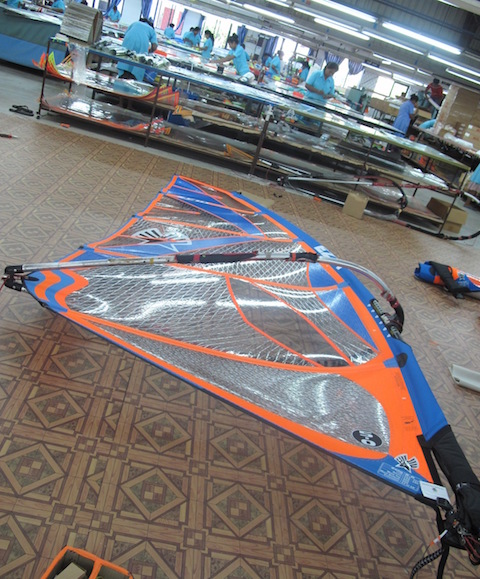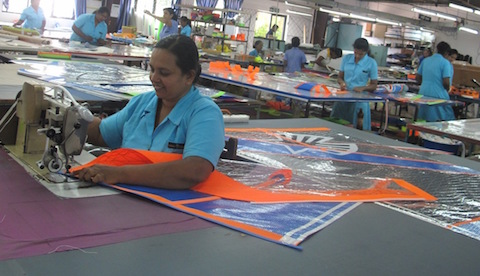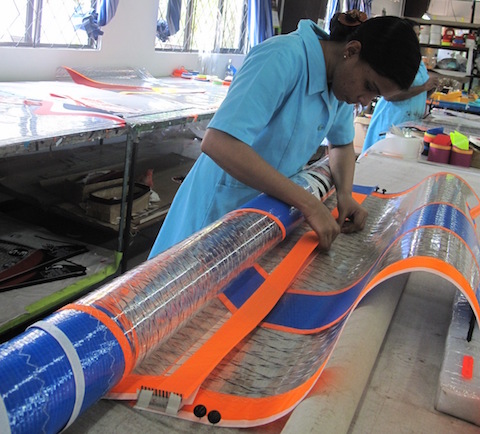 Daryl's report to Danny at Surfadle after trying out the 5.8m
Hi Danny, first impressions of the Zeta ….
Early start at Ferring an hour and a half after low tide with a long walk to the water , it wasn't as windy as I'd hoped so I rigged the 5.8 on my Ezzy Hookipa 430 , following the rigging indicators I tuned to themedium setting and plugged in my Fanatic Freewave 96.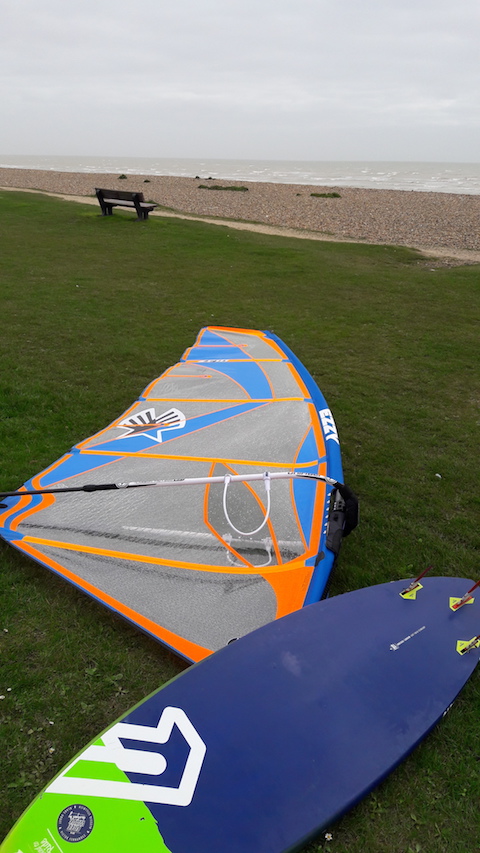 The first thing I noticed was the weight , compared to my old Ezzy SE's the Zeta is lighter but there doesn't seem to be any compromise made in the construction the Zeta still has that famous Ezzy build quality.
By the time I'd got my wetsuit on and got to the water the wind had increased and I thought I might have made a mistake rigging the 5.8, but thought I might as well see how the Zeta coped in overpowered conditions.
I hit the water and was more than 'well powered' up, the Zeta actually felt really balanced and stable in the hands , through the turns it was well behaved, even in 'overpowered' conditions the sail pulls evenly into the turn and goes neutral in a really smooth way through the transition, the power comes on just as smoothly out the other side. At this point the wind was increasing and I was feeling a little overpowered, so I went in and re-tuned for the high wind setting.
Back out on the water and the Zeta was back on it, feeling stable & smooth, there wasn't too much in the way of waves but when I occasionally picked up a decent swell the Zeta was fun again with that smooth neutral spot allowing a confidence inspiring depower and power up. I then passed a couple of guys on 4.7s and thought maybe I should go and change to the 5.0 and my triwave but I felt fine , in control and having fun with the 5.8 so there really wasn't any point!
So, the first impressions are excellent, I think David has come up with something pretty special here, the range , control & stability are spot on. Honestly I was astonished at how in control I was in 4.7 conditions on a 5.8 !
Cheers, Daryl.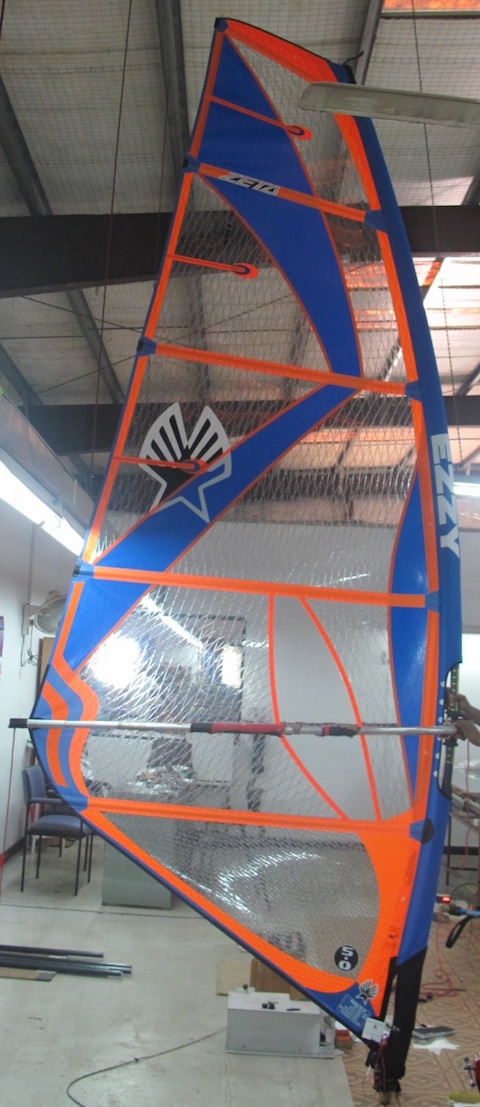 Seasprite comments
Now there's a modern Fairy Tale which just had to have a Happy Ending! Well done David. It was approximately a three month wait before the sails arrived in the UK. As for the cost.. it's not that much more than a normal set,  if you are seriously interested in a custom quiver then contact us.. we will see if David can do the same for you!
http://www.seaspritesports.com/