Tweet
PHOTO ABOVE – SAILING IN THE EXOTIC WATERS OF CABARETE
The team at Planet Windsurf Holidays let us know where to go to find wind amongst the exotic – "Ideally, for a windsurfing holiday you need water (either flat or waves) and reliable winds blowing in the right direction. At its most basic, that's all you really need to have fun. But if you can add lush landscapes, beautiful beaches, luxury accommodation and exciting local culture, it sure makes for a much more interesting holiday. With this in mind, here is our top five exotic windsurfing destinations for your next vacation. "
Cabarete
Combine Caribbean conditions with a Latin vibe, throw in some superb windsurfing conditions and tropical landscapes and you get the Dominican Republic. Cabarete is the main windsurfing destination here, boasting clockwork wind and both flatwater that's perfect for freestyle and plenty of waves.
The water is clear, the beaches long and sandy, and the temperatures are warm all year round. And with the mountainous backdrop and unspoilt natural beauty all around, this really is an exotic paradise.
Mauritius
Set in the warm and tropical waters of the Indian Ocean, Mauritius and its sister island of Rodrigues are a real cultural melting pot. Mixing French, British, Dutch, Arabic and African culture, there's no surprise that this is a colourful and truly unique destination. 
However, it's also considered to be one of the best windsurfing destinations on the planet, especially at the top spot in Le Morne. The wind is incredibly reliable; the water perfectly flat within lagoons, with waves outside and there is a choice of stunning luxury hotels to enjoy too, all at unbeatable value for money.
Peru
Peru might not offer the tropical charm of the Caribbean or the Indian Ocean but its mix of ancient culture and Latin influence gives it an exotic feel all of its own. From Incan ruins tumbling down the side of the foothills of the Andes, to the world's largest sand dune and longest wave, there is plenty here that's utterly unique and a windsurfing holiday to Peru is best done as part of a tour to discover all the fabulous things this country has to offer. 
Plus, it's also one of the best wave spots on the planet and offers great value for money. So with plenty to see and do off the water, this easily deserves a place on our list. Head to Pacasmayo to see what all the fuss is about.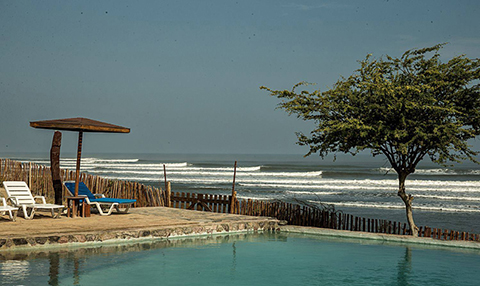 PERFECT SURF IN PERU
Vietnam
There was a time not so long ago that the very idea of a windsurfing holiday in Vietnam would have been ludicrous. But after overcoming a troubled history, Vietnam has emerged as one of the safest, most interesting and unique destinations in the world. Its long coastline, warm temperatures and regular winds also make it a top water sports destination.
Check out Mui Ne, where you'll find Asia's strongest and most-consistent cross-onshore winds and a fantastic beach destination set away from the tourist crowds. 
Saint Lucia
We started in the Caribbean and we'll end there but this time with a very different feel. Saint Lucia may not have the Latin vibrancy of the Dominican Republic but it is equally as beautiful and comes with its own very laid back vibe. 
Reliable winds, stunning white beaches and crystal clear waters create incredible windsurfing conditions for all levels. And it's all backdropped by lush green landscapes, the flavours of rum and warm Caribbean welcomes. Vieux Fort is the place to head to for windsurfers. 
Ready to start planning your exotic getaway? Contact the team at Planet Windsurf Holidays today and chat to an expert who will make all your dreams come true!"