Tweet
GA MANIC 5.0 2021 TEST REVIEW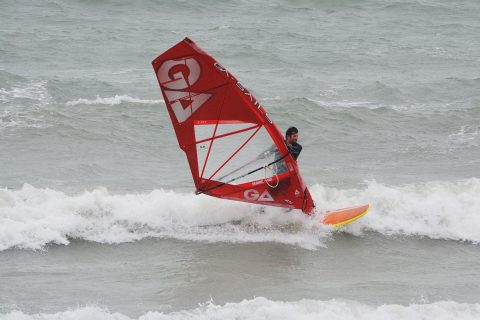 VERDICT 
For those looking for constant power, the Manic has plenty of direct feedback, along with a strong bottom end and impressive tuning ability. A great sail for those looking a sharper feeling 4 batten sail.
THE LOWDOWN
The Manic is billed as their "hardcore" wave sail by GA, "powerful and controllable in all conditions", sitting alongside the IQ model, which they describe as their "new school" and "smooth neutral wave riding" sail. The construction is aimed around keeping the sail light but stable, with the use of GA's 2-ply scrim in the upper panels to reduce swing weight. This year sees 4 battens in all sizes, with extra focus given to the bottom end of the larger sizes to make these better in onshore conditions. The clew layout has been redesigned to include clew patches to protect the stitching and stabilise the clew. This is alongside a new radial panel layout with carbon radial tapes out of all three corners of the sail to improve overall stability, especially in windier conditions. The Manic is packed with nice features, including an integrated batten system. silicon patch to open the mast sleeve, a cleaner redesigned tack fairing and abrasion strips in all key load areas. The Manic also comes in an HD edition, which uses x-ply scrims across the entire sail.
BRAND CLAIM

"The right choice for riders that need a sail offering the perfect blend of power, stability and handling in different kinds of conditions – the Manic is equipped with inimitable versatility."
PERFORMANCE
Once rigged on the GA C100 RDM, the Manic was one of the lower aspect sails on test with both the shortest luff length and also longest boom length. There is plenty of shape in the profile and whilst Dacron along the luff gives the sail some stretch, there is already plenty of profile before this happens. Unsurprisingly there was plenty of bottom end power on the Manic, and it had a direct feel to it, with plenty of grunt. The centre of effort is relatively high and back, drawing you easily onto the plane. This power helped give the Manic a great top end speed, powering not only into turns, but also into jumps on the way out. It also responded best to positive rider input to make the most of the power and drive through turns. Whilst there was plenty of bottom end grunt, if you tweaked the controls there is also plenty of top end control and the stability of the Manic is maintained throughout its impressive wind range. As you pull on the downhaul the pull stays relatively high and slightly back, meaning there is always a constant pull to the Manic, rather than a neutral feel, the drive always feeling locked rather than moving around in the sail's profile.