Tweet
NAISH FORCE 4 5.0 2021 TEST REVIEW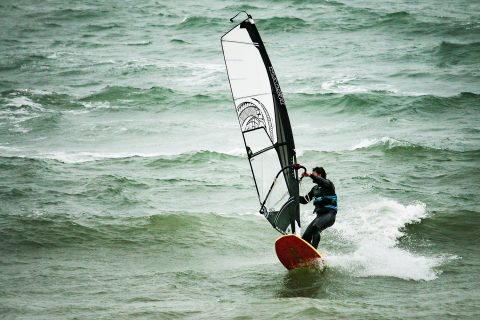 VERDICT:
Light and easy in the hands, the Naish is compact and has plenty of control. Those looking for more speed and drive may prefer Naish's Force 5, but for those that want great handling in a compact no fuss package, the Force 4 delivers well.
THE LOWDOWN:
There has been a big push in development from Naish over the last 12 months with new riders such as Ricardo Campello and Justyna Sniady joining their ranks and for 2021 Naish have presented a full redeveloped sail lineup. The Force 4 is their 4 batten "performance wave" sail, sitting alongside their more traditional 5 batten offering the Force 5.
The draft-forward shape and moderate aspect ratio give, Naish claim, "the perfect balance of power and responsiveness and provide an 'in-between-the-hands' feel that makes it exceptional for both wave riding and freestyle.
As with almost all the sails on test, the Force 4 makes good use of mini battens but is unique in the fact that two of these sit between batten 1 and 2. The Force 4 also features integrated or 'equilibrium' batten pockets. Naish focus on keeping weight down by using their lightest but most durable film, X-166. However, this is doubled up in the luff panel to help maintain more leading edge shape.
The Force 4 is available in sizes 3.4 through to 5.7 in two colourways, teal/black and white /black. All sizes maintain the 4 batten geometry and set on RDM masts. Unlike most brands, all sizes come with vario heads.
BRAND CLAIM: "The Force 4 builds on the legacy of Naish four batten wave sails. Naish's purest wave sail delivers stellar performance in a wide range of conditions – onshore, side shore and offshore – but is at its best in down-the-line."
PERFORMANCE:
Once rigged on the Naish 90% RDM mast, the Force 4 stands out as having a high cut foot with much more sail area above the boom than some. With a single eyelet there are no decisions to make and downhaul and outhaul are easy to apply.
On the water the Force 4 powers up smoothly with a relatively crisp feel to its draw. The pull is relatively high and forward, leaving a very compact feel in the hands. There is good, yet not exceptional bottom end and the power delivery remains smooth through gusts and lulls, but you won't find yourself rocketing out towards ramps.
Through jumps and rotations, the Force 4 stays very controlled and feels compact in your hands, naturally pulling you into an upright stance, helping encourage you into trying things on the way out, even on a 5.0 metre sail. On the wave this controllable and compact feel continues, it's easy to get your back hand down the boom and make the sail go neutral, and just as easy to hold the rig clew first in onshore conditions all the way through to the top turn. Little tuning is needed to maintain the sail through its wind range, with a good overall natural range and tweaks of the outhaul were enough of a fix when the conditions get a little fruitier.
VITAL STATS:
Size: 5.0
Luff:  410 cm.
Boom: 164 cm.
Battens: 4
Ideal mast: Naish 400 RDM
Sizes: 3.4, 3.7, 4.1, 4.5, 4.7, 5.0, 5.3, 5.7.
PRICE: £749.00
NAISH FORCE 4 5.0 2021 TEST REVIEW
---
Other sails in this test:
---