Tweet
GOYA CUSTOM 4 PRO 89 2021 TEST REVIEW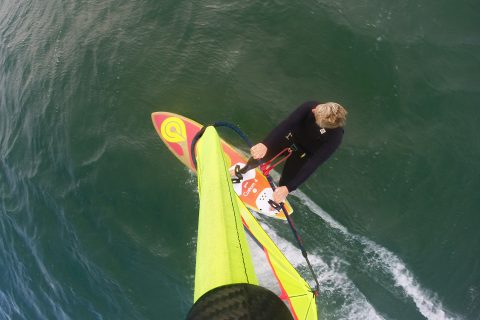 VERDICT: If you have had a break away from quads, worried that they are too niche or sluggish, this board should make you reconsider. Its planted feel gives you huge amounts of confidence in everything you do, and offers plenty of potential for both jumping and riding. This board really excels on the wave, but the conditions don't have to be stellar to achieve excellent performance. From cross-on to cross-off, this board should give you everything you need in a wave board.

THE LOWDOWN: Unchanged for 2021, the custom quads are an evolution from previous models. Their development has seen them slightly grow in width at the mid-section and receive a bit more area for the back foot while maintaining their lengths. The profile has been thinned compared to the last generation. The rocker line of these boards has evolved to incorporate a more defined surfboard rocker, with a lower entry and higher tail. This shift in the rocker allows them to better fit into the curve of the waves while still maintaining early planing and carry speed into the turns. The bottom features a slightly shallower double concave, making the board fast and direct. A nice feature update comes with the double inserts for the back strap, eliminating strap twisting.
In terms of construction Goya have elected for a fused cell expanded polystyrene in their board construction with extra reinforcement around the deck, rails and the body of the board. This is their full S-glass and carbon layup, the brand claiming it will make it a third stronger, stiffer and lighter than conventional boards.
The Custom Quad comes in a huge range of sizes from 60 litres, all the way through to 114 litres. The board is finished with MFC straps, as well as MFC fins, with twin centre US boxes and Mini Tuttle boxes for the sides.
BRAND CLAIM: "This is it. The latest and greatest evolution from our two world champions Marcilio Browne and Francisco Goya. The Custom 4 Pro is the ultimate pro model wave board, straight from their board bag to yours, a custom performance board put into production. Carrying the MB initials for a reason.'
Goya Windsurfing 2020 Boards – Custom 3 & Custom 4 from Forward Maui LLC on Vimeo.
PERFORMANCE: As you first sail away from the beach on this board, its planted feel really stands out. The nose sits low and you feel 100% in control across all water states as you head out through the break. This planted feel helps position the rider on top of the kit and you can sail off the front foot with ease. It's early to plane, has good overall speed and you feel in a good position to hit ramps but also punch out through whitewater.
On the wave the board turns even the choppiest face into a smooth palette to carve on. The board has a huge amount of grip and drive through the turn and is so surefooted that it encourages you to hit sections tighter and later than you normally would. You can easily redirect through the bottom turn with no risk of overloading or tripping a rail. Through the top turn it reconnects smoothly, even when you push the fins out and continues to maintain speed.
It feels all of its quoted 89 litre size, but at no point does the board feel too big underfoot, or out of control. It offers huge amounts of control, but at the same time stays exciting to sail across all conditions.
VITAL STATS:
Volume (Quoted): 89 litres.
Length: 225.8 cm.
Width: 58.4 cm.
1ft off (Tail Width): 37.5 cm.
Bottom Shape: Vee with double concave in the nose, becoming straight double by the front straps and transitioning to mono concave in the tail.
Weight ('Naked'): 6.5 kg.
Fins: MFC QS_300 RTM (2 x US + 2 x MT)
Sail Range (Quoted): 3.7-5.7
Sizes Available: 60, 68, 74, 79, 84, 89, 94, 104, 114.
PRICE: £2099.00
---
Other boards in this test:
THE LINEUP
---