Tweet
Coronavirus (COVID-19) has brought changes to all our lives and different approaches in various countries; in the second part of our ISO-TALES feature, we hear from Bjorn Dunkerbeck, Graham Ezzy, Justyna Sniady, Maciek Rutkowski, Matteo Iachino, Dieter Van Der Eyken and Sarah-Quita Offringa, on their experiences of the COVID-19 public health measures in their respective homes. Please note that as the situation is so fluid across the world, some of the guidelines by which people are abiding may have since changed from the time of writing.
(Photos by John Carter except where stated otherwise.)
---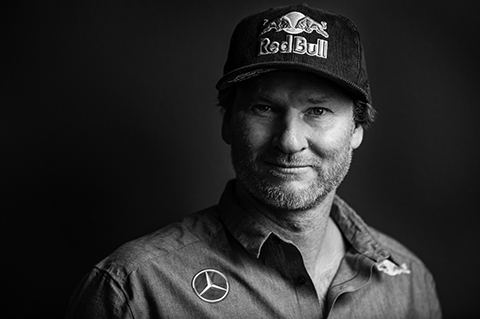 BJORN DUNKERBECK: GRAN CANARIA
Since this outbreak started, I have been training at home, TRX, home bike and with a medicine ball! For me to keep fit is most important these days and it helps me stay motivated as well. Considering the circumstances, I am lucky to have a garden and small gym. I have all my family, Maria and our kids healthy here. Also, my parents and sister and her daughter all well as well are at their homes here on Gan Canaria. Naturally, I hope this is over soon so we all can get back on the water. I did a big shop before the shutdown, now I order food online to 'STAY AT HOME!' and not get ill! Be smart guys stay at home! I hope that this may be a learning for the world to deal better and with more kindness and respect for each other. To take care of nature! Everyone needs to help to save the planet, pick up trash and recycle! And it needs to happen now! So, this is not only the first, but also the last world shutdown!
Action photo by Bjorn Dunkerbeck / Profile photo by Lukas Pilz / Red Bull Content Pool
---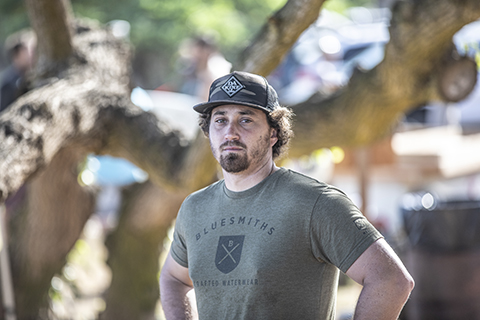 GRAHAM EZZY: HAWAII
Maui is on lockdown. The beaches are closed.  Only essential businesses can operate. Breaking the rules is risking up to a year in jail. But windsurfing is still allowed, for now, so long as you do it alone. With the beaches closed, Ho'okipa is a no-go. Or is it? I parked my truck on a fisherman's bluff downwind of the Ho'okipa rocks. I rigged up and carefully climbed down the black rocks to the water. The waves breathed in and out against the rocks, surging up to my ankles and then retreating, leaving meters of dry rock. I could taste the fear in my mouth. I've jumped off a lot of rocks into waves, but still, I was scared. I waited for a set to roll through and then quickly climbed down the last rocks and threw my board in the water and jumped in after it. I sailed up to Ho'okipa where I was alone except for Victor Fernandez who had sailed up from Lanes. It looked like heaven, windy, wavy, and uncrowded. About a dozen kiters showed up and it turned from heaven to hell. The wind began to howl, and I wanted to rig to a smaller sail, but that wasn't possible without going in and out through the rocks, so I cranked the downhaul and outhaul in the water. After about an hour, the kiters left and so did Victor, leaving me to catch any wave I wanted, which I did before heading in and trying not to cut my feet on the way back to my truck. As much as I had fantasized about a solo session, it was not nearly as fulfilling as one shared with friends.
I feel blessed that windsurfing is not cancelled on Maui right now, and my heart hurts for everyone locked up at home as the wind blows. As a way to give back to the windsurfers around the world, I am doing live coaching on Instagram (@grahamezzy) every Sunday. People can send me videos to critique, and I coach for an hour. As the quarantine continues, I'll keep producing content for all the windsurfers stuck at home.
---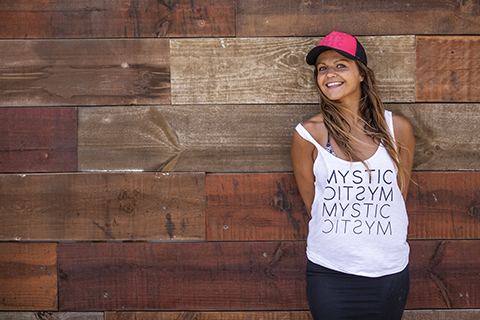 JUSTYNA SNIADY: POLAND
I still remember reading that Poland had locked down its borders and the feeling as my legs turned to jelly and my heart sank. I had visions of not being able to see my family for months on end and worse case not being able to go back in case someone gets sick, maybe not see them again. On the other hand my whole life is in Australia, I was just about to have my citizenship ceremony, I have life and medical insurance there, all my work connections, I train there and have world class windsurfing just around the corner.
I had to decide to say goodbye to my life as I knew it in a matter of days. While my parents desperately tried to convince me to stay and not risk going into the epicentre of the virus that Europe was at the time, I knew I could not live with the regret of not being there. I decided to go. It was insane how quickly all borders were locking down. All in all, I cancelled or changed 7 flights, locked up all my money in vouchers or lost it completely. At one point I was facing a trip back from Germany on a horse as there was no car rentals available and all the international travel was banned! In the end I managed to get on the last Qantas flight to London and then on a government organised charter to Warsaw. I am now in home quarantine and not even allowed to step out to the stairway of my apartment block. Police come a few times a day to check on me and I of course obey the rules for everyone's safety. Today is day six of my home quarantine. In eight days time I will be able to go out for essential shopping etc. It's quite an adjustment as I have spent the last four months completely free and have done a 20000 km road trip around WA from spot to spot, parking my van right on the beach and getting into the ocean daily. I don't how many weeks or months I will be stuck here, but I try to treat this involuntary lockdown time like I would an injury. Even if we don't know when, we know that it will get better and we will be back in action again. I tell myself now it's time to focus on what's in our control and come back out of it as strong as possible. I hope everyone is staying safe, healthy and positive and I am sure we will meet on the water soon.
---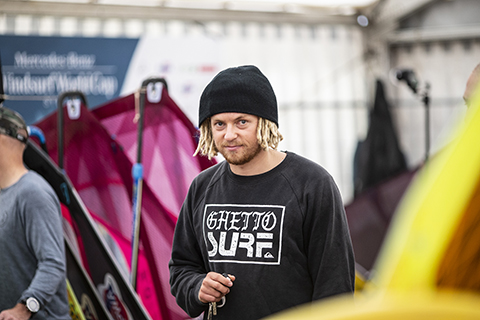 MACIEK RUTKOWSKI: POLAND
Wow this situation spiralled really fast. I remember being at the beach in Tenerife on the 7th of March, midday, between training sessions and Jimmy Diaz calling me to try to feel out what the mood among the top guys was about France. So, I told him I was on the fence because it could get worse, but for now it seemed still ok to run it as planned and we all had prepared for it for five weeks already. I asked Matteo, Enrico, Jordy and they weren't sure either. A few days later it already seemed like a no-brainer to try to postpone it and I was wondering what I should do if a shutdown occurs. Staying in Tenerife and getting better and better as a windsurfer didn't seem like such a bad thing to do. A couple of days later, the night of March 13th, Poland's Prime Minister announced they wouldn't allow any flights in after the 14th. So, I was basically stuck as the first flight arrived in Warsaw 00:30 of the 15th. So on the 14th we went training and after the first five heats the news broke Spain was going to close the beaches and there would be hefty fines for any watersports, so I was like "ok, time to get out of here, somehow". There was that flight that landed just past midnight and my thinking was if it takes off, they're not going turn it back around, so it's worth giving it a shot. It was 1pm and the flight was leaving at 5pm. I booked the ticket, packed my 8 boards, 15 rigs and however many accessories I had in less than an hour (shout out to Rytis Jasiunas for the help!) I called the TWS crew if they could give me and my 9 bags a lift, ran to the apartment, packed 2 months worth of mess and just about made it in time. I checked in smoothly, even though I've never seen such a hectic airport. I already had boarded the plane and put out an Instagram post that I was out of there, but then they announced we have to get off the plane cause it will not fly. I feel like I jinxed it! I had to retrieve my 9 bags (of course all were within the 32kg limit…not!) and ask what was going on. We would fly the next day, with only Polish citizens allowed on board. As usual our Prime Minister turned out to be a total misinformed tool, only for once this time the reality proved better then what he said! I went back to Medano with all the bags, came back in the morning, re-checked in (if I don't die from corona I'll die from a broken spine from carrying all these bags!), this time flew, chose my address where I would be locked up for the next 14 days and here I am! Basically, been editing videos, making music, working out and watching TV, so far it is not too bad actually!
---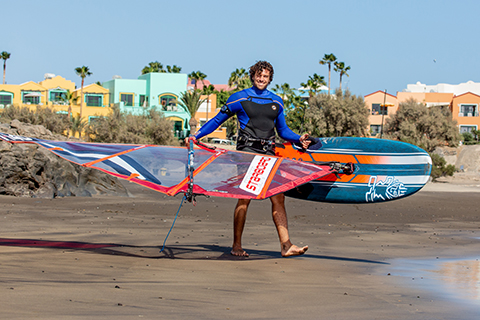 MATTEO IACHINO: TENERIFE
When the corona virus started spreading around China, I was already in Tenerife to open my new windsurf centre SURF HUB. I left for Australia for the Starboard photo shoot and came back here with no problem at the end of February passing through Italy. On my way back in Milan the situation was already starting to be serious with fever checks on everybody when I landed. Personally, I thought there would have been no problem and that it was just something coming and leaving quick such as Ebola a few years back.
Then I arrived in Tenerife and started training. Day by day getting in touch with my parents and friends I got that the situation was getting worse. More were getting infected and people with previous diseases starting to die because of the complications coming from the virus. Then the quarantine came up more or less one week before they adopted the same measures here in Spain and then in the rest of Europe and more or less in many countries around the globe. In Bergamo, a city close to Milan, at this stage 6 out of 10 people are infected. The hospitals in the north of Italy are collapsing and if it gets to the south it will get even worse. On top of that the economic crisis coming out of all this situation is even worse. I decided to stay here in Tenerife hoping I could keep training, and avoiding travel now with this situation around Europe. I think being an island, the situation should clear up sooner and better than in mainland Europe and anyway even coming back I wouldn't be able to meet my parents, my uncle nor my grandma, so it would have been just a stupid move for me. I could still train on and off the water till last week but now we are on full lockdown and I can only watch the sea driving to my windsurf centre where at least I can still do some work on my gear that is in storage over there. Now it looks like we'll be in this situation until the 14 of April. But at the same time, I feel pretty lucky being healthy in a nice house with a balcony and sea view living with my girlfriend compared to my mates in Italy facing a lot worse situation, being just being locked in their cities.
Photos by 7 Pixels.
---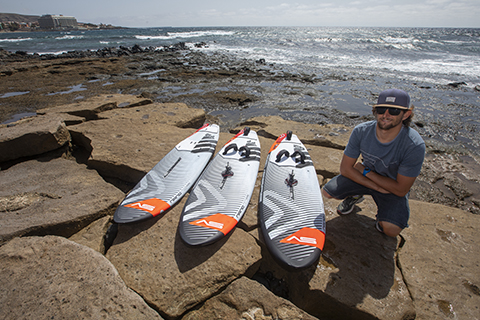 DIETER VAN DER EYKEN: TENERIFE
I'm currently in Tenerife and will stay here for as long as it's needed by the authorities. I have considered going back to Belgium over the last week but since traveling is probably the worst thing you can be doing at this time I decided to stay in Tenerife and hope for the best. All measurements here in Spain are pretty drastic and being completely locked up in an apartment isn't something I was expecting, not even being allowed to go for a run or any outdoor activity. However I'm living in a shared apartment with two other flat mates which makes it easier to get through this time. We have a rooftop where we can go to and where we do exercises together on nearly a daily basis to stay fit. It's hard not to be able to go sailing while the ocean is this close (and conditions are looking good on the webcam or from the roof) but I feel like it's only a matter of time before all other countries will follow these lockdown measurements.
The earlier you are in it, the earlier you are out of it as well hopefully. We have at least another 3 weeks of this coming up here in Spain and probably another 8 – 10 weeks before things get slightly back to normal if we all follow the advice of the government. Luckily, I don't have much trouble filling up my days so far because of the work for Severne that keeps giving me a daily routine. I still have a daily task list I need to complete and have a few projects in mind that I might be able to work out with the extra time at home.  Staying motivated during this period is probably the most important and also the hardest part. Normally every windsurfing session is my recharge moment and my drive to get other projects done before the next windy period. This was the same in the past with homework for school and the reason my mother always hoped it was windy during the exams simply because I would actually have motivation to study because of the sailing afterwards. However, there are a lot of positive things as well in this period, seeing the respect people show towards each other here in the Canaries shows me exactly why I moved to this place. The fact nobody is pushing forward in the supermarkets, is in a hurry & keeps their distance shows that everyone here understands how serious the situation is.
Also, the extra time in general has given me and many people the chance to connect with each other again over the phone or bye Skype, break their routine and actually start to see what they value the most in life. We will see many positive things coming out of this period in the future, both for our sport but also for the community in general. Working from home will get more common I believe, and companies will get more creative with all the technologies that are available. Something that wouldn't have happened if companies were not forced to switch to working from home. Above all everyone will be keener to explore the outdoors after it has been taken away from them for a while & make more use of it every chance they get. For now, it's important to stay home & work all together to make sure we get through it as soon as possible with a positive mindset.
---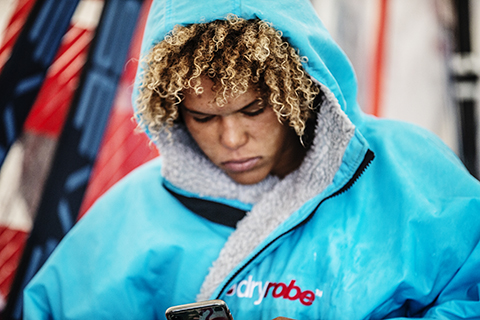 SARAH-QUITA OFFRINGA: ARUBA
So, we don't have a total lockdown here. Just a curfew from 9PM until 6AM for now. So not super strict yet. Since the first cases were discovered last week, we have about eight new cases, they were all tourists. The airport has shut down completely and only non-locals are allowed to fly out until the 25th. From then on there will be zero flights in or out. WHOLE hotels are empty on the island. It's really the craziest situation. So, I have been windsurfing still almost every day as there isn't a restriction for going to the beach. But I sail at a remote spot with no one around, so I'm not getting in contact with other people. Just taking advantage of the freedom we have now, as I've heard that other sailors are not as lucky. Ten days ago, I wasn't taking it as seriously, but seeing now how quickly practically the whole world shut down I'm starting to understand how serious the situation is. Of course, people's health is important and that's the reason everyone is staying in and taking precautions.  But on the other hand, I think it's going to have ridiculous implications on the economy. I don't know too much about it, but I can imagine that the next months are going to be tough for a lot of people. So for now I hope it will pass soon, and I wish the best to everyone, thinking about others that could get affected severely by the virus, and that they stay healthy themselves, and get back on their feet after this soon.
Action photo by Sarah-Quita Offringa.