Tweet
SIMMER QUANTUM 95L
2020 TEST REVIEW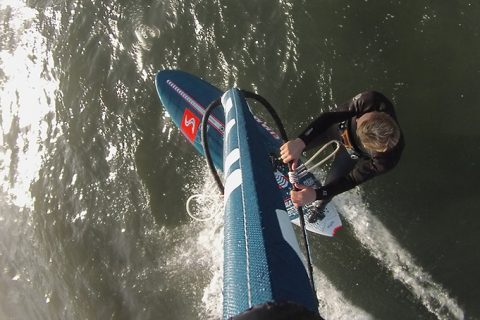 VERDICT
Large wave boards have come a long long way in recent years, this Simmer Quantum a prime example of just how captivating, yet easy and practical they can be. Its blasting engine may not be as naturally aspirated as some crossover designs in the group, but if wave riding is your primary focus, look no further.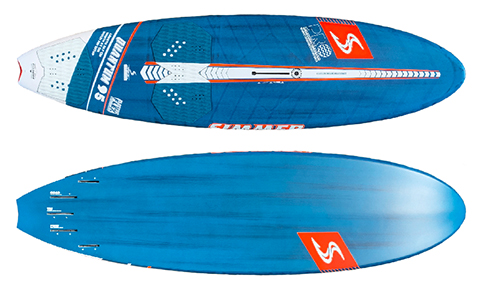 THE LOWDOWN
The Quantum is Simmer's "one board for all conditions", and whilst it is a wave specific design, it is included here as a benchmark to gauge where large wave boards sit next to freewave/crossover designs. It was also readily available at the time of testing, whereas Simmer's 2020 Helix freewave design was still in production. Said to be loose and dynamic in smaller waves, the new Quantum has been refined for more range and performance in the bigger surf too, its 'effective volume distribution' allowing the rider to get away with using a bigger board than normal, without losing any drive through tight radius turns. The 95 has very clean and flowing lines, its rounded outline retaining width in the shoulders and mid-section, before drawing in to a narrow swallow tail in the rear. The rails are hard in the tail, but tuck early and soften completely by the mid-section, inline with the mast track. On the underside the Quantum exhibits quite an interesting mix of double concave washing through an extended mono-concave, before finishing in flat vee in the tail. And as with the Flywave tested last month, the Quantum is produced in the brand's Pro construction, with a PVC sandwich stringer through its centre, which is said to act as a spine. It combines with the various carbon and glass layups to produce their Electric Flex technology – offering flex and stiffness when and where it is required. The board is then finished with a Hot Coat layer – using the desired pigment in the outer epoxy gel coat, thereby locking in the colour and keeping the board looking fresh for longer. The 95 comes supplied with three Simmer straps, each being double screwed to eliminate any twist, and sit atop the dual density diamond grooved pads. The last ode to the board's quality are its fins, coming supplied with a carbon thruster set, each with a honeycomb core to ensure they're light and performance oriented. 
BRAND CLAIM
"The 2020 Quantum is designed to perform in all types of wind swell type wave sailing. Although it excels in onshore conditions, it is actually the most versatile wave board in the range, featuring a huge performance register and super easy sailing in any type of wave. Thanks to the five carbon slot boxes you can tune the board for a huge spectrum of conditions, from light wind to high wind and from onshore to side-shore. The Quantum is able to adapt and thrive in any environment."
PERFORMANCE
With similar dimensions to the other boards in the group, the Quantum feels no less balanced and stable as you step on. Similarly, it releases smoothly and easily as power is delivered, the footstraps easy to locate on the centreline as you progress down the board. Being a wave specific board, the fin boxes are placed further in from the tail, making them situated under the rider's feet more. As a result, the Quantum has a real rail to rail feel – the rider always consciously connected with the rails and fins. It also has a wonderfully planted and composed nature, as if you can throw the proverbial kitchen sink at it, weather wise, and it won't do anything untoward. We had the chance to use the boards in some pretty challenging conditions, and have to say we were mightily impressed by the top end control exhibited by the Quantum, always retaining its balance and manners. On the wave the 95 felt much smaller than its quoted size, turning beautifully and fitting into some tight pockets. Its rails just seem to lock into place, thriving on being driven purposefully through the turn, before switching instinctively to the other rail as if on autopilot. It's a lot of fun to use, and all this performance comes at the behest of little rider input, giving it wide user appeal. Using a wave board in a blasting role on flat water seems a bit of a futile thing to suggest, and a thruster fin setup is certainly not the most efficient. As a coastal blasting board, the Quantum planes early, points well and offers plenty of drive for aerial antics. It may not have the speed or adaptability of others here, but its user friendliness makes it accessible for most, and if your heart is set on riding waves of any shape or size, then you won't be disappointed. 
VITAL STATS
Volume (Quoted): 95L
Length: 227 cm
Width: 61 cm
1ft off: 39.8 cm
Bottom shape: Double concave in the shoulders, becoming mono-concave with a wash of double concave all the way to the tail, with flat vee behind the fins.
Weight ('Naked'): 6.71 kg
Fins: Simmer BT200 Carbon (Slot) + 2 x Simmer M105 Carbon (Slot)
Sail Size: 4.2-5.9m
Sizes Available: 75,80, 85,90,95,105,115.
Price: £2099
---
Other boards in this test:
THE LINE UP
---