Tweet
JEM HALL
MOVE ON UP – 
WINDSURFING TECHNIQUE
STRATEGIC MOULAY MOVES
One of my favourite questions on a coaching clinic is, "What is more important sailing strategy or good technique?" The answer is often technique, yet unless we have a sound strategy we cannot utilise our technique. So with the help of two of my students – Gøril Hjelseth and Martin Delaney, I will highlight the strategy of how to sail a side-shore wave sailing spot, using the example of Moulay in Morocco, and give general pointers to help you get the best out of your local wave spot.
With Jem Hall  //  Photos Nicolas Jones.
(This feature originally appeared in the Nov/Dec 2019 issue of Windsurf Magazine. To read more features like this first, Print and Digital subscriptions are available.

---
THE ESSENTIALS
These are the main areas we should work on:
• Fitness and strength. Without fail, the fitter and stronger people on my clinics, and also the most determined, get the best out of themselves and the location. They can handle harder conditions and they also recover better too. Moulay can be brutal, the warriors survive more battles.
• Tough Hands. This is one of the many challenges we have in our sport. My recommendations are get in the water, this being WindSup in light winds, foiling or freemove sessions on bigger sails. Gym time, kettle bells and the Concept II rower also helps. My last tip is not to 'over sail'.
• Trinity. My fastest improving wavesailors have the best basic skills and have the trinity of skills needed to develop and  control power; i.e. – early planing (learn to get planing from the straps), board speed and upwind sailing. You can build these skills up on a freemove board.
• Wind range. Moulay, and many wave breaks, will call to account your ability to cope with both light wind sessions and fully overpowered sailing. Therefore, if the wind drops, stay out and learn to wobble out on your gear, or try and keep planing. And if the wind really cranks, get comfortable with being uncomfortable and learn to keep the board in the water and get the sail light when you can.
• Tail up jumps. Yes you have heard this before and yes you definitely need this skill so get out there and jump a lot, few are jumping as much as they could. A good tail up jump with a slick getaway will see you having more fun and also actually getting out the back.
" Unless we have a sound strategy we cannot utilise our technique."
---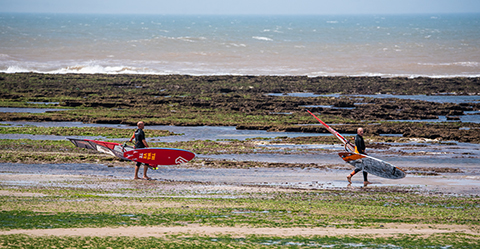 Launch in the right place & walk carefully on the weed at Moulay.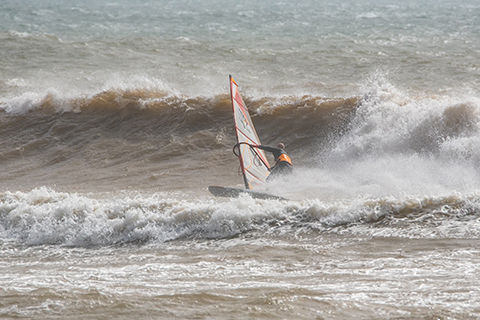 The wave riding over the main peak rocks at Moulay can be smooth even when very windy.
---
AREAS TO ADDRESS
To formulate our strategy, these are the areas we should focus on:
Tides
The correct tide makes a big difference to a spot. High tide in Moulay is hard, riding the wave downwind can be safer than you think, but you can lose your gear on the rocks so be sure you really want to take the risk. Low tide is fantastic upwind in front of Lawama's guesthouse, with one hour either side of low tide for the best ramps and rides.
Area
I have already mentioned that high tide can be hard at Moulay and it is best to sail the peak more downwind and that low tide is best upwind, so we are now left with the main peak, which is best on mid tide. For a beach at home this might mean you move up and downwind to find better sandbars. For example, I might have had a good session at low tide Lawama's and then as mid tide comes in I head back downwind, come in and tune and get some food so I am ready for mid tide mayhem at the main break.
Launch
It sounds obvious, but launch at the right spot and follow local guidance. In Moulay, Bruno at Magic Fun and the local legends like Soufian, Fettah and Boujmaa can show you the spot where the rocks aren't as bad and this is almost right in front of Magic Fun. Launch and land there too, or you can end up in some of the deep rock pools! If you are on the beach and someone loses their gear then go in the water and try and hold onto it to keep it off the rocks. If you are heading out and you think you are not going to make it, do a chicken gybe / tack and live to fight another day. Take time to see where the channel is (deeper water and less steep waves) and use this to get out. In Moulay it runs from just upwind of the police station, at a diagonal.
Jumps
• Absorb, spot and choose – this is your mantra. Get over all the bumps and see the peak you want to do a bigger jump off and hit it.
• Take time to locate all the peaks, as on a rock break the waves peak at the same spot.
• If it is bigger, then jump off the last wave of a set.
• If you are learning to forward loop, then do it early in your run so you don't get intimidated by the bigger ramps further out.
• If you want the back loop then do it off the steeper ramps; right ramp = right rotation.
• Long flat planing jumps are very very useful so have them in your repertoire so you reach the bigger peaks fast and ready to fly.
• Port tack jumping finesse will help you learn / improve aerials.
Rides
• Set waves rule, so find these and get into the rhythm of the ocean and if you have made a bad call get off the wave onto the one behind but make that call early.
• Even when it is windy, and there are plenty of bumps, wait for a good wave, as these will be way smoother.
• You can get some great empty waves by tacking or gybing onto a wave that looks very appealing.
• It is easy to get dragged upwind on the main break and then ride the less good section of the wave, so ensure you wait on the wave and be ready to charge downwind to get the better bowls.
• Don't ripple ride! If it is a small wave, get off it or take it upwind to get in position for a full speed jumping run.
• Hit the right sections that are makeable and know that most of the peaks in Moulay don't throw top to bottom, so you can hit the lip later than you think, if you have the skills and timing!
---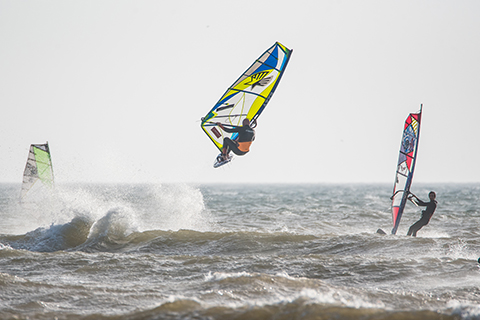 Even when small at Moulay, there are so many jump and loop options, perfect for learning.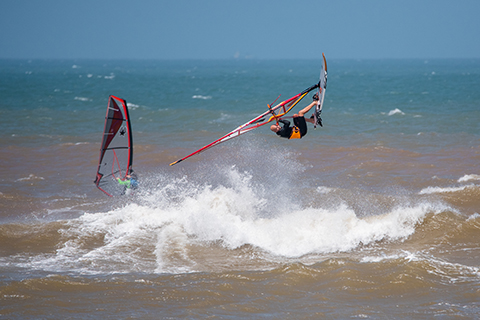 Do the right jump off the right ramp.
---
Transitions
• Gybing on a good wave can give you a great ride, so even if you might not be upwind enough still take what you have been given.
• On bigger waves when a big peak confronts you it is very clever to gybe downwind onto the wave to pick up the less steep part so you can get a clean face.
• Tacking onto a sweet wave is a great feeling and also can sometimes give you priority and a great starting position.
• Tack on the inside where there is space and the waves are further apart, and also earlier than you think to avoid the rocks.
• Gybe off the wave before it gets too shallow.
• Know that a fast planing inside step gybe will get you a great jumping run on the way out, so get good at these.
• Upwind at Lawama's, gybe / tack close to the inside rocks so you get the time to get speed for both the inside and middle peak for jumps.
Recovery
My last tips are to find some time to work on your recovery by stretching, getting on a foam roller and a light jog / fast walk to 'flush the toilet', i.e. wash out the waste products and soreness from all the action. Don't 'over sail' (a.k.a. under learn / practice mistakes) and hydrate effectively.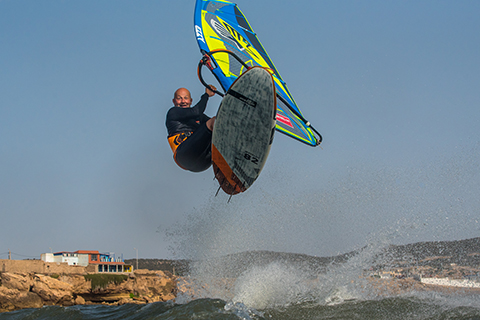 Tuck up, fly and enjoy.
---
Kit
At Moulay I use 5.3 and 4.0 sails mainly, and 4.7 perhaps the least. I use my RRD 82 Wave Cult board the most, but also use my 92 a lot; bringing 2 boards is highly recommended. Many bring smaller sails and use them!; the hairdryer has a lot of power in Morocco.
---

Gøril Hjelseth's Moulay tips
Age: 45.
Favourite spots: In Norway – "The Beach"/Alby, Framnes, Moss. Abroad – Punta San Carlos, Mexico; Moulay, Morocco and Hanstholm/Fish Factory, Denmark.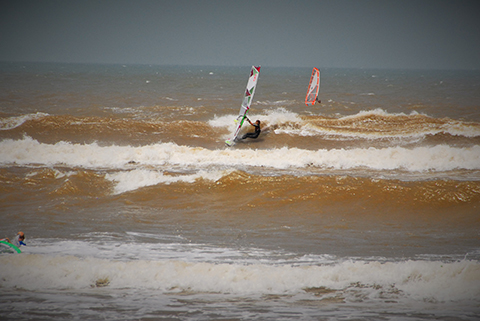 My top tips for the spot:
• Always listen to tips from coach Jem and Bruno from Magic Fun, especially regarding tide, when to go out and where to launch and sail.
• If waves and no wind – SUP! You will learn to read the waves and it will improve your ability to catch waves when windsurfing.
• Waves and a light breeze: take a bigger board and go for wave rides, even though you are not planing.
• Learn to tack both ways before getting to Moulay. It will help you catch more waves and stay upwind. In light winds, heli-tack on the inside.
• Use the last part of the wave/whitewater to get upwind.
• Try to get out through the channel where there is less whitewater.
• Body drag to avoid the potholes coming in, and on the way out to get you to deeper water and over the rocks.
• Do not eat too much of Cecilia's delicious food if you are going windsurfing after lunch!
• Bring earplugs if you want to sleep through donkeys, prayers and roosters!
---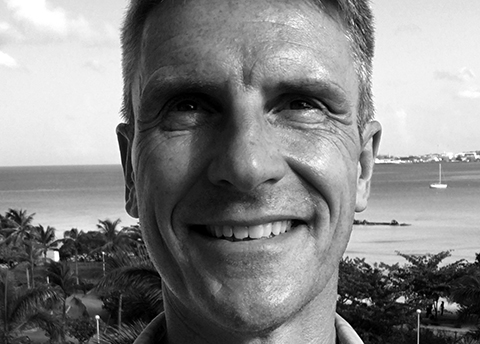 Martin Delaney's Moulay tips
Age: 50.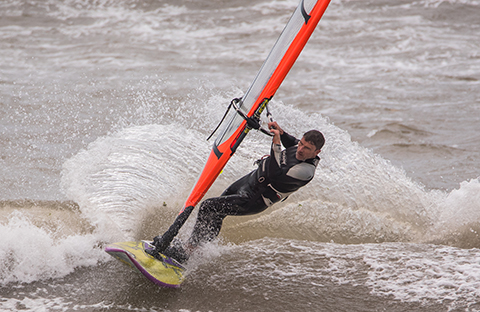 Favourite spots: Avon, my local, Kimmeridge and Gwithian.
• Avoid rush hour. Moulay is popular these days and can get busy, which can sometimes make getting the best waves a bit of a bun fight. Get in an early session when the wind is a bit lighter and there's less people out and if you can save something for an evening session when every else is too knackered, it's often the best session.
• Sail Lawama's. If you're looking for a confidence building session, or are a newbie to wave sailing, head upwind to the break in front of Lawama's at low to mid tide. It is quieter than the main break and you can get some nice waves for riding and jumping, but the wave tends to go fat on the inside resulting in a nice easy area to gybe/tack and then get some speed back out for jumping.
• Hit the peak. Once you're a bit more dialled in, hit the sections on the main break. It's all too easy to keep riding the wave upwind and away from the action, take the plunge, gun it down the wave, crank some sections and then gybe out downwind of the main break, it usually results in an easier sail out as well!
• Bootie call. It can be a tough walk out at low to mid tide over the rocks, but I've finally manned up to sailing without booties. Probably worth throwing some in your bag though just in case you do hurt your feet and you need to keep sailing.
---
RRD boards, wetsuits & softwear, Ezzy sails & Black Project fins sponsor Jem Hall. Get him live and direct on one of his highly acclaimed coaching holidays, but be quick as they are selling out – check out his website www.jemhall.com for more details. You can also follow him on Twitter/Facebook/Instagram.